Aladdin the Musical is coming to Disney+? // Breaking News & The Aftermath of Hamilton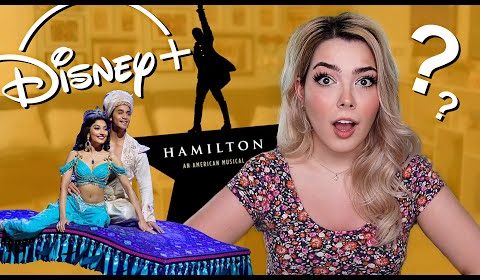 With the success of the Hamilton pro-shot, it seems like adding more musicals to the Disney+ roster is a no brainer– but which show is coming next? It's a whole new world…on Disney+
🌻🌻 OPEN ME 🌻🌻
Hey theatre friends! Today, we're talking all things BROADWAY on Disney+ !! Earlier this month, we saw smash-hit musical #Hamilton hit the streaming platform. Turns out, #Disney is reportedly *gasp* interested in keep theatre lovers happy? Disney's #Aladdin the Musical was recorded on the West End prior to it closing last year, and word on the street is that it's headed to Disney+! So let's discuss this news, why the Aladdin release date was reportedly pushed back, and what musical might get the pro-shot treatment next!
UPDATE: Did some ~detective work~ found out that Ainsley Melham (Broadway's current Aladdin) will play the title role in the pro-shot!
QOTD: What are your thoughts on the Aladdin pro-shot heading to Disney+? AND which Disney musical do you hope/think is next? Let me know in the comments below!
Aladdin is a Broadway musical based on the 1992 Disney animated film of the same name. It's a classic and I would 10/10 recommend watching if you haven't. lol.
Why We CAN'T Stream Every Broadway Show | *the Truth about Hamilton, Pro Shots, and Bootlegs*

Filmed On Stage Article
http://filmedonstage.com/news/271-disneys-broadway-musical-aladdin-to-premiere-on-disney-following-hamilton-success
❤❤❤❤❤❤❤❤❤❤❤❤❤❤❤❤❤❤❤❤❤❤❤❤❤❤❤❤❤❤❤❤❤❤❤
Info on YOUTH FOR JUSTICE AND PEACE
A virtual showcase of performers with the intention of raising money for BIPOC non-profits. Performs August 1 & August 8, 7pm EST. Donate $5 or more to Black AIDS Institute, Grassroots Law Project, Cameron Boyce Foundation, Thorn, Innocence Project, or Common Ground Foundation. Once you have made your donation, fill out this RSVP google form to receive your Zoom invite on the day of the show!
https://docs.google.com/forms/d/e/1FAIpQLSdhPolFGXLmweDXboyUZ3h8xZT2RdntT9och24cBN8tRkTu8w/viewform
Want to see the show but can't afford a donation right now? DM @youthforjusticeandpeace on instagram to claim one of the 5 tickets I covered! Enjoy 🙂
UPDATE: The 5 tickets have been spoken for!
❤❤❤❤❤❤❤❤❤❤❤❤❤❤❤❤❤❤❤❤❤❤❤❤❤❤❤❤❤❤❤❤❤❤❤
♡DISCOUNT LINKS♡
💋10% off Glossier skincare & makeup
Just click through my link for the discount on Glossier!
https://www.glossier.com/reps/katherinesteele
❤❤❤❤❤❤❤❤❤❤❤❤❤❤❤❤❤❤❤❤❤❤❤❤❤❤❤❤❤❤❤❤❤❤❤
~*MORE SHOWTUNE RECOMMENDATIONS*~
Broadway Musicals You Should Listen To Right Now // Cast Recording Recommendations!!

The BEST Musical Theatre SOLO Songs

Broadway Revivals we need RIGHT NOW

Broadway Songs that RUINED my Life

10 BEST Musical Theatre Songs

Here's a whole PLAYLIST of shows to check out!

❤❤❤❤❤❤❤❤❤❤❤❤❤❤❤❤❤❤❤❤❤❤❤❤❤❤❤❤❤❤❤❤❤❤❤
♡FOLLOW ME!♡
🎭 Main Channel: Katherine Steele
https://www.youtube.com/katherineesteele
🎉 Vlog Channel: Party at Kat's
https://www.youtube.com/channel/UCg3TVMKJy17N3h_6e27kS6g
🎮 Gaming Channel: Kat Steele Games
https://www.youtube.com/channel/UCMEskgIASbFvR4hprtUYBew
💅🏻 Instagram: @Kath_Steele
http://instagram.com/kath_steele
🐥 Twitter: @Kath_Steele
Tweets by Kath_Steele
📱 Facebook: @TheatreThursdayFam
http://www.facebook.com/TheatreThursd…
❤❤❤❤❤❤❤❤❤❤❤❤❤❤❤❤❤❤❤❤❤❤❤❤❤❤❤❤❤❤❤❤❤❤❤
I'm Katherine Steele and I really like musical theatre! I'm officially the unofficial Drama Club President of the internet. On this channel you'll find Broadway musical reviews, analysis on your favorite shows, first reactions to brand new ones, countdown lists for theatre fans, and tons of musical theatre audition advice! When I'm not on YouTube, I'm a professional musical theatre & screen actress and made-for-TV series host!
❤❤❤❤❤❤❤❤❤❤❤❤❤❤❤❤❤❤❤❤❤❤❤❤❤❤❤❤❤❤❤❤❤❤❤
FTC: This video was not sponsored. Some links may be affiliate ♡
💌 BRANDS & COMPANIES: If you're interested in working with me, please email me at KatherineSteeleYT@gmail.com