Allegiance The Musical: Full Cast Announced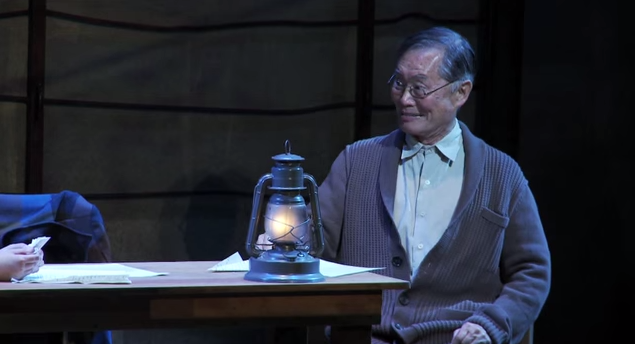 Allegiance The Musical has finally unveiled the official cast for Broadway. As reported by Playbill, Takei is rejoined by 2 of the original cast members. They are "Glee" star Telly Leung and Tony Award winner Lea Salonga.
The trio from Allegiance The Musical is joined by Greg Watanabe, Christopheren Nomura, Michael K. Lee and Katie Rose Campbell. The rest of the ensemble to complete the cast are Scott Wise, Scott Watanabe, Elena Wang, Cary Tedder, Momoko Sugai, Rumi Oyama, Autumn Ogawa, Manna Nichols, Darren Lee, Owen Johnston, Dan Horn, Janelle Dote, Marcus Choi, Belinda Allyn and Aaron J. Albano.
Allegiance the Musical is about the events that transpired in California shortly after the attack on Pearl Harbor. The main story was presented through the Kimura family. The family lived on farming. Its youngest son, Sammy Kimura (played by Leung), achieving well in school. His dreams of a bright future were cut short after he, along with sister Kei (played by Salonga), were uprooted along with other Japanese Americans. They were relocated to an interment camp in Wyoming.
Most of the scenes presented in Allegiance The Musical were inspired by the childhood of George Takei. (He is also part of the cast, playing the Kimura family patriarch) In an interview granted to The Lip, he relayed events from which the story was based from. He was 5 years old when he experienced the cruelty. As a young kid, he suffered with his mother and 2 siblings. His brother was then 4 years old and his sister, barely a year old.
One of the worst effects of the Pearl Harbor bombing was how the Japanese Americans were labeled "enemy non-alien" according to Takei. Brave young men wanted to serve in the army. But they were ripped of their citizenship. It pushed some of them to refuse getting deployed. Unless they get to see their families relocated away from these interment camps. Takei also mentioned how his own mother viewed the experience as degrading. Allegiance The Musical is not even a loose biography of Takei. But similar scenes are presented. Takei's presence added authenticity to the production.
Allegiance The Musical was originally staged at the Old Globe Theatre in San Diego, California. Jay Kuo provided the music and lyrics. Marc Acito provided the book. Their collaboration with Takei will be brought to Broadway. Preview is slated on October 6, 2015 at the Longacre Theater. Allegiance The Musical officially opens on November 8, 2015. To buy tickets, call Telecharge at 212-239-6200 for reservations or click here. Tickets will be officially available through them by June 5, 2015 at 10AM Eastern time.
For more updates about productions like Allegiance The Musical, subscribe to our online newsletter. Get the updates straight to your inbox. Like our official Facebook page, Musicals Online. Follow us on Twitter @musicalsnews. Thanks for reading.