Anne Boleyn Tutorial | SIX THE MUSICAL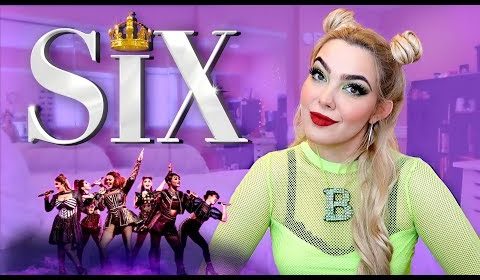 ~ A tutorial on Anne Boleyn from SIX THE MUSICAL! ~ Get 30 days of Audible for free at http://www.audible.com/katherinesteele or text "katherinesteele" to 500-500! 🌻🌻 OPEN ME 🌻🌻
Hey theatre friends! Today, we're finally doing this heavily requested tutorial on #AnneBoleyn from #SixTheMusical!
It's been a minute since I've done a character tutorial, so if this is your first: welcome! This is a recurring video series (hit the playlist if you want more!) where I create makeup looks for iconic musical theatre and Broadway characters. It's somewhere between cosplay / stage makeup / costume idea / onstage replica / just super fun and artsy. So today, we'll be doing one on Anne Boleyn from Six the Musical!
If you have any character requests for a future makeup tutorial, let me know in the comments below!
♡WANT MORE CHARACTER TUTORIALS? CLICK HERE♡
Full Broadway Makeup Tutorial Playlist below!

❤❤❤❤❤❤❤❤❤❤❤❤❤❤❤❤❤❤❤❤❤❤❤❤❤❤❤❤❤❤❤❤❤❤❤
♡DISCOUNT LINKS♡
💋10% off Glossier skincare & makeup
Just click through my link for the discount on Glossier!
https://www.glossier.com/reps/katherinesteele
❤❤❤❤❤❤❤❤❤❤❤❤❤❤❤❤❤❤❤❤❤❤❤❤❤❤❤❤❤❤❤❤❤❤❤
♡FOLLOW ME!♡
🎭 Main Channel: Katherine Steele
https://www.youtube.com/katherineesteele
🎉 Vlog Channel: Party at Kat's
https://www.youtube.com/channel/UCg3TVMKJy17N3h_6e27kS6g
💅🏻 Instagram: @Kath_Steele
http://instagram.com/kath_steele
🐥 Twitter: @Kath_Steele
Tweets by Kath_Steele
📱 Facebook: @TheatreThursdayFam
http://www.facebook.com/TheatreThursd…
❤❤❤❤❤❤❤❤❤❤❤❤❤❤❤❤❤❤❤❤❤❤❤❤❤❤❤❤❤❤❤❤❤❤❤
I'm Katherine Steele and I really like musical theatre! I'm officially the unofficial Drama Club President of the internet. On this channel you'll find Broadway musical reviews, analysis on your favorite shows, first reactions to brand new ones, countdown lists for theatre fans, and tons of musical theatre audition advice! When I'm not on YouTube, I'm a professional musical theatre & screen actress and made-for-TV series host!
❤❤❤❤❤❤❤❤❤❤❤❤❤❤❤❤❤❤❤❤❤❤❤❤❤❤❤❤❤❤❤❤❤❤❤
FTC: Thank you to Audible for sponsoring this video! Some links may be affiliate ♡
💌 BRANDS & COMPANIES: If you're interested in working with me, please email me at KatherineSteeleYT@gmail.com