How to HONESTLY Play a Disney Princess / Ingénue || DISNEY PRINCESS MAKEUP TUTORIAL + ANALYSIS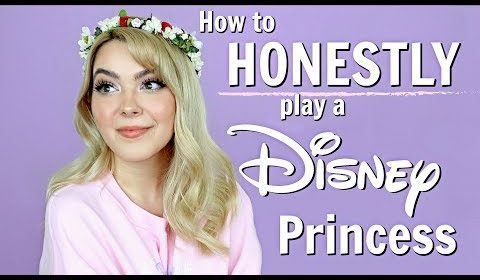 Let's talk about how to HONESTLY Play a Disney Princess / Ingénue! WHILE doing our makeup like a DISNEY PRINCESS!!
🌻🌻 OPEN ME 🌻🌻
Hi theatre friends!! Today, we're combining a bunch of my favorite things– Disney, musical theatre ingenues, and makeup!! Today's video is all about how to honestly portray a disney princess (or a similarly described character).
If you've spent any amount of time around my channel, you probably know about my love of ingénues. My I'm biased because it's my casting type, but I feel like I gotta stick up for my girls! My Cosettes, my Christines, and of course– my princesses. I feel like they always get a bad rep just for being "nice" but I think these theatre and film characters are so much more than that! I always get asked questions on how to give these characters more depth, how to make them more interesting and relatable to the audience.
This is how I do it.
Here is a guide on how to build your own princess 💖
💖 QOTD: Who is your favorite #DisneyPrincess? Let me know in the comments below! 💖
❤❤❤❤❤❤❤❤❤❤❤❤❤❤❤❤❤❤❤❤❤❤❤❤❤❤❤❤❤❤❤❤❤❤❤
♡DISCOUNT LINKS♡
💋10% off Glossier skincare & makeup
Just click through my link for the discount on Glossier!
https://www.glossier.com/reps/katherinesteele
💋70% off Duvolle styling tools
Use code KATHSTEELE70 at www.duvolle.com
💋25% off wigs!
Use code KAT25 at https://www.everydaywigs.com
❤❤❤❤❤❤❤❤❤❤❤❤❤❤❤❤❤❤❤❤❤❤❤❤❤❤❤❤❤❤❤❤❤❤❤
♡FOLLOW ME!♡
🎭 Main Channel: Katherine Steele
https://www.youtube.com/katherineesteele
🎉 Vlog Channel: Party at Kat's
https://www.youtube.com/channel/UCg3TVMKJy17N3h_6e27kS6g
💅🏻 Instagram: @Kath_Steele
http://instagram.com/kath_steele
🐥 Twitter: @Kath_Steele
Tweets by Kath_Steele
📱 Facebook: @TheatreThursdayFam
http://www.facebook.com/TheatreThursd…
❤❤❤❤❤❤❤❤❤❤❤❤❤❤❤❤❤❤❤❤❤❤❤❤❤❤❤❤❤❤❤❤❤❤❤
I'm Katherine Steele and I really like musical theatre! I'm officially the unofficial Drama Club President of the internet. On this channel you'll find Broadway musical reviews, analysis on your favorite shows, first reactions to brand new ones, countdown lists for theatre kids, and tons of musical theatre audition advice! When I'm not on YouTube, I'm a professional musical theatre & screen actress and made-for-TV series host!
Music by: Italian Afternoon by Kevin MacLeod is licensed under a Creative Commons Attribution license (https://creativecommons.org/licenses/…)
Source: http://incompetech.com/music/royalty-…
Artist: http://incompetech.com/
❤❤❤❤❤❤❤❤❤❤❤❤❤❤❤❤❤❤❤❤❤❤❤❤❤❤❤❤❤❤❤❤❤❤❤
FTC: This video was not sponsored. Some links may be affiliate ♡
💌 BRANDS & COMPANIES: If you're interested in working with me, please email me at KatherineSteeleYT@gmail.com