Lea Salonga takes a challenge with Sweeney Todd

When I was a fledgling theater actress myself, at the backstage of my first professional play, the more seasoned actors kept rhapsodizing about "Sweeney Todd: The Demon Barber of Fleet Street."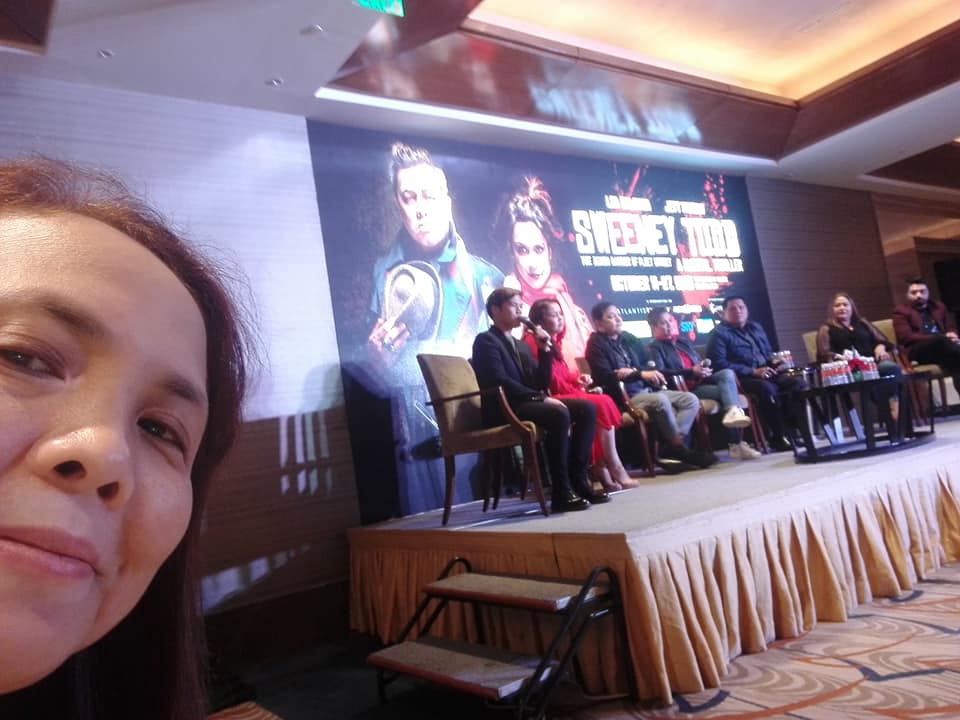 A true newbie, I knew nothing of this musical, but the description captured my imagination. I had become a certified Anglophile in high school, because of my English Literature class in high school. I longed for the England of yore…the cobblestoned streets of quaint villages…castles, doomed romances…but what also set my young mind's wheels on fire was the dark side of England… Whitechapel. The Jack the Ripper murders. The dark, dank alley ways frequented by Holmes and Watson. Reality and fiction melded seamlessly in my mind's eye, to borrow from The Bard…and I set to writing my own poetry and fiction, inspired thus…seamy tales of mayhem and murder.
It was natural that I would have been entranced by the tale of Sweeney Todd. I asked, and hoped that he was a real person. He's fictional…although there have been tales of cannibalism, as recent as the Second World War, when people peddled human flesh, disguised as more acceptable meats. And I loved the idea of Mrs. Lovett's meat shop, where Sweeney's victims were recycled (how environment friendly!) into meat pies. Tonight, I was invited, thanks to the attention garnered by an earlier article of mine, here, on musicalsonline.com, on Atlantis' "Side Show", to the press launch for Atlantis' 20th Anniversary, "Sweeney Todd"…the show itself, enjoying its 20th Anniversary, at the Solaire Theatre.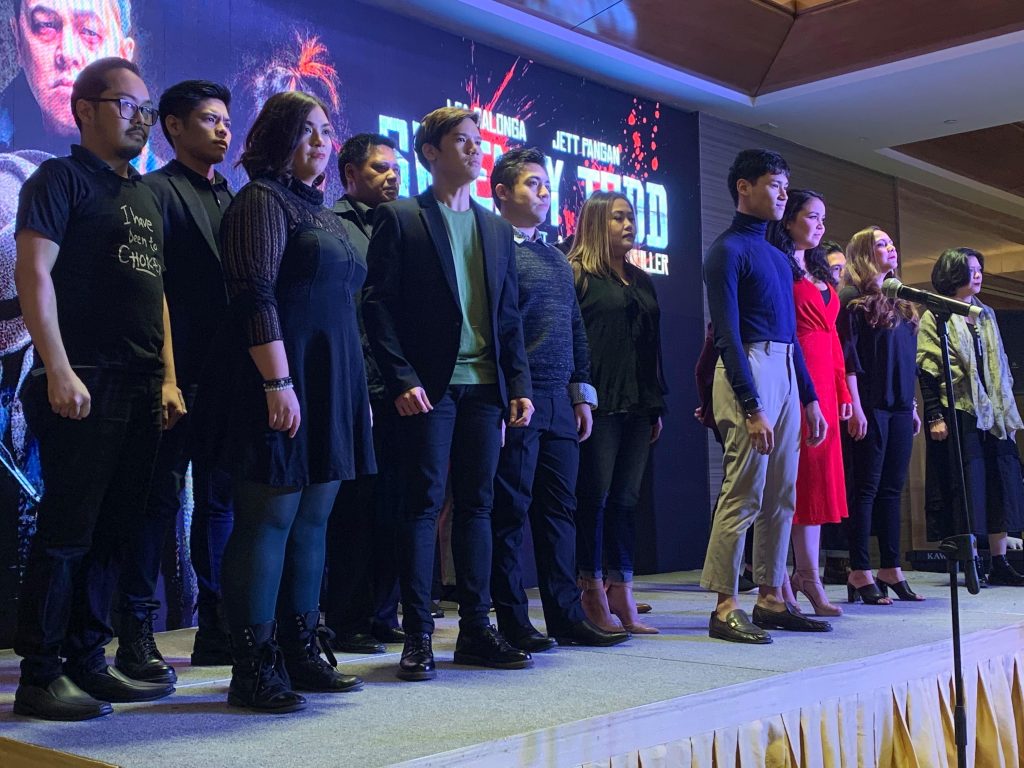 Nelsito Gomez, young, quintessential leading man, familiar to most avid theatre goers (most memorably, to this writer, as Romeo, in Manila Shakespeare Company's "Romeo and Juliet," a few years back), served as host, this time, as he introduced the cast of Sweeney Todd. The cast, in trademark Atlantis tradition, were polished, and professional, a they took the stage, in the beautiful lobby of the Theatre at Solaire…singing in perfect English accents, with a stillness and intensity achieved only by the more sophisticated performing groups. Less is more. Stillness is power. The cast's voices ringing clear, in Sondheim's frequent use of brilliantly cacophonous dissonances…in harmony with solos interspersed.
The whole of the effect was mesmerizing, as they sang the introductory song, "The Ballad of Sweeney Todd." Apparently out of nowhere, came Jett Pangan and Lea Salonga, down the middle of the ensemble, to share center stage…respectively playing Sweeney Todd and Mrs. Lovett…each popular entertainment icons since my youth. Having known of Ms. Salonga since her amazing child star beginnings, I most admire her for her portrayal of Kim in "Miss Saigon," at the CCP, several years ago, when she totally blew me away. I was in tears from beginning to end. She truly embodied the role of Kim so perfectly…and her voice, only ever got more beautiful with time and training, since she was a little girl. I'd only ever witnessed her portray wholesome roles, so despite my supreme admiration of her, I wondered for a moment, whether she would be able to do justice to the dark, devious, diabolical creature that is Mrs. Lovett. The moment of doubt lasted but a nanosecond…for it was utterly and totally annihilated, as she shared center stage with Jett Pangan…even before she sang, a cunning, devious glance that she cast to her right, immediately established exactly who Mrs. Lovett was, and I fell in love with her talent, anew.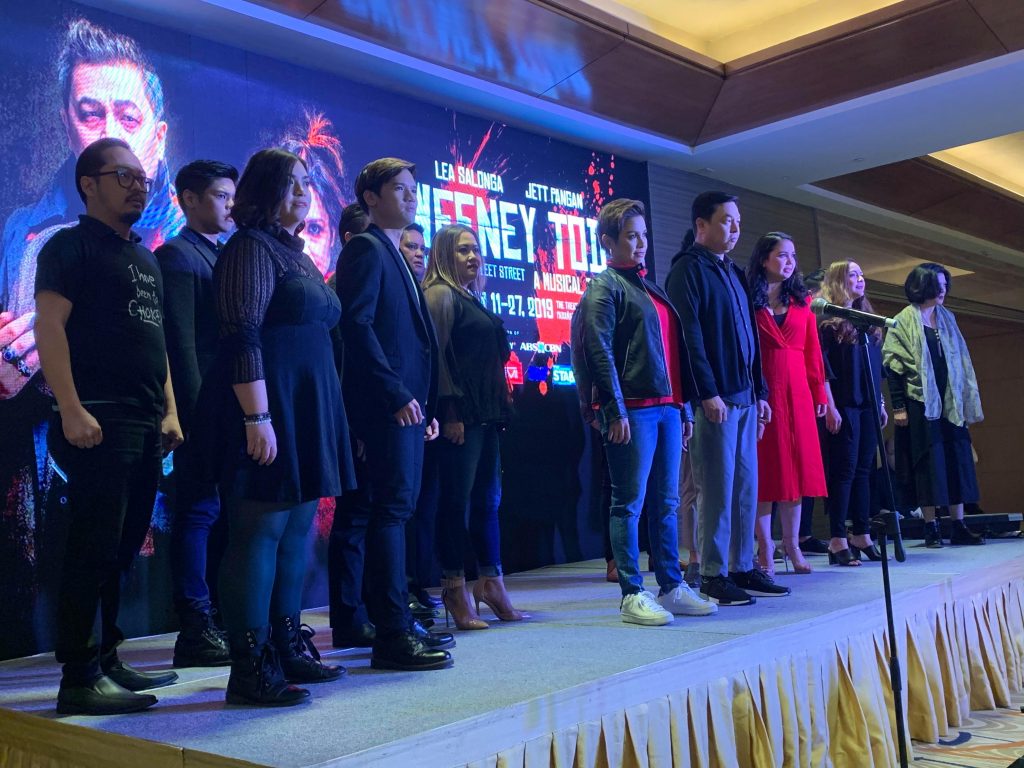 After a brief duet portion with Mr. Pangan, Lea sang one of my most favorite songs, ever, Mrs. Lovett's "Not When I'm Around." As Lea had mentioned in an interview, she had to create a voice befitting her character, and she truly achieved this. Accustomed to her lilting, crystalline voice in such roles as Kim and the singing voice of Princess Jasmine, I was pleasantly surprised to hear her sing with such a rich, womanly, powerful mezzo…such a departure from her earlier ingenue roles. As Mikkie Bradshaw-Volante, who plays Johanna, Sweeney Todd's daughter, later said in the Q and A portion, indeed, "Lea can do anything." Asked if she thought her deviation from her usual wholesome roles might affect her popularity with her fans, Lea said that she won't insult her fans' intelligence, and believes that her audiences are smart enough to discern that she is just playing a role. She said that even in real life, not everyone is nice…certain characters are quite horrid, and it's very interesting for her, as a performer, to breathe life into different characters. Perhaps known to many as "just" a beautiful voice, I vehemently disagree. She is a true chameleon, a fantastically versatile performer.
The jovial atmosphere of the press con was in stark contrast to the musical's subject matter. It was fascinating to hear the cast speak of how each of them had to access their dark side, and that everyone has one, in order to play their roles, accordingly. It was surprising to hear beautiful, often thought of as sunshiny Lea Salonga discussing accessing her cunning, nasty devious side. Such strange words from the mouth of our internationally lauded theatrical darling. But then, I recall a quote from "Desperate Housewives," something to the effect that people are afraid to admit that under certain circumstances, anyone is capable of anything.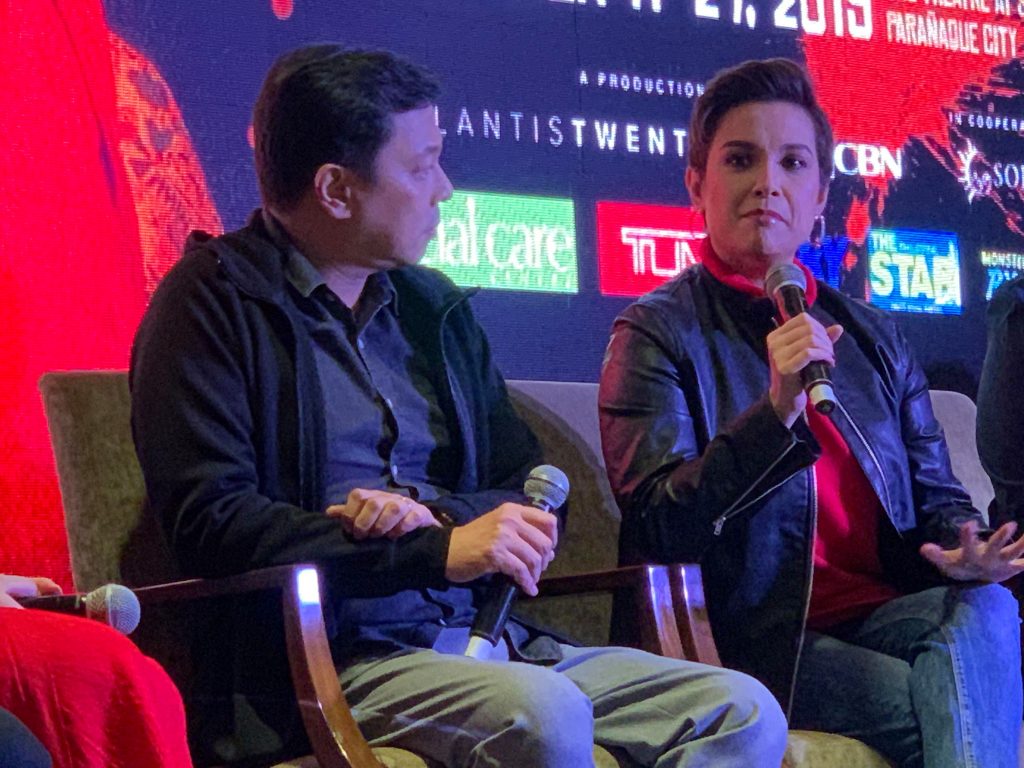 Actors are fortunate in their having the venue of performance to explore these facets of their personalities, without any actual criminal infractions…no lead us not into incarceration moments. Jet Pangan even said that in order to portray Sweeney Todd, one had to imagine what circumstances could push someone to the extreme lengths that the character took. He said that we all probably have imagined what it was like, to kill someone. Although society frowns upon acting upon these impulses, he had to draw upon these, to understand how Sweeney thought. Gerald Santos, fresh from portraying Thuy in "Miss Saigon," in London plays Anthony, the lovestruck youth who falls for Joanna, Sweeney Todd's daughter. It was amusing to hear him spoken of as being so absolutely Anthony-like, even in real life…so innocent and pure, that his jokes weren't even funny, but the cast laughed, and played along, just because he was so darling.
Ima Castro, also a "Miss Saigon" alumna, portrays the Beggar Woman…whom Lea Salonga described as portraying the most heartbreaking Beggar Woman, that she had ever seen.
Andrew Fernando portrays Judge Turpin, who, thankfully replied in the negative, when a member of the press asked if he was anything like his role.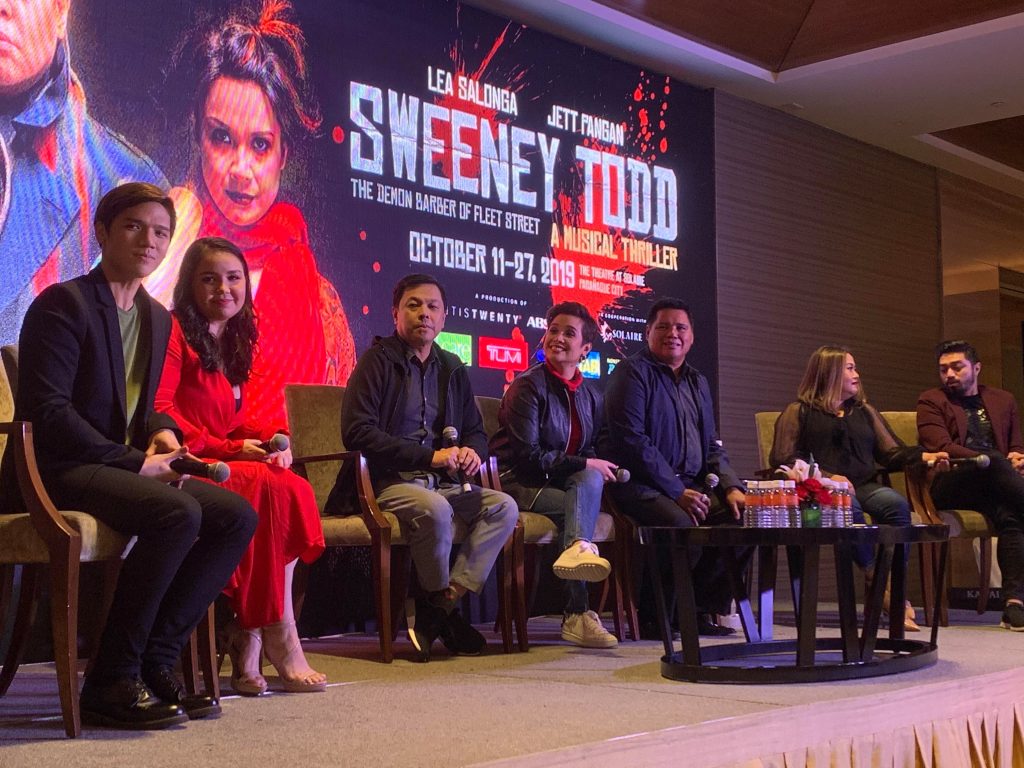 Arman Ferrer, of whom I have been a fan, since seeing him in "Binondo," and later, "Side Show", portrays Beadle. I find it interesting that a tall, slim, attractive actor was chosen to portray this seedy role. I can't wait to see how he transforms, as he did, so fully, into his "Binondo" and "Side Show" characters, earlier on.
Nyoy Volante portrays the comedy relief, the barber, Adolfo Pirelli. It was endearing, the way he'd slip into Pirelli's introductory speech, at any given opportunity, during the press con. There was a moment of hilarity when Mr. Volante did a roll call of the theater veterans with whom he was lucky to be sharing the stage, most memorably, Jet Pangan and Lea Salonga, Inma Castro, and Mikkie Bradshaw-Volante reminded him, "And your wife, too!" "And my wife." said he.
The cast found the music most challenging, because Sondheim's arrangements are anything but predictable. Ms. Salonga said that according to Manman Angsico, the vocal director, "If it sounds right, you're singing it wrong." She said that the orchestra is doing one thing, while the vocalists are doing another…one character is singing in the key of C, while another is singing in Eb. Ms. Salonga said that this was her second Sondheim musical…the first was "Into the Woods." Since I had also been involved in another production of said musical, I can personally vouch that Lea knows whereof she speaks.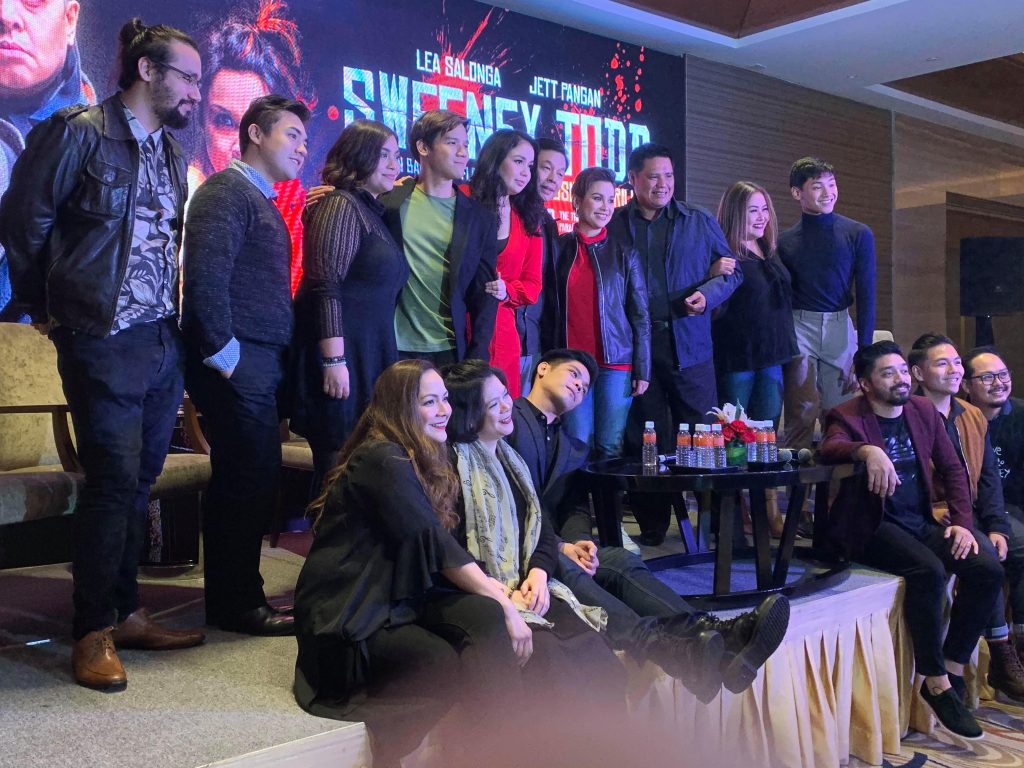 Dean Rosen plays Jonas Fog. Luigi Quesada portrays the lovestruck street urchin, Tobias…interestingly, Tobias is very tall, and not a little kid, as he has been portrayed in other productions of "Todd." Rounding out the cast, as ensemble, are Steven Conde, Sarah Facuri, Christine Flores, Jep Go, Kevin Guiman, and Emeline Celis Guinid. As I observed in earlier productions of Atlantis that I've been so fortunate to have enjoyed: "Rocky Horror Show," and "Side Show" come to mind…the level of professionalism evident even in the ensemble is most extraordinary. The tightness of everyone, especially the ensemble's performance…the precision, clarity, confidence, truly sets Atlantis apart as a premiere theatrical company. Truly, "there are no small roles, only small actors," and as was said of a ballet company, which slips my mind, at the moment: "The company is only as good as it's corps."
Asked about the costumes and sets, the cast prefers to keep mum. Ms. Salonga says, in Tagalog, rest assured, it's great…but one has to experience it for oneself. She said that designer Rajo Laurel's wardrobe truly helped each of them with their characterizations.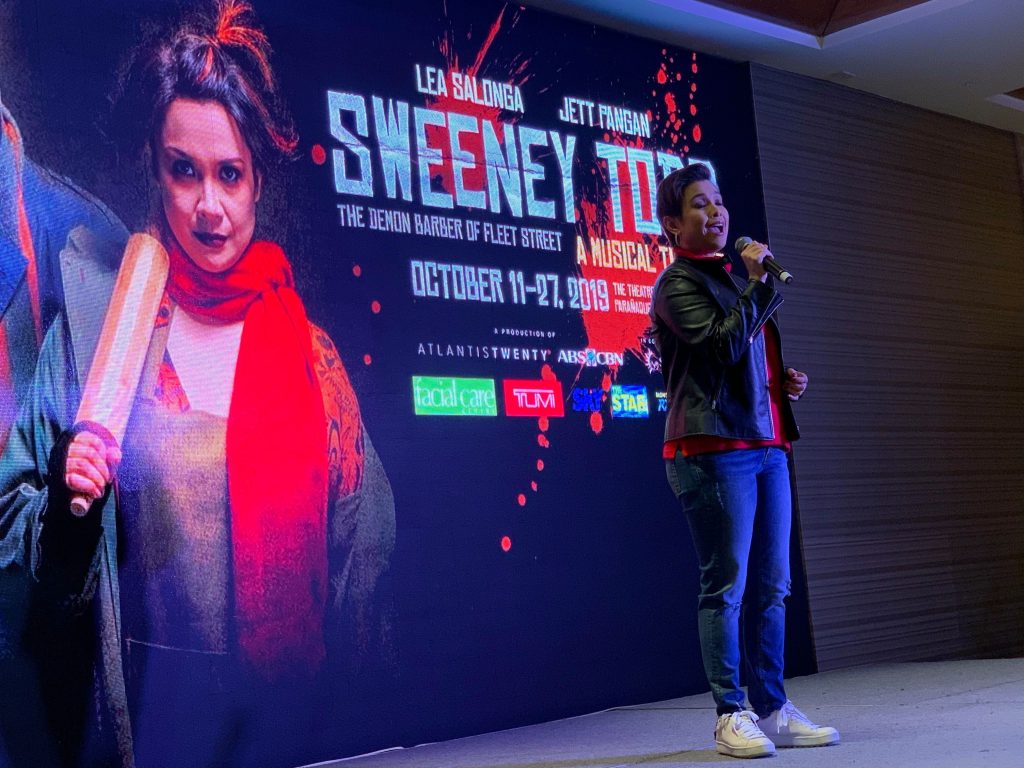 The cast agreed that it was very hard, albeit very exciting to learn Sondheim's score, to let the notes and lyrics ingrain themselves in their bodies, as they fleshed out their roles. Rajo Laurel's designs also facilitated this daunting task.
Gerald Salonga, Lea Salonga's brother, is the musical director who will have the ABS-CBN Philharmonic Orchestra under his baton. Ms. Salonga's pride in her brother is evident, and endearing. She praised his talents, "Not just because he's my brother." She's proud that he's in demand, internationally, and that as "ate" (big sister), she even had to beg him to grace their production.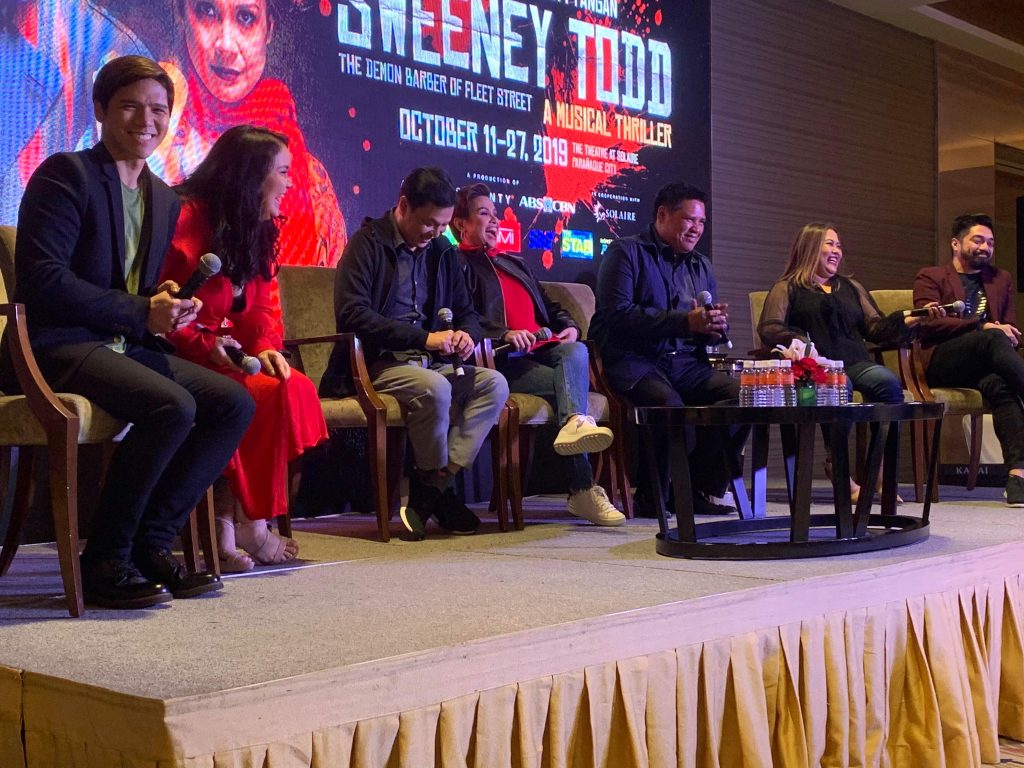 Gerald Salonga's in-depth analysis of the interactions of the score and lyrics…i.e. the emotional obligation of a character's singing rising or dropping an octave, and why a character would sing a certain note, truly filled me with admiration, and made me long for my past theatrical appearances…recalling such directors as Nicanor Campos (of Manila Shakespeare Company) and Rito Asilo (of New Voice Company), who have comparable styles of analysis and dissection, to aid actors in their study.
There was a feeling of family in the room, as an earlier essayer of the role of "Sweeney Todd," Mr. Audie Gemora, the Director for Entertainment was present, and duly acknowledged. Aside from the "Miss Saigon" "kin," Lea Salonga, Gerald Santos, and Ima Castro, my friend, Spanish-Filipino theatrical Renaissance Man, Kuya Manzano, this time, present as a member of the press, who performed Gerald Santos' character's mentor in "San Pedro Calungsod" was greeted warmly by the cast, when he asked a question. He was gracious enough to return the compliment, saying Jett Pangan would be amazing as Sweeney, because, as a rock star, he'd be able to portray the rage and intensity required, and he praised Mr. Santos for being a well known balladeer, as well.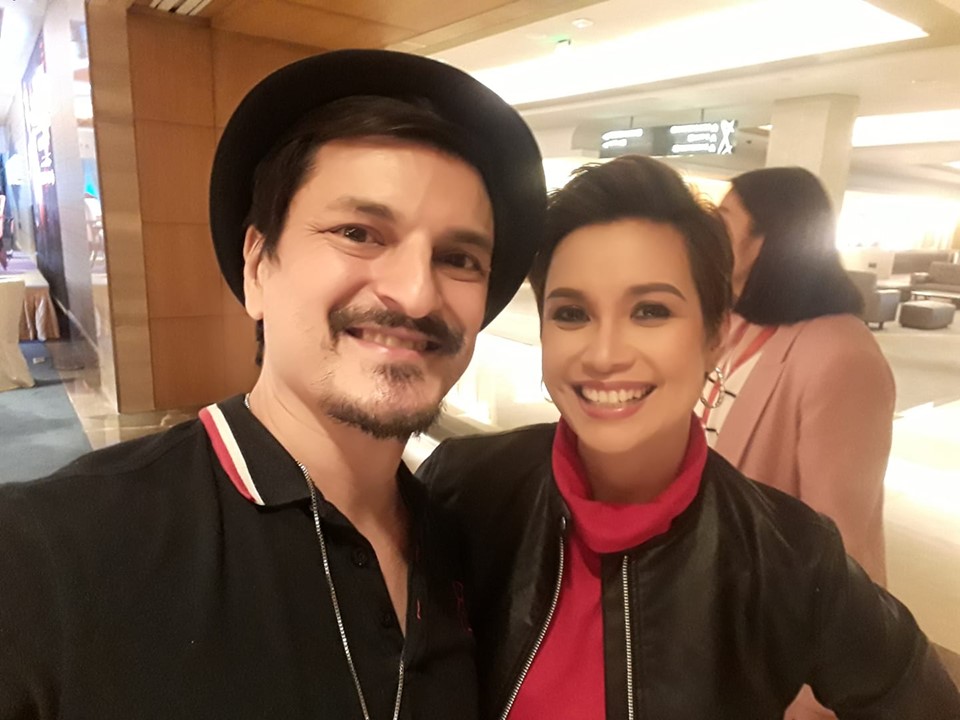 It was wonderful for me to be in that room, brimming with talent, with my dear friend, Kuya, and amazing performers I'd either known of, all my life, and/or had the pleasure of watching, and/or meeting, a few times.
It's a true commendation to theater people, that these wonderful individuals involved in the production of one of the darkest plays, or musicals known to me, "Sweeney Todd," all project such a wonderful aura of camaraderie, and team work. Ms. Salonga said that being in a theatrical production, especially one as difficult as this, is like being in a war…united, they stand…and shine. Director Bobby Garcia was said to have told the whole cast to be as a family (I should specify, a GOOD family), with everyone helping one another.
Choreography is by Cecile Martinez. Lighting design is by Aaron Porter. Hair and make-up design is by Leslie Espinosa. Sound design is by Justin Stasiw.
This sneak preview and press con portends a wonderful, surprising show…a new retelling of the Demon Barber's tale. Like Mrs. Lovett's meat pies, it certainly promises to be devilishly delicious.
"Sweeney Todd" runs from October 11 to 27, 2019, at the Theatre at Solaire. Tickets are now available at www.ticketworld.com.ph or through 891-9999.