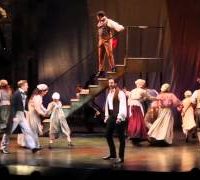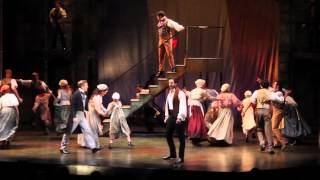 Utahns can't seem to get enough of "Les Misérables." The epic musical with the sweeping score remains popular world-wide, but remains a big-ticket phenomenon in Utah.
In Salt Lake City, theatergoers have snatched up tickets to nine national tours of the musical, beginning in 1991.
Salt Lake City's Pioneer Theatre Company sold out its first-in-the-country regional production in 2007, when a scheduled two-week run was extended to 10 weeks.
Tuachan Amphitheatre broke box-office records for five months with its production in 2008.
Now, theatergoers are flocking to sold-out shows at the Utah Shakespeare Festival, where Utah-based actor J. Michael Bailey is thrilled to be singing "Bring Him Home," and playing his dream role as Jean Valjean.
Video Rating: 5 / 5
Hale Centre Theatre, Utah's Premiere Family Theatre, presents the beloved musical 'Les Misérables', playing February 14 through April 19, 2014.
FINALLY! Since 1985, Victor Hugo's extraordinary masterpiece has graced London, Broadway, national tours and select professional houses…Hale Centre Theatre is one of the first community theatres in the nation privileged to license and produce what has arguably become the world's most beloved musical. By Boublil and Schönberg. Experience its splendor like never before on HCT's intimate center stage. 'Do You Hear the People Sing?'
Directed by David Tinney, music direction by Kelly DeHaan and an amazing cast of local actors.
Video Rating: 4 / 5