Movie Musicals Vs Musical Movies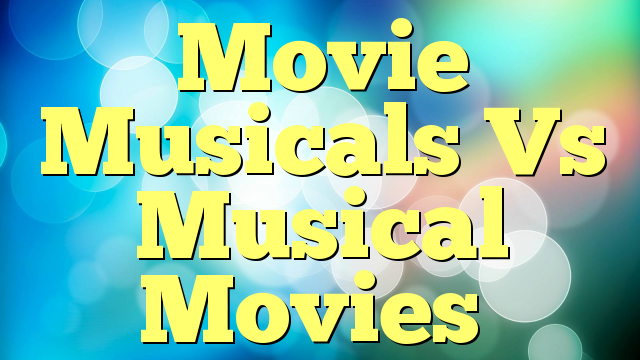 "Have you seen Billy Elliott? 9 to 5? Dirty Dancing?" These questions raise a counter question: "The movie or the musical?" There is no longer a strong line between the film and stage. We're seeing numerous stories crossing the line between the silver screen and the boards of Broadway. There has always been a unification between the arts: literary, visual, graphic, performing. Theatre and film have always incorporated all of these.
Musical movies have been around since Gordon McRae and Shirley Jones first expressed their love for each other in both Oklahoma! and Carousel. Musical films may have gotten a little darker with the advent of Chicago, Rent, and Sweeney Todd, but they still capture the interest of moviegoers. Why is there such a fascination with the silver tones of the silver screen? What makes a musical movie worthy? Is it the book?
It's not just the big screen that has developed the musical element. Shows have introduced musical episodes. Buffy, Scrubs, Daria, Xena has two musical episodes, and let's not forget the numerous musical numbers to be found on the Simpsons, South Park, and Family Guy, some of which are taken directly from Broadway itself.
Musicals have often taken their stories from books. That practice has continued through to more recent shows such as the widely popular show, Wicked, which is based on the book of the same name by Gregory Maguire. Books, however, have taken a backseat to movies as the basis for new musicals. 9 to 5 and Billy Elliott are on Broadway, Dirty Dancing is on tour, and Sister Act is onstage in London. All of these musicals started as movies. Now, granted, there are many movies that are also based upon books: Lord of the Rings, Harry Potter, My Sister's Keeper, etc. Even Lord of the Rings enjoyed time as an onstage musical.
The youthful world has captured the stage as well. Disney got a foothold in the Broadway scene when they introduced Beauty and the Beast. Now, they're firmly established with The Lion King, The Little Mermaid, and Mary Poppins. The Grinch Who Stole Christmas is a holiday show that appears every December. Oh, and let's not forget Shrek. Children's theatre has hit the big time.
Actors have also crossed over from stage to screen and back. Ana Gasteyer, Amy Spanger, John Stamos, Chandra Wilson, Kristin Chenoweth, Alison Janney, Brian Stokes Mitchell, and others dance around the line, appearing at the Emmys, the Oscars, and the Tonys.
Why is there such an influx of movies to the Broadway stage? Have writers simply lost the desire to come up with original ideas? I don't think so. I think that it's strongly affected by the economy. In an attempt to get more people to attend Broadway theatre, shows have been streamlined into recognizable formats with names that people can relate to. They know Alison Janney, John Stamos, and Chandra Wilson. Parents are more willing to take their children to see shows based on movies that they grew up with and love. People are excited to see a musical based on a movie, even if it's just to find out how closely it adheres to the original. It's easier to adapt the movie to the stage than it is to adapt the book because a lot of the elements have already been provided.
I do think, however, that it is harder to translate the movie to the stage because there are certain expectations. People are very critical when a well-loved movie is changed for the stage. This is the same of books, but the visual element is removed. A character may not necessarily look the way you pictured them to look, but that was your own interpretation, so you are more willing to accept it. With a movie, you've seen the character and you've heard the lines delivered a certain way. You're on the lookout for that same delivery. It's like a drug; you expect the same high you feel when you watch the movie.
Still, I think that movies titles will always have a pull for those attending the theatre because of the known factor. It's familiar. It's safe. You may not get what you expected, but at least you had expectations to begin with. Going to see a show that you've never heard of in another forum is taking a chance. Sometimes, it's worth the risk, but most people are unwilling to do so at $ 80+ a seat.
As for me, I'm still waiting for Harry Potter: The Musical Series.
Jared R. Lopatin lives in New York City where he is currently working on a fantasy series, the first book of which was just released. Having performed for 15 years both in and outside of New York City in musical theatre, he recently headed back to school to get his Masters of Science in Special Education. He enjoys learning about new authors and creative endeavors and welcomes any suggestions. For more of Jared's writing, check out his blog "Sign In Ink" at http://signinink.blogspot.com