My Playbill Collection!! | Katherine Steele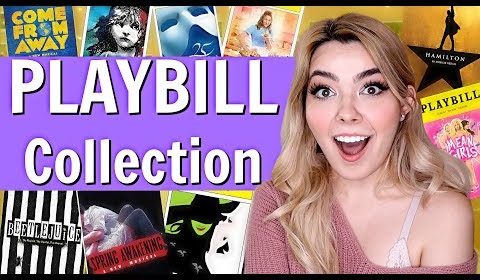 Today, we've got a VERY nerdy video. Let's do a Playbill Collection !! I feel so lucky to have seen such wonderful shows, so let's geek out :')
🌻🌻 OPEN ME 🌻🌻
HEY THEATRE FRIENDS! Today, I'm finally doing a #Playbill collection video! I feel so insanely lucky and privileged that I've been able to see so many wonderful shows and that it's now become part of my career! I love #Broadway more than anything on the planet and right now with all this craziness going on– I thought it would be a great time to just chill out and geek out 🙂 So, I hope you enjoy!
~MY FAVORITE VLOGS FROM THIS VIDEO~
Seeing DISNEY'S FROZEN THE MUSICAL ❄️

Seeing BEETLEJUICE THE MUSICAL on Broadway + Stagedoor! 💚🖤

Seeing HARRY POTTER AND THE CURSED CHILD ⚡️

Surprising him with FALSETTOS tickets!

~Want more? Click here for all the vlogs!~
https://www.youtube.com/channel/UCg3TVMKJy17N3h_6e27kS6g
❤❤❤❤❤❤❤❤❤❤❤❤❤❤❤❤❤❤❤❤❤❤❤❤❤❤❤❤❤❤❤❤❤❤❤
♡DISCOUNT LINKS♡
💋10% off Glossier skincare & makeup
Just click through my link for the discount on Glossier!
https://www.glossier.com/reps/katherinesteele
❤❤❤❤❤❤❤❤❤❤❤❤❤❤❤❤❤❤❤❤❤❤❤❤❤❤❤❤❤❤❤❤❤❤❤
♡FOLLOW ME!♡
🎭 Main Channel: Katherine Steele
https://www.youtube.com/katherineesteele
🎉 Vlog Channel: Party at Kat's
https://www.youtube.com/channel/UCg3TVMKJy17N3h_6e27kS6g
💅🏻 Instagram: @Kath_Steele
http://instagram.com/kath_steele
🐥 Twitter: @Kath_Steele
Tweets by Kath_Steele
📱 Facebook: @TheatreThursdayFam
http://www.facebook.com/TheatreThursd…
❤❤❤❤❤❤❤❤❤❤❤❤❤❤❤❤❤❤❤❤❤❤❤❤❤❤❤❤❤❤❤❤❤❤❤
I'm Katherine Steele and I really like musical theatre! I'm officially the unofficial Drama Club President of the internet. On this channel you'll find Broadway musical reviews, analysis on your favorite shows, first reactions to brand new ones, countdown lists for theatre fans, and tons of musical theatre audition advice! When I'm not on YouTube, I'm a professional musical theatre & screen actress and made-for-TV series host!
❤❤❤❤❤❤❤❤❤❤❤❤❤❤❤❤❤❤❤❤❤❤❤❤❤❤❤❤❤❤❤❤❤❤❤
FTC: This video was not sponsored. Some links may be affiliate ♡
💌 BRANDS & COMPANIES: If you're interested in working with me, please email me at KatherineSteeleYT@gmail.com