Play It Forward: Montclair State University BFA Musical Theater Class of 2018 Freshman Showcase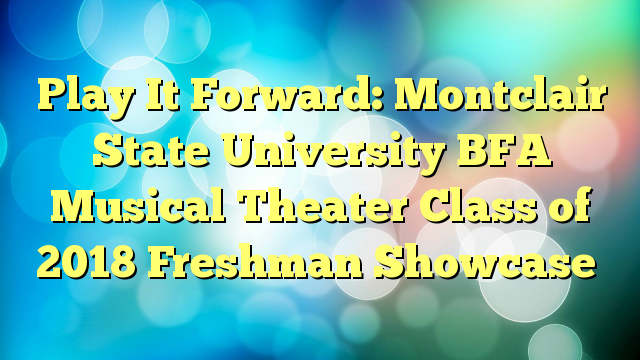 Play It Forward: Montclair State BFA Musical comedy Freshman Showcase
Gone along with by Barry Spatz
Life Doesn't Scare Me – Company
Good Morning – Allison Scott (feat. Wesley Ian Cappiello and McGregor Dalton).
At The Fountain – Ian Laudano.
Wait A Bit – Madison Milliner.
Struck Me With A Hot Note – Raquel Liane Martinez.
Please Do not Touch Me – Katherine Hebert.
The Next Ten Minutes – Kal Hicks (feat. Dalton Mitchell).
Old Pine – Dalton Mitchell.
Oh, Henry Bar – Megan Hasse.
History Of Wrong Individuals – Niki Metcalf.
Someone To Fall Back On – Ryan Kiernan.
Two Little Lines – Karlie Kohler.
You're Absolutely nothing Without Me – Ian M. Castro (feat. Ian Laudano).
Open Roadway – Chris Frazier.
What Do I Required With Love – Wesley Ian Cappiello.
State That We're Sweeties Again – Jacqueline Neeley.
At The Same Time – McGregor Dalton (accomplishment. Allison Scott).
Alanis Morrisette Collection – Hattie Marks.
Leavin's Not The Only Method To Go – A.J. Foggiano and Julie Graham.
Come So Far (Got Up until now To Go) – Company.