San Pedro Calungsod: Celebrating God's Presence The Second Time Around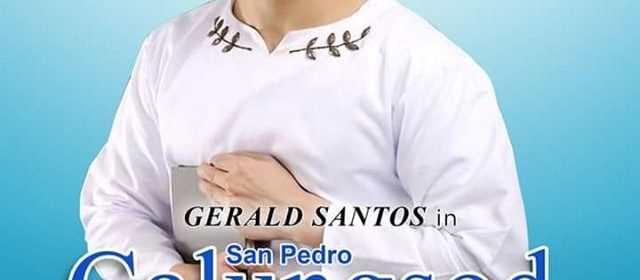 It was my great privilege to again view the sweet, musical tome to the second Filipino saint to be canonized, our very own San Pedro Calungsod. Gerald Santos reprises the title role, quite fresh from his rather fresh triumph of a two year run as Thuy, in the London run of "Miss Saigon."
Celebrating God's presence was indeed quite interesting, the second time around, in that the January 23, 2020 performance was staged at the Cuneta Astrodome. It was my first time to watch a musical at a coliseum, instead of a traditional theatre.
San Pedro Calungsod's libretto is by Antonino Rommel Ramilo, with music by Antonino Rommel Ramilo, and Gerald Santos. Having the director introduce the work, its star, Gerald Santos, and try to help the enthusiastic young audience settle down, and focus, was a welcome touch.
The show was the main event, which had, as its opening act, a talent show of APEC Schools. The audience of students was extremely responsive to the action onstage, swooning, shrieking, thrilled, at the appropriate moments. It was much more interactive than I had expected, and this was a great delight.
When the ensemble first sang "Celebrate," the recurring theme of the musical, despite everyone singing full force, Gerald Santos' clear, powerful voice, was still discernible. Special kudos to him at a later point, for he was still audible, despite some sporadic technical difficulties stemming from his lapel mic. He was unfazed, and just sang on, while the technician(s) resolved the problem. A true professional and world class talent.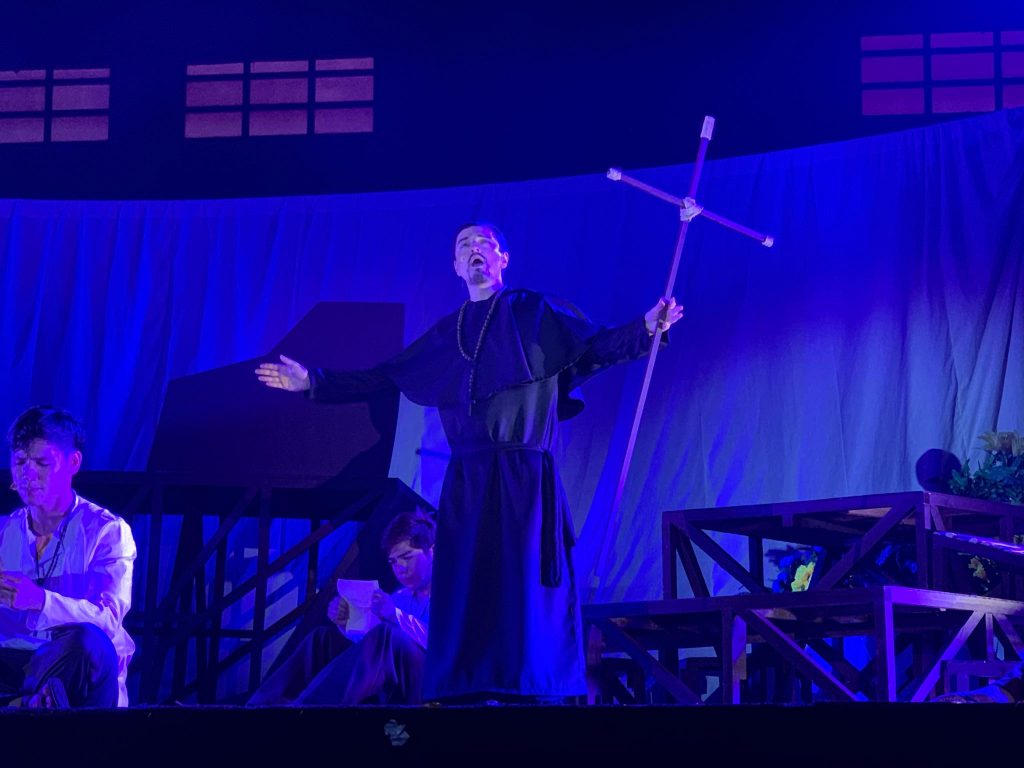 Somme stand outs were Kuya Manzano, Fil-Spanish actor, who portrayed Padre Diego San Vitores, the mentor of Calungsod, Hutch Perales reprising his role as the Chieftain, Matapang, Heidi Arima as Calungsod's Mother, and Vince Layson Vicentuan as the insidious Chinese businessman, Choco. Each portrayed their characters perfectly, to a T, embodying the traits and emotional obligations, required of their roles.
In the first act, Hutch was part of the ensemble, and I was happy to see him play the teacher of the young missionaries, before they leave for Las Islas de los Ladrones, later named the Marianas Islands, in honor of Mother Mary, The differences in his playing this elderly character and Matapang, the Chamorros' leader were very well delineated, and I was happy to see him better utilized in this production, being given a solo song, as the elderly mentor…although sadly, the dance he and his henchmen did, in this production, was shorter than the version I had first watched, at St. Scholastica's College's St. Cecilia's Hall, several years ago.
Kuya Manzano was excellent in his portrayal of Padre Diego…completely believable…and commendable in that, although he is often typecast as a priest, his portrayals of each one remain unique. These also show the ability of Manzano, acquired through many years of experience, internationally, and pretty much every imaginable media.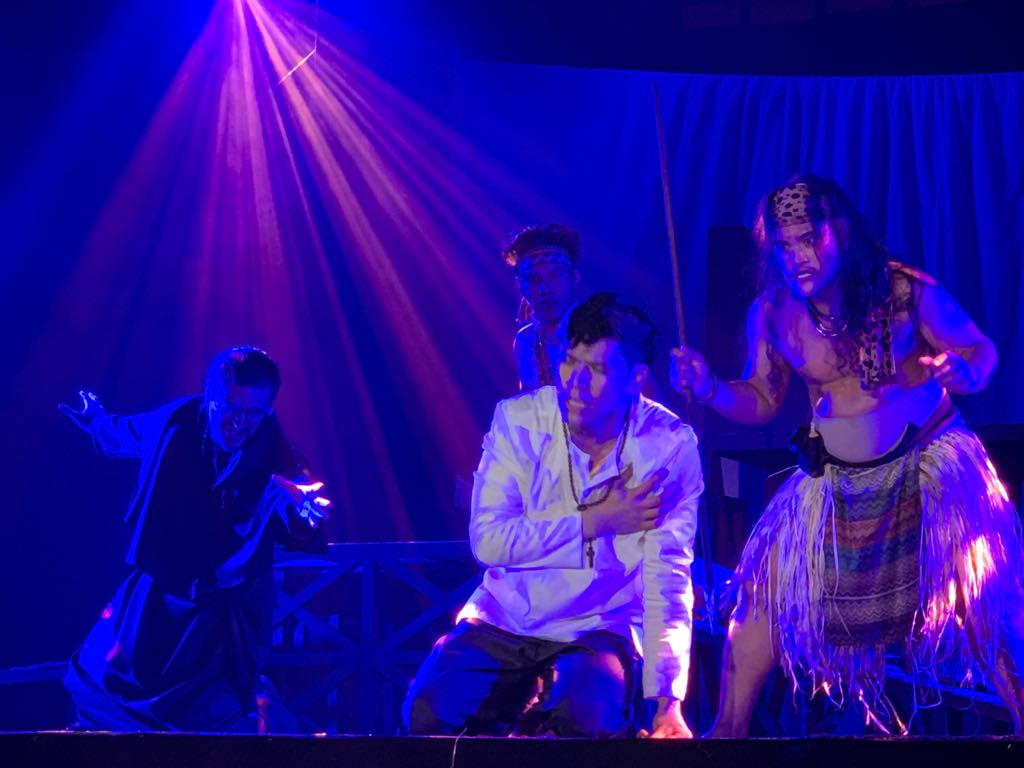 I loved Heidi Arima's very organic, subtle portrayal of the Mother. Her rich mezzo voice was a wonder, and I loved that when Calungsod kept begging her to allow him to become a missionary, she just nodded, painfully. It said all that had to be said, a moment even more eloquent than the usually anticipated, long cliche song.
The score was comprised mostly of piano accompaniment, occasionally with sparse percussion and strings. Pure, simple, unassuming, reflective of young Calungsod's faith. The rolling arrangements reminiscent of the tumbling waves beneath the ships that figured in Calungsod's journeys. The choreography was often very simple and straightforward, and kudos to the cast for utilizing their movements effectively, to get the message across, of their love for God, and following His will.
There were moments of true scenic beauty, such as when the stage lights' perfectly mimicked a bouquet of illumination from the sun. The sincerity of the performances of all the performers…as well as an appropriate sprinkling of comedic moments, some new to this run, make the show a great religious tribute, as well as entertaining, for its own sake.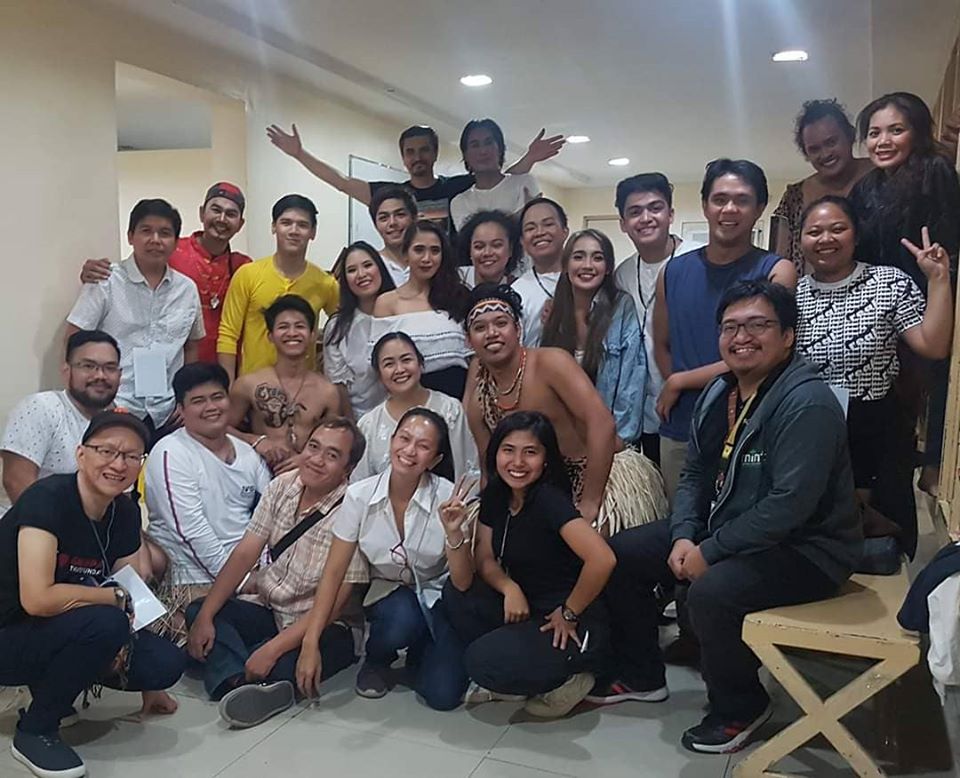 I was especially amused when a Chamorro man joined a queue of people lining up to get baptized by Padre Diego, and the man insisting that his pet snake, draped around his shoulders, be baptized, as well. The snake prop gets tossed around in much panic, ensuing in great hilarity. In these trying times of international crises, and now, the rise of a the novel Coronavirus, perhaps it's fitting that our playwrights and screenwriters turn to the past, in both secular, epic films, as well as life stories of religious personas, to comfort people by helping them find strength in the tributes to battles of long ago, whether fighting for country, or God.
Don't Miss "San Pedro Calungsod's" last remaining show, on Tuesday, February 25, 2020 at 7 pm, at Music Museum, Shoppesville Arcade, Greenhills Shopping Center, Ortigas Ave., 1502 Tickets are available at ticket2me.net