Ten Of The Best Musicals In London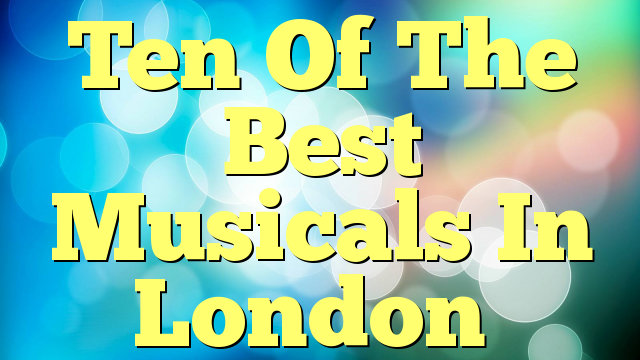 London's West End is jam-packed with streets of different theatres offering an assortment of productions to feast your eyes on. Old favourites like Les Miserables are shown alongside new and contemporary productions from up and coming producers so whatever your theatrical preference, you should be able to find your perfect show.
Les Miserables is an all time classic theatre production and one of the best to be found in London. An epic tale of passion and destruction this show is an adaptation of French author Victor Hugo's novel, which is widely regarded as one of the greatest written works of the 19th century.
The musical Chicago is another firm favourite in London's Theatreland. Based on a play of the same name by reporter Maurine Dallas Watkins, Chicago tells the tale of Roxie, a chorus girl who has murdered her lover but manages to get acquitted with the help of a lawyer.
The Phantom of the Opera is a musical by Andrew Lloyd Webber and tells the tale of a phantom that causes strife and upset at the Paris Opera. This long running show never fails to disappoint.
Another all-singing, all-dancing delight is The Rocky Horror Show, a long running musical medley of science fiction and all things strange.
The theatre production of Mamma Mia! offers you a trip down the aisle that won't be forgotten in a hurry. Based on the songs of ABBA, this tale of tale of love, laughter and friendship has quickly become a favourite with theatre-goers around the globe.
Another story of love and friendship is Grease the musical, which was also one of the best loved movies of all time. Grease started out on Broadway in 1972 and has been going strong ever since. Classic songs like "Summer Nights" and "You're The One That I Want" will have you singing along in no time.
Along similar lines is Dirty Dancing, the classic story of romance, emotion and dancing. A world-wide smash hit, the smooth moves and sensational songs will keep you on your toes.
Music fans may also like We Will Rock You, a musical centred on the music of Queen and one that frequently tops the list of most popular theatre productions.
Oliver is another production that is a favourite with theatre fans and this Victorian musical, based on a Charles Dickens novel of the same title, has some well known songs that have even the shyest singing along.
Last but not least, West Side Story is an ever popular production adapted from the award winning classic romantic tragedy, Romeo and Juliet, and is about two youngsters from rival NYC gangs who fall in love.
Whatever you decide to go and see onstage, make sure you have the best seats in town when the curtain goes up, simply by booking your theatre tickets online. You can also organise London theatre breaks so you can spend a few days enjoying all the city has to offer as well.
Isla Campbell writes for a digital marketing agency. This article has been commissioned by a client of said agency. This article is not designed to promote, but should be considered professional content.