The 2020 Tony Awards are BACK ON (…but with some BIG changes) // Breaking Broadway News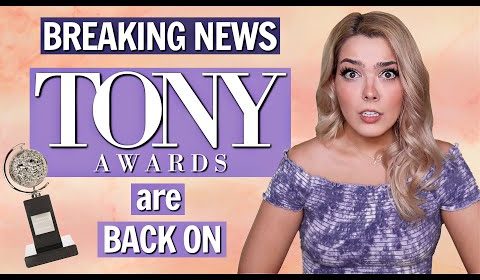 Thought the 2020 Tony Awards were done for when CBS replaced the broadcast with a singalong version of the movie 'Grease' (real thing, not a headline from The Onion)? WELL THINK AGAIN.
🌻🌻 OPEN ME 🌻🌻
HEY THEATRE FRIENDS! It's me, your good ol pal Kat Steele, and today we're discussing a piece of BREAKING (theatre) NEWS. A few weeks after the #Broadway shutdown, it was announced that the Tony awards were postponed indefinitely and would be replaced by a singalong version of the movie 'Grease'. It's sounds like a throwaway on Arrested Development but I swear on my life that's what really happened.
The Tony Awards were hoping to reschedule for autumn, but CBS very quickly made it known that they had no interest in producing a socially distanced version of the show 🙁
But this past weekend, we received a shocking update. THE SHOW WILL GO ON! THE TONY AWARDS ARE BACK, BABY!!! But they'll be a little different this time….Let's deep dive and discuss what the heck is going on with the 2020 #TonyAward Ceremony
Why the Tony Awards got CANCELLED & Replaced by a GREASE sing-along | *i wish i was kidding*

Variety Article
https://variety.com/2020/legit/news/will-the-tonys-be-canceled-in-2020-1234599091/
NY Post Article
https://nypost.com/2020/05/15/cbs-will-air-singalong-grease-instead-of-the-tony-awards/
❤❤❤❤❤❤❤❤❤❤❤❤❤❤❤❤❤❤❤❤❤❤❤❤❤❤❤❤❤❤❤❤❤❤❤
♡DISCOUNT LINKS♡
💋10% off Glossier skincare & makeup
Just click through my link for the discount on Glossier!
https://www.glossier.com/reps/katherinesteele
❤❤❤❤❤❤❤❤❤❤❤❤❤❤❤❤❤❤❤❤❤❤❤❤❤❤❤❤❤❤❤❤❤❤❤
~*MORE SHOWTUNE RECOMMENDATIONS*~
Broadway Musicals You Should Listen To Right Now // Cast Recording Recommendations!!

The BEST Musical Theatre SOLO Songs

Broadway Revivals we need RIGHT NOW

Broadway Songs that RUINED my Life

10 BEST Musical Theatre Songs

Here's a whole PLAYLIST of shows to check out!

❤❤❤❤❤❤❤❤❤❤❤❤❤❤❤❤❤❤❤❤❤❤❤❤❤❤❤❤❤❤❤❤❤❤❤
♡FOLLOW ME!♡
🎭 Main Channel: Katherine Steele
https://www.youtube.com/katherineesteele
🎉 Vlog Channel: Party at Kat's
https://www.youtube.com/channel/UCg3TVMKJy17N3h_6e27kS6g
🎮 Gaming Channel: Kat Steele Games
https://www.youtube.com/channel/UCMEskgIASbFvR4hprtUYBew
💅🏻 Instagram: @Kath_Steele
http://instagram.com/kath_steele
🐥 Twitter: @Kath_Steele
Tweets by Kath_Steele
📱 Facebook: @TheatreThursdayFam
http://www.facebook.com/TheatreThursd…
❤❤❤❤❤❤❤❤❤❤❤❤❤❤❤❤❤❤❤❤❤❤❤❤❤❤❤❤❤❤❤❤❤❤❤
I'm Katherine Steele and I really like musical theatre! I'm officially the unofficial Drama Club President of the internet. On this channel you'll find Broadway musical reviews, analysis on your favorite shows, first reactions to brand new ones, countdown lists for theatre fans, and tons of musical theatre audition advice! When I'm not on YouTube, I'm a professional musical theatre & screen actress and made-for-TV series host!
❤❤❤❤❤❤❤❤❤❤❤❤❤❤❤❤❤❤❤❤❤❤❤❤❤❤❤❤❤❤❤❤❤❤❤
FTC: This video was not sponsored. Some links may be affiliate ♡
💌 BRANDS & COMPANIES: If you're interested in working with me, please email me at KatherineSteeleYT@gmail.com