TV Shows Every Actor NEEDS to Watch | *what to binge watch on netflix, hbo, & more*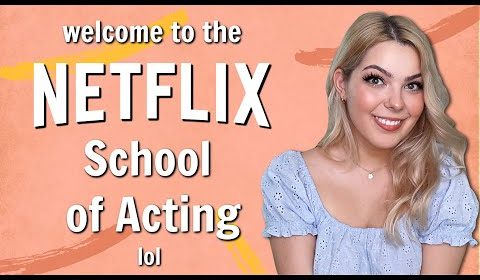 Welcome to the Netflix School of Acting™️ | let's talk about types of tv shows I think every actor needs to binge watch next! feat. euphoria, mad men, the office, stranger things, + more !
🌻🌻 OPEN ME 🌻🌻
HEY THEATRE FRIENDS! Today we're talking about *gasp* not BROADWAY or MUSICALS or BROADWAY MUSICALS ?? Instead, we're talking about my other great love: television. I'm a big ol' tv nerd, and tbh I've been binge watching a ridiculous amount of TV these last 6 months.
SO I thought it would be fun to share some of my favorite shows for ACTORS! Whether it be a fantastic performance, a style of show, or the entertainment industry ~life lessons~ learned — Here are some ideas on what to binge watch next!
Check out today's sponsor: Movavi!
Try Movavi Video Editor Plus: https://bit.ly/2ZN2kk0
Buy the video editor + 3 effects packs with 30% DISCOUNT:
For Windows: https://bit.ly/2BoOxqC
For Mac: https://bit.ly/30z67AK
❤❤❤❤❤❤❤❤❤❤❤❤❤❤❤❤❤❤❤❤❤❤❤❤❤❤❤❤❤❤❤❤❤❤❤
♡DISCOUNT LINKS♡
💋10% off Glossier skincare & makeup
Just click through my link for the discount on Glossier!
https://www.glossier.com/reps/katherinesteele
❤❤❤❤❤❤❤❤❤❤❤❤❤❤❤❤❤❤❤❤❤❤❤❤❤❤❤❤❤❤❤❤❤❤❤
~*MORE SHOWTUNE RECOMMENDATIONS*~
Broadway Musicals You Should Listen To Right Now // Cast Recording Recommendations!!

The BEST Musical Theatre SOLO Songs

Broadway Revivals we need RIGHT NOW

Broadway Songs that RUINED my Life

10 BEST Musical Theatre Songs

Here's a whole PLAYLIST of shows to check out!

❤❤❤❤❤❤❤❤❤❤❤❤❤❤❤❤❤❤❤❤❤❤❤❤❤❤❤❤❤❤❤❤❤❤❤
♡FOLLOW ME!♡
🎭 Main Channel: Katherine Steele
https://www.youtube.com/katherineesteele
🎉 Vlog Channel: Party at Kat's
https://www.youtube.com/channel/UCg3TVMKJy17N3h_6e27kS6g
🎮 Gaming Channel: Kat Steele Games
https://www.youtube.com/channel/UCMEskgIASbFvR4hprtUYBew
💅🏻 Instagram: @Kath_Steele
http://instagram.com/kath_steele
🐥 Twitter: @Kath_Steele
Tweets by Kath_Steele
📱 Facebook: @TheatreThursdayFam
http://www.facebook.com/TheatreThursd…
❤❤❤❤❤❤❤❤❤❤❤❤❤❤❤❤❤❤❤❤❤❤❤❤❤❤❤❤❤❤❤❤❤❤❤
I'm Katherine Steele and I really like musical theatre! I'm officially the unofficial Drama Club President of the internet. On this channel you'll find Broadway musical reviews, analysis on your favorite shows, first reactions to brand new ones, countdown lists for theatre fans, and tons of musical theatre audition advice! When I'm not on YouTube, I'm a professional musical theatre & screen actress and made-for-TV series host!
❤❤❤❤❤❤❤❤❤❤❤❤❤❤❤❤❤❤❤❤❤❤❤❤❤❤❤❤❤❤❤❤❤❤❤
FTC: Thank you to Movavi for sponsoring this video! Some links may be affiliate ♡
💌 BRANDS & COMPANIES: If you're interested in working with me, please email me at KatherineSteeleYT@gmail.com