What You Need to Know about HAMILTON on Disney+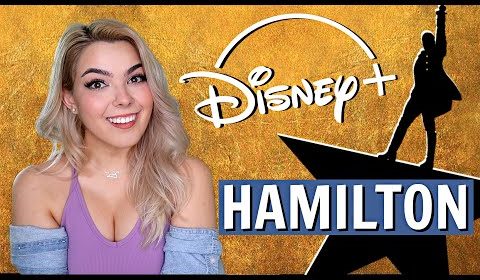 Hamilton the (movie?) musical is coming to Disney+ | Let's clear up the biggest 3 rumors I've seen AND discuss our thoughts on Hamilton hitting the small screen!
🌻🌻 OPEN ME 🌻🌻
Hey theatre friends! Today, we're talking all things Hamilton on Disney+ !! We'll give a little background on the original plans for Disney's Hamilton purchase, how to watch it, what Hamilton will be rated, and what exactly is being cut out of the recording. Like I mention in the video, we've got about a WEEK until Hamilton premieres on the streaming service so we better get those HamPlans in order!
QOTD: What are your thoughts on #Hamilton coming to #Disney+ ? Are you super excited? Are you super over it? Are you somewhere in-between? Let me know!
❤❤❤❤❤❤❤❤❤❤❤❤❤❤❤❤❤❤❤❤❤❤❤❤❤❤❤❤❤❤❤❤❤❤❤
♡DISCOUNT LINKS♡
💋10% off Glossier skincare & makeup
Just click through my link for the discount on Glossier!
https://www.glossier.com/reps/katherinesteele
❤❤❤❤❤❤❤❤❤❤❤❤❤❤❤❤❤❤❤❤❤❤❤❤❤❤❤❤❤❤❤❤❤❤❤
A little bit of info on HAMILTON; from Wikipedia:
Hamilton is a musical with music, lyrics, and book by Lin-Manuel Miranda that tells the story of American Founding Father Alexander Hamilton. Inspired by the 2004 biography Alexander Hamilton by historian Ron Chernow, the show's music draws heavily from hip hop, as well as R&B, pop, soul, and traditional-style show tunes; the show also casts non-white actors as the Founding Fathers and other historical figures. Through this use of modern storytelling methods, Hamilton has been described as being about "America then, as told by America now."
From its first opening, Hamilton received critical acclaim.The show premiered at the Public Theater, Off-Broadway on February 17, 2015, where its engagement was sold out; it won eight Drama Desk Awards, including Outstanding Musical. It then transferred to the Richard Rodgers Theatre on Broadway, opening on August 6, 2015, where it received uniformly positive reviews and strikingly high box office sales. At the 2016 Tony Awards, Hamilton received a record-setting 16 nominations, eventually winning 11 awards, including Best Musical. It received the 2016 Pulitzer Prize for Drama.
The musical details Hamilton's life in two acts, along with how various historical characters influenced his life such as Gilbert du Motier, Marquis de Lafayette, Aaron Burr, John Laurens, Hercules Mulligan, Elizabeth Schuyler Hamilton, Angelica Schuyler, Peggy Schuyler, Philip Hamilton, and former presidents George Washington, James Madison, and Thomas Jefferson.
❤❤❤❤❤❤❤❤❤❤❤❤❤❤❤❤❤❤❤❤❤❤❤❤❤❤❤❤❤❤❤❤❤❤❤
~*SHOWTUNE RECOMMENDATIONS*~
Broadway Musicals You Should Listen To Right Now // Cast Recording Recommendations!!

The BEST Musical Theatre SOLO Songs

Broadway Revivals we need RIGHT NOW

Broadway Songs that RUINED my Life

10 BEST Musical Theatre Songs

Here's a whole PLAYLIST of shows to check out!

❤❤❤❤❤❤❤❤❤❤❤❤❤❤❤❤❤❤❤❤❤❤❤❤❤❤❤❤❤❤❤❤❤❤❤
♡FOLLOW ME!♡
🎭 Main Channel: Katherine Steele
https://www.youtube.com/katherineesteele
🎉 Vlog Channel: Party at Kat's
https://www.youtube.com/channel/UCg3TVMKJy17N3h_6e27kS6g
🎮 Gaming Channel: Kat Steele Games
https://www.youtube.com/channel/UCMEskgIASbFvR4hprtUYBew
💅🏻 Instagram: @Kath_Steele
http://instagram.com/kath_steele
🐥 Twitter: @Kath_Steele
Tweets by Kath_Steele
📱 Facebook: @TheatreThursdayFam
http://www.facebook.com/TheatreThursd…
❤❤❤❤❤❤❤❤❤❤❤❤❤❤❤❤❤❤❤❤❤❤❤❤❤❤❤❤❤❤❤❤❤❤❤
I'm Katherine Steele and I really like musical theatre! I'm officially the unofficial Drama Club President of the internet. On this channel you'll find Broadway musical reviews, analysis on your favorite shows, first reactions to brand new ones, countdown lists for theatre fans, and tons of musical theatre audition advice! When I'm not on YouTube, I'm a professional musical theatre & screen actress and made-for-TV series host!
❤❤❤❤❤❤❤❤❤❤❤❤❤❤❤❤❤❤❤❤❤❤❤❤❤❤❤❤❤❤❤❤❤❤❤
FTC: This video was not sponsored. Some links may be affiliate ♡
💌 BRANDS & COMPANIES: If you're interested in working with me, please email me at KatherineSteeleYT@gmail.com