Broadway Extends Shut Down Until Next Summer… now what?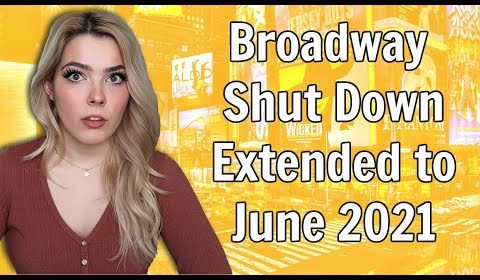 The Broadway League has announced that all performances will remain suspended through next June… what do we do now? // i love you, i care about you, and i'm not going anywhere
🌻🌻 OPEN ME 🌻🌻
hey pals. today is not a happy video, i tried to keep it as light as i could– but this was really hard to hear. last week, the #Broadway league announced that shows were to remain closed through May 30th, 2021. Tons of other broadway plays and musicals are now announcing that they've pushed back their opening nights even further into the future. in today's video, we'll talk a little bit about that news but frankly…this video is more just for us to talk and to cope. if you want to vent, please do so. if you want to celebrate a victory, do that too. talking about this today helped me feel less alone, and I hope you feel the same.
#HopeIsNotCancelled
Tickets for A Killer SLUMBER Party are on sale now!!
https://www.todaytix.com/x/nyc/shows/22423-a-killer-slumber-party
ARTICLES (cool stuff) MENTIONED
–"Sunday" Sunday in the Park with George

–Will Blum's one man cardboard brilliance

–Sarah Jessica Parker
https://variety.com/2020/legit/news/sarah-jessica-parker-broadway-1234794721/
–cbs
https://www.cbsnews.com/amp/news/broadway-performers-coronavirus-shutdown-uncertainty-covid-19/#app
–broadway shutdown
https://www.theatermania.com/new-york-city-theater/news/broadway-to-remain-closed-through-june-2021_91517.html
❤❤❤❤❤❤❤❤❤❤❤❤❤❤❤❤❤❤❤❤❤❤❤❤❤❤❤❤❤❤❤❤❤❤❤
♡DISCOUNT LINKS♡
💋10% off Glossier skincare & makeup
Just click through my link for the discount on Glossier!
https://www.glossier.com/reps/katherinesteele
💋10% off Rainbow Optx sunglasses
Click through the link or use code KATHERINE10
https://rainbowoptx.com/discount/KATHERINE10?rfsn=4738624.1508e4
❤❤❤❤❤❤❤❤❤❤❤❤❤❤❤❤❤❤❤❤❤❤❤❤❤❤❤❤❤❤❤❤❤❤❤
~*MORE SHOWTUNE RECOMMENDATIONS*~
Broadway Musicals You Should Listen To Right Now // Cast Recording Recommendations!!

The BEST Musical Theatre SOLO Songs

Broadway Revivals we need RIGHT NOW

Broadway Songs that RUINED my Life

10 BEST Musical Theatre Songs

Here's a whole PLAYLIST of shows to check out!

❤❤❤❤❤❤❤❤❤❤❤❤❤❤❤❤❤❤❤❤❤❤❤❤❤❤❤❤❤❤❤❤❤❤❤
♡FOLLOW ME!♡
🎭 Main Channel: Katherine Steele
https://www.youtube.com/katherineesteele
🎉 Vlog Channel: Party at Kat's
https://www.youtube.com/channel/UCg3TVMKJy17N3h_6e27kS6g
🎮 Gaming Channel: Kat Steele Games
https://www.youtube.com/channel/UCMEskgIASbFvR4hprtUYBew
💅🏻 Instagram: @Kath_Steele
http://instagram.com/kath_steele
🐥 Twitter: @Kath_Steele
Tweets by Kath_Steele
📱 Facebook: @TheatreThursdayFam
http://www.facebook.com/TheatreThursd…
❤❤❤❤❤❤❤❤❤❤❤❤❤❤❤❤❤❤❤❤❤❤❤❤❤❤❤❤❤❤❤❤❤❤❤
I'm Katherine Steele and I really like musical theatre! I'm officially the unofficial Drama Club President of the internet. On this channel you'll find Broadway musical reviews, analysis on your favorite shows, first reactions to brand new ones, countdown lists for theatre fans, and tons of musical theatre audition advice! When I'm not on YouTube, I'm a professional musical theatre & screen actress and made-for-TV series host!
❤❤❤❤❤❤❤❤❤❤❤❤❤❤❤❤❤❤❤❤❤❤❤❤❤❤❤❤❤❤❤❤❤❤❤
FTC: This video was not sponsored. Some links may be affiliate ♡
💌 BRANDS & COMPANIES: If you're interested in working with me, please email me at KatherineSteeleYT@gmail.com