20 Bloggers to Follow on Musical Theater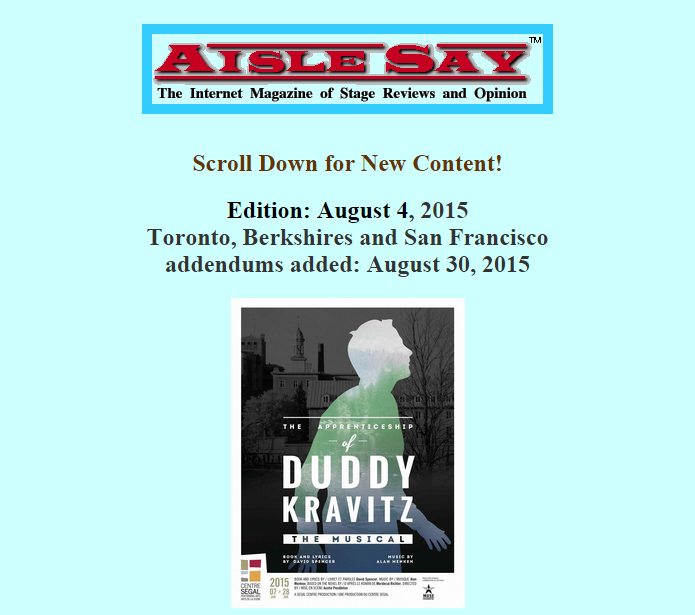 Info used to rank the 20 Bloggers to Follow on Musical Theater is sourced from marketing intelligence data provider. Alexa.com, as of 27 September 2015. Alexa.com has become the standard in measuring incoming traffic that blogs and websites today generate. The term "blogger" would be loosely used here to refer to sites that discussed musical theater. All sites featured have bloggers that belong to the Independent Theater Bloggers Association.
Based on the screen grab, it focused on the theater professionals that assumed various characters in theater. It made the blog like an ideal database for casting directors for their next production. Surely, there would be casting calls and the actors would simply show up. Then again, it's blogs like these that add value to CV's submitted during casting calls. It's an interesting and underserved niche that this blog managed to capture.
For a blog whose most recent post is way back in 17 September 2014. It makes you wonder what keeps musical theater nerds coming back to TheHappiestMedium.com. It must have been the analytical approach in reviewing productions that still mattered. Puns for blog article titles helped too.
What is the importance of including restaurant reviews in blogs like TheatreThoughts.com? Because some theater houses have an in-house restaurant. It's ideal for intermission. Then again, the blog made sure to cover productions that caught some hype. And whether the hype is deserved. Scanning the blog would give you snippets on the bloggers' thoughts on the importance of theater in daily life. Philosophical? Maybe. Then again, it lives up to its tagline. "Sharing My Passion For All Things Theatrical."
Ever thought about seeing a review complete with grades on the book and lyrics used in a musical? The JK in "JK's TheatreScene" stands for Jeff Kyler. And he posts mostly musical theater reviews in his blog. It mostly covered Broadway fare. And most of his top posts covered top shows. The teasers would usually mention a show as Grade A or (God forbid) D+. And you have to click the link to read why. Now that's how you generate interest on your blog posts.
A blog that dubbed itself as "An indie media outlet for indie theater". You then realize how creativity is limitless in the indie scene. Musicals are no exception. Even mini-musicals are discussed in this blog apart from the straight plays. What made a production a mini-musical? What made it any different from THE musical? Just when you thought it's the same difference like opera vs. operetta. You see articles here that provide a better perspective. Off-Broadway won't be the new think-tank of Broadway producers if not for indie favorites like the productions discussed here.
StageZine.com managed to focus on Broadway through their categories "Broadway Reviews", "Broadway Listings" and "Off Broadway Listings". It covered even shows like concerts. Checking the reviews archive displayed the title of the musical reviewed and the closing date. If the shows reviewed go way back in 2012, the links are then displayed as PDF files.
Revivals are good. But there is a demand for new material. And you would find new material here at AisleSay.com. "New" can mean new adaptation or new like never been staged on Broadway before. The kind of productions that get you asking "Where have you been all my life?" But the old school references still persist like mentioning Sarah Bernhardt. For musical theater enthusiasts interested in nearby productions, the blog's index is a gold mine. They accept LSS subscriptions too.
Robert Bullen's "About Me" section at the ChiTheatreAddict.com included a disclaimer. "I'm not a professional critic." So it is guaranteed to be more about him being an addict of Chicago Theater. And this blog served as his journal regarding his daily fix of the local theater scene. And this takes us back to what blogging is all about. Sharing opinions that mattered to you. Opinions that come from your passions. Passion is the best fuel for blogging. Hence the decision for Bullen to jot them down in his blog.
One of the few blogs that included podcasts discussing theater. Surely, it covered mostly the Chicago theater community. But it did not stop them from getting the interviews that mattered. From Broadway stars to theater veterans. ShowbizChicago.com got the topics that mattered covered. That includes a section on LGBTQ.
Plays, musicals and revivals in theater productions outside Broadway. Who would have thought that outside Broadway, Oklahoma got revived? Sometimes, plays and musicals that haven't been revived yet on Broadway are seen here at CriticalRant.com. You also end up discovering new theater productions company like the most recent staging of Ordinary Days. If getting out of the box meant trying off-Broadway fare, CriticalRant.com has enough info to keep you interested.
Plays, musical theater, revivals, spin-offs, whatnot. Andrew and Phil managed to cover West End. Browsing their blog makes you think how loaded West End is when it comes to theater. Sometimes the front page has more plays than musical theater productions reviewed. There are times that the musicals outnumber the plays. Either way, you get credible opinion about musicals in the West End Whingers' point of view. Also, some musicals that have been staged in the US get staged on West End for the first time. So if you can't help but compare notes, get your references from the West End Whingers.
Don't let the url intimidate you. You can tell the tongue-in-cheek delivery of musical theater opinion by Laura and Aileen. Some of the articles contained their latest pics alongside tidbits about musical theater. Reviews and analysis of contemporary musical productions are entertained here at TheCraptacular.com. The fact that they even covered what is not happening in musical theater lately meant that Laura and Aileen meant well. Constructive criticism by providing suggestions. And being blunt about what they see.
Musical theater enthusiast and book author Scott Miller shares his thoughts on contemporary arts and culture through this blog. He's been blogging about musical theater since 2007. And he has earned a niche online that started in St. Louis. It has spread like wildfire online among musical theater enthusiasts. He proudly posted on his banner his monicker "The Bad Boy of Musical Theatre". It then became his blog's main name.
Most of Chris Caggiano's articles are in About.com. EverythingMusicals.com though serves as an ideal repository or link bank for his other articles. Still, musical theater enthusiasts familiar with him still go to this site for the latest articles. In this manner, fans get a second or third opinion on theater productions. Was it worth the buzz? Was it worth your time and money? Caggiano would have enough answers for those.
The site may be NewYorkTheater.me. But even Off Off-Broadway productions are covered here. Even contemporary pop culture news and updates get mentioned here. But still, the bulk of the content produced leaned towards musical theater. An ideal blog to keep tab of especially when checking the really nerdy stuff about musical theater.
Musical theater fans in the New England area in the US would go to BerkshireOnStage.com for upcoming productions within the region. Just when you thought only the Berkshires region is covered. You see headlines like the screen grab above that announces the 2016 season in Vermont. WordPress users can follow them to keep abreast of the latest teasers and reviews.
One of the top sites to capture a niche is TheaterJones.com. While Broadway is still the Mecca for musical theatre. It did not stop theater communities in North Texas in staging shows. Theater enthusiasts in North Texas in the US go to TheaterJones.com for upcoming shows within the region.
There's no business like showbusiness. And BroadwayShowbiz.com managed to rake in the website traffic for stories that sparks your interest. Much of what is found here is about musical theater. Ideal for individuals interested in finding the next big musical to play in your area.
Ever wondered how is it like to be a Broadway producer? Singing The Producers' "I Want to be a Producer" might give you a slight idea on the perks. But remember this is still money discussed. There are 2 kinds of theater professionals that wanted to be producers. Folks portrayed by The Producers. And theater professionals that wanted to fund their own projects. If you would like a business perspective on producing Broadway musicals, Mr. Ken Davenport is the blogger to go to for advice.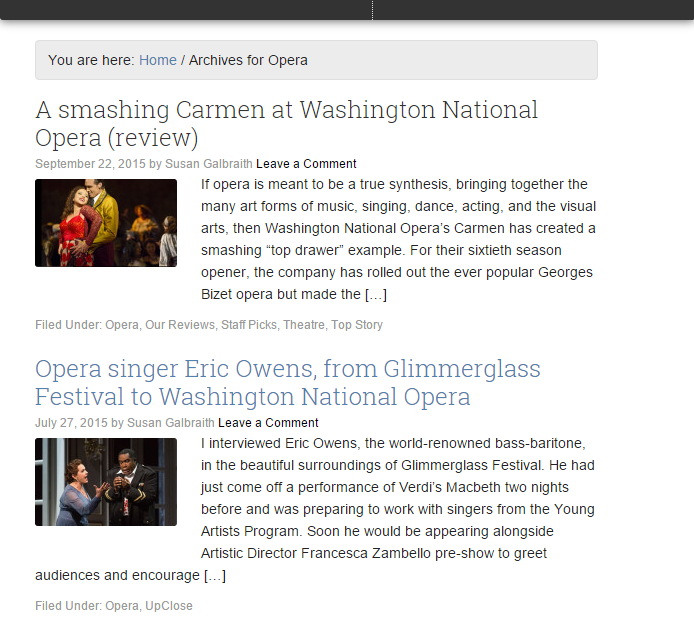 A blog covering the DC Theatre Scene. Just when you thought most of the action occurred at the Kennedy Center, there would be more theater houses within the vicinity. You just need a blog like the DC Theatre Scene to give you directions. From musicals to opera to discounted ticket deals and related information to keep your theater fix satisfied are found here. Recommendations on which productions are must-see events are noted here.
Interested to read more from the DC Theatre Scene blog? Follow them on their social media accounts. Like their official Facebook page, DCT Theatre Scene. And follow them on Twitter @DC_theatrescene.
Agree on our list of 20 Bloggers to Follow on Musical Theater? Send us your feedback and suggestions on our social media accounts. Like our official Facebook page, Musicals Online. And follow us on Twitter @musicalsnews. Subscribe to our online newsletter as well. We will send you the latest articles as soon as they get published on your email address. We'd be expecting you. Thanks for reading.