Calixto Bieito Naked Operas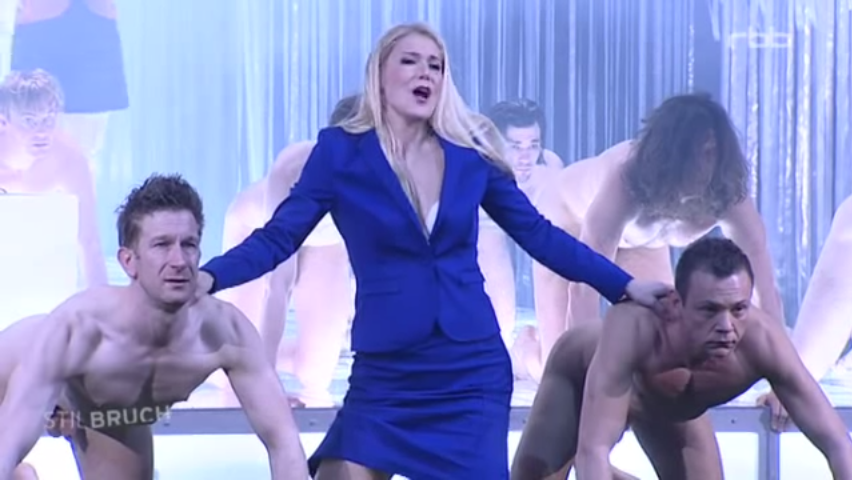 Calixto Bieito Naked Operas would remind you how productions today have made an effort to modernize opera. There are instances where "modernization" is interpretated as "shocking the audience". In an era where nudity is not as shocking as it used to be. It still shocks opera fans still stuck in the bel canto era. That was the time where opera is more about the music and less about the visuals. So directors like Spanish director Calixto Bieito end up finding a niche to satisfy.
Bieito would attribute his dark humor to Spanish literary great Cervantes. His warped visions were translated on stage. Thanks to watching films with distorted values from Luis Bunuel. The skills to shock and scare were from his experience of being taught by the Jesuits. It caused him to see operas like Lulu and Armida in a way that meant to shock the audience. Not everyone likes it. But the bold moves to make people see operas in a way he saw them would force them to think. Disturbing your audiences through the Calixto Bieito Naked Operas meant forcing them to think.
The nudity in his version of Alban Berg's Lulu is somewhat expected. It was one of the more popular productions he has done for Theater Basel Switzerland. The titular character in the tragic opera is an amoral woman. A seductress with manipulative skills of demonic levels. As a full opera, it is basically about sex, lies and murder. So why hold back on the nudity then? As one of the Calixto Bieito Naked Operas, having Lulu topless in most scenes reveals the only power she possessed after all. It's her naked charm. Who in his right mind would take the side of a woman that murdered his father? Only Lulu. Showing Lulu at the end of the opera totally nude served as Bieito's commentary to the character. That Lulu's charm has worn off even when she has taken all of her clothes off.
Nudity as commentary is also evident in his version of Gioachino Rossini's Armida. He ditches the fantasy element in the opera. He then moves forward with a criticism of how an empowered woman is viewed. He shows Armida as a liberated and headstrong woman surrounded by naked men. But she would still go for the fully-clothed Rinaldo. Having him fully-clothed in one of the Calixto Bieito Naked Operas is a visual commentary on how "honorable men" are viewed. Much of the nudity that Bieito presented in his version of Armida was transfused in how Armida saw the men around her.
Sex, lies and murder just like in Bieito's interpretation of Lulu. Except that nudity is not an element in any Rossini opera. (Allegedly Rossini is more concerned about the performers getting the notes right as any true blue bel canto era composer had been) Then Calixto Bieito came to Komische Oper. A theater company that presented operas in German. The idea of translation alone would have horrified the opera purists. What more if it becomes one of the Calixto Bieito Naked Operas? Expect all hell to break loose.
Bieito himself has admitted having haters for his radical approach in presenting opera. But he's more concerned about the expression rather than the rules. When you wanted to be honest about how you feel, rules be damned. Everyone has a different way of viewing things. And as much as Armida is ought to be presented as a piece de resistance among Rossini's musical library. People today have a way of viewing it differently now. Apparently, modern opera fans that flocked to the Komische Oper agreed with his vision. Armida became one of the most successful Calixto Bieito Naked Operas to date.
Would the Calixto Bieito Naked Operas debut in American theaters soon? That has yet to be seen. The New York Times has revealed that the Metropolitan Opera has hired Bieito for their "new" production of Giuseppe Verdi's "La Forza del Destino". Bieito has been so in demand as of late that the Met had reserved a spot for him for the 2017-18 Season. Also because San Francisco Opera beat them to getting Bieito first. His artistic vision of George Bizet's "Carmen" is confirmed for the 2015-16 Season. Whether it would be the same English-language version presented in English National Opera or not has yet to be seen.
Modern opera has constantly ruffled the feathers of the purists. Not that they succeeded in stopping raunchy productions like the Calixto Bieito Naked Operas. It would only fan the flames further. Just like some of the most viewed articles ever published here at Musicals Online. Now all that is left for you to do is subscribe to our newsletter. Then follow us on our social media accounts. Like our official Facebook page, Musicals Online. And follow us on Twitter @musicalsnews. Thanks for reading.