Marry For Love – Andrew Lloyd Webber's Cinderella | London Gay Men's Chorus | The Shows Must Go On!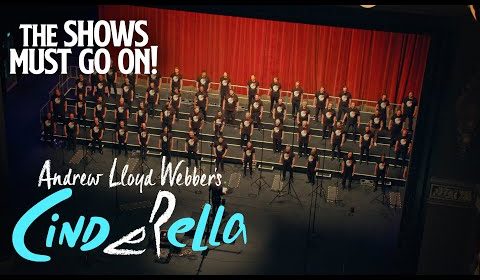 The London Gay Men's Chorus perform 'Marry For Love' from Andrew Lloyd Webber's brand new musical Cinderella.
Andrew Lloyd Webber's Cinderella is now open at The Gillian Lynne Theatre, London.
Tickets on sale now at https://andrewlloydwebberscinderella.com/
Andrew Lloyd Webber's Cinderella is based on an original idea by Emerald Fennell, the Emmy Award-nominated lead scriptwriter of the second season of international smash hit Killing Eve, with a brand new score from the legendary composer. The show's lyrics are from David Zippel, a multi-award winner for Broadway productions including City of Angels, The Goodbye Girl, The Woman in White and Liza at the Palace, as well as for work on film including Disney's Hercules and Mulan, both of which received Oscar nominations. Cinderella will be directed by Laurence Connor, with choreography from JoAnn Hunter, who previously partnered on School of Rock and the recent, sold out production of Joseph & the Amazing Technicolor Dreamcoat at The London Palladium.
Donate to these worthwhile arts causes:
UK: http://actingforothers.co.uk/
US: https://broadwaycares.org/
Australia: https://www.actorsbenevolentfund.org.au/
Donate to NHS Charities COVID19 Appeal: http://uk.virginmoneygiving.com/fund/NHSCharitiesCOVID19
Welcome to The Shows Must Go On the channel bringing you showtunes, backstage access and full performances from some of the best loved musicals in history!
Featuring the best performances from musical theatre and beyond!
Subscribe for more here: http://tiny.cc/m08flz
#Cinderella #AndrewLloydWebber #Musicals #MarryForLove #MusicalTheatre #LondonGayMensChorus #Pride