Fiddler on the Roof The Musical in Broadway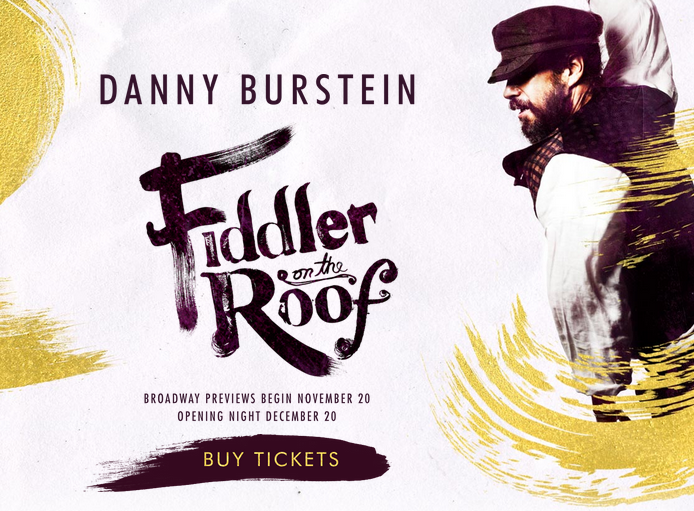 Fiddler on the Roof The Musical in Broadway. One of the longest running musicals ever staged in Broadway history is back. Tevye and his daughters will enthrall musical theater fans anew this fall. The songs you once fell in love with will hit the airwaves again. Songs that depicted a story between tradition and following one's heart.
Tevye is the central character in Fiddler on the Roof The Musical in Broadway. Every parent wanted the best for his daughters. Of course, tradition has a lot to do with it. Hence the opening number "Tradition". Tevye sings to the audience as the default narrator. In this song, he gets to describe the traditions that his Russian Jewish community has consistently abided with. From the way they sleep to what to cover their heads with. Even that beggar with a penchant for obliging everyone else to give to him because charity. The presence of the community matchmaker is almost nonchalantly mentioned by Tevye. Not realizing that some of his daughters would get into relationships outside the recommendations of the matchmaker.
The matchmaker is viewed as a Jewish custom in marriage. Every parent wanted their children to marry well. While it seems like the matchmaker knew everyone in town enough to recommend matches. Her sense of judgment can be sketchy at best and unfairly critical at worst. It was a realization that 3 of Tevye's daughters got into. They are Tzeitel, Hodel and Chava. They expressed their initial thoughts at the song "Matchmaker, Matchmaker". Whatever the matchmaker told them to get them thinking otherwise would get you giggling in no time at Fiddler on the Roof The Musical in Broadway.
Why the strict adherence to tradition? Tevye himself was honest in saying he didn't know. But the life presented in Fiddler on the Roof The Musical in Broadway confirmed one thing. People like Tevye knew only one kind of life. And they can't imagine any other life apart from what they have been used to. So seeing his daughters later on marry men outside tradition becomes the main conflict at hand. How can he send off his daughters to men who might not even be Jewish enough?
Other hits expected in Fiddler on the Roof The Musical in Broadway are "If I Were A Rich Man" and "Sunrise Sunset". Mostly songs by the character Tevye. Acclaimed musical theater veteran Danny Burstein takes on the role of Tevye. A man whose heart is as big as his voice. He will be joined by Alexandra Silber as Tzeitel. Samantha Massel as Hodel. And Melanie Moore as Chava. Music featured in Fiddler on the Roof The Musical in Broadway is by Jerry Bock. With lyrics by Sheldon Harnick and book by Joseph Stein. Directed by Bartlett Sher. Previews begin in 20 November 2015.
Fiddler on the Roof The Musical in Broadway officially opens in 20 December 2015. Tickets are now up for grabs. Click here to buy while supplies last. Follow them on their social media accounts at Facebook, Twitter and Instagram for further updates.
Musical theater productions like Fiddler on the Roof The Musical keep on coming back. Simply because the Great White Way's loyal patrons can't get enough of them. And you can't go wrong with the classics. More modern classics to be analyzed here at Musicals Online. So subscribe to our online newsletter while you can. Follow us on our social media accounts too. Like our official Facebook page, Musicals Online. And follow us on Twitter @musicalsnews. Thanks for reading.