Something Rotten on Broadway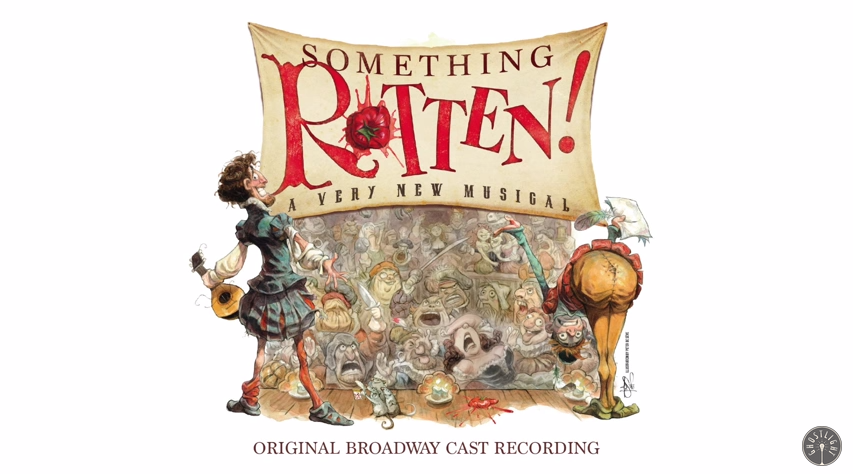 Something Rotten on Broadway offered an interesting insight into how theater evolved. As this may seem like a fictional account on evolution of the theater arts. It makes a good case as to how certain playwrights dare challenge the supremacy of The Bard. That's William Shakespeare for you. Not because he's the top name in theater entertainment, other playwrights won't take a chance of dislodging him from his pedestal.
With book, music and lyrics by Karey Kirkpatrick, Wayne Kirkpatrick and John O'Farrell. Something Rotten tells the story of the Bottom brother Nick and Nigel. Theater is the main source of entertainment in Elizabethan England. William Shakespeare has been enjoying success and loyal patronage from nobles and commoners alike. Just when the brothers are on the verge of quitting. A soothsayer predicted that theater in the future would include music. A relatively fresh idea comes upon the characters presented in Something Rotten on Broadway.
Surely, William Shakespeare is still the main barometer used in presenting that ideal play. And most contemporary productions often give in to the pressure of presenting such performances. They are taxing to one's emotions and memory. That is if you view it from an actor's point of view. As for the competing playwrights, the main difficulty is in outselling The Bard. How do playwrights like the Bottom brothers get to beat Shakespeare in at least ticket sales and rave reviews?
Songs like "Bottom's Gonna Be On Top" reveal the determination and ambition that Nick possessed. It's the ego talking or, er, singing. Ego apart than the need to break even is the main motivation behind the road to success. Inferiority complex is the last attitude that one needs to exude. The Bard has started believing in his own hype. It's starting to make his plays less attractive than he actually mentioned them to be. Also, Nick Bottom mentioned that one element that The Bard's plays lacked. Music. Lines sung instead of recited that add color to the already entertaining dialogue. It escalated the entertainment factor found at Something Rotten on Broadway.
It would be interesting to see the effects of stiff competition to this fictional version of Shakespeare. The song "Hard to be The Bard" reveals the pressure that The Bard seeped into his system. The price of fame indeed. This was an era where playwrights were rock stars. He's been writing hit after hit after hit. It starts giving him mental block. The need to create is a pain in the ass that writers can mostly create. How can artistry be achieved when it evolves into a game of one-up-manship between him and the Bottom brothers? Something Rotten on Broadway would definitely be an interesting foray into the creative process.
Getting into the Renaissance vibe helps in understanding events that unfold in Something Rotten on Broadway. It also helped that the music gets your feet tapping along. Seeing Shakespeare in the point of view of his competitors would also inspire upcoming playwrights. Sure, Billy Shakes himself is a source of inspiration for fans and haters alike. The haters just refuse to admit that they're fans in denial. Nick Bottom eventually admitted it in the reprise version of "God, I Hate Shakespeare".
Need inspiration for your next musical theater production? Hop into the bandwagon. Something Rotten on Broadway is still running as of this writing. Do you have to wait until the final play date is announced? No. Click here the soonest time you can to purchase tickets.
Musicals that offered interesting hypotheses as to when did this genre start getting in vogue would be more than welcome. Something Rotten on Broadway need not to be historically accurate. It is called creative license. Pushing the envelope is more than welcome to encourage critical thinking. There would be a ton more musicals worth analyzing with theories like this around. So subscribe to our online newsletter. You receive the articles' links the soonest time they get published. Follow us on our social media accounts too. Like our official Facebook page, Musicals Online. And follow us on Twitter @musicalsnews. Thanks for reading.