New Federal Theatre, Woodie King, Jr. | Tony Honors Acceptance Speech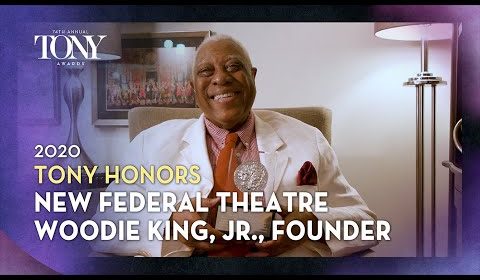 In recognition of a groundbreaking theatre company that has been training artists and producing plays by people of color and women, as well as developing multicultural audiences, for more than 50 years.
—About Tony Honors—-
The Tony Honors for Excellence in the Theatre were established in 1990 and are awarded annually to institutions, individuals and/or organizations that have demonstrated extraordinary achievement in theatre, but are not eligible in any of the established Tony Award categories.
—Watch the 74th Annual Tony Awards Sept. 26—
The Tony Awards, presented by the Broadway League and the American Theatre Wing, will host a multi-platform celebration on Sunday, September 26th, starting with the presentation of the American Theatre Wing's 74th Annual Tony Awards LIVE at 7:00 PM ET / 4:00 PM PT exclusively on Paramount+, followed by "The Tony Awards Present: Broadway's Back!" on the CBS Television Network and available to stream live and on demand on Paramount+ and the CBS app.
—About New Federal Theatre—
New Federal Theatre's mission is to integrate artists of color and women into the mainstream of American theatre by training artists for the profession, and by presenting plays by writers of color and women to integrated, multicultural audiences – plays that evoke the truth through beautiful and artistic re-creations of ourselves. New Federal Theatre (NFT), founded by Woodie King, Jr. in 1970, is an outgrowth of a theatre program called Mobilization for Youth. This neighborhood-based professional theatre was originally funded by the Henry Street Settlement along with a small grant from the New York State Council on the Arts. The theatre's first season was launched in the basement of St. Augustine's Church on Henry Street. Several early successes brought NFT to national prominence: Black Girl by J.E. Franklin won a Drama Desk Award; The Taking of Miss Janie by Ed Bullins moved from NFT to Lincoln Center and won the Drama Critics Circle Award; For Colored Girls Who Considered Suicide When the Rainbow is Enuf by Ntozake Shange performed on Broadway for 10 months and was nominated for the Best Play Tony Award® before embarking on a three-year national tour. It has subsequently been performed regionally and around the world, and was revived off-Broadway in 2019. Both For Colored Girls… and The Taking of Miss Janie were co-produced with the late Joseph Papp. Many performers benefited from early successes on NFT's stage, including the late Chadwick Boseman, Debbie Allen, Morgan Freeman, Phylicia Rashad, Denzel Washington, LaTanya Richardson Jackson, Samuel L. Jackson, Issa Rae, and many more. NFT has focused on the production of new works, often by young playwrights. Many plays first premiered at NFT have established the reputations of playwrights who have gone on to bigger successes later in their careers. For example, Charles Fuller premiered two plays at NFT, In My Many Names and Days and The Candidate. He was later to win the Pulitzer Prize for A Soldier's Play. David Henry Hwang premiered The Dance and the Railroad at NFT and was later to win the Tony Award for Best Play for M. Butterfly.
—
Filmed at Sofitel New York
Director/Producer: Ian Weiss
Editor/Producer: Kayla Williamson
Camera Op: Samuel Broeren
Sound Op: Wade Vantrease