Nudity in Musicals: Penis Talks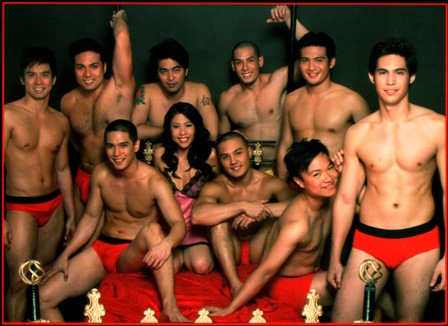 When it comes to the local theater scene, nudity in musicals don't exist that much until the musical "Penis Talks" came along. There are musical numbers in between mostly composed by Vincent de Jesus, the same genius behind "Zsa Zsa Zaturnnah Ze Muzikal". On why I didn't see it then, I was in college and with I haven't taken trips to the metro on my own.
It was way back in 2004, when the play Vagina Monologues caused a sensation for getting performed in a conservative country such as the Philippines (and even gets staged in Filipino as "Usaping Puki"). There was some clamor for the other organ to be "heard". Hence the straight play "Penis Talks", written by Ricky Lee and directed by Joel Lamangan. (Mel Chionglo joins Joel Lamangan as co-director in "Penis Talks 2")
Was there any exposure of the aforementioned member? Rumor has it that there is phallic exposure … for 3 seconds. In the same vein that women and gays would flock to the cinema to watch "Magic Mike" for the nudity and not for the plot, most audience members were in it for the beefcakes.
I have to agree with some pundits saying that replying to the trend that "The Vagina Monologues" has set became a convenient excuse to stage a show featuring naked men. I don't consider that to be a bad thing. Some dicks find it easier to express themselves when the rest of the body is exposed. As for the song and dance numbers, I can't find much feedback on the first "Penis Talks".
Yes, there was another "Penis Talks" with the complete title as "All About Men 2: Penis Talks Reloaded". I shouldn't be surprised that there was a sequel. That's the version that has more feedback available online like this review by blogger Gibbs Cadiz where he mentioned it as:
… the gay peep show masquerading as a musical revue
No mention either if that is supposed to be a bad thing. In fact I am more concerned about how, compared to Broadway and West End productions, revivals are not very common in the local theater scene. If previous musicals like this exist without ever getting revived, how can it be made more memorable? So what if it's more about the skin exposure and less about the plot or the need for the penis to express itself in case it is given the opportunity to talk? What topics are available to talk about anyway? (Note: If this is about earning bucks, revivals still have it easier than sequels since you already have a format to follow and maybe tweak)
In an attempt to present issues similar to the ones tackled in Vagina Monologues, topics like child rape and fertilization are tackled both in Penis Talks 1 and Penis Talks 2. In Penis Talks 1, child rape is tackled through the eyes of a young boy (played by Luis Alandy). An action star (played by Christian Vasquez) that may or may not be a closet queen was also discussed since some gays stay in the closet for fear of rejection. In Penis Talks 2, fertilization was presented with the scene starting with a line from a song ("Fancy meeting you alone in the crowd") but the performers playing the sperm (played by Polo Ravales) and the egg cell (played by Roselle Nava) are not nude when this scene was done. In attempt to be different, necrophilia is included among the roster of topics discussed presented through the point of view of a hunchback (played by Christian Vasquez).
In both musicals, gender roles are discussed by making sure women and gays are represented. And both shows had Ricci Chan representing the LGBT community. Let's face it. Not all dicks shun gays so might as well include someone that can act the part of being blunt to men. And that might be one reason why I am wishing for a rerun. Sure, gays dishing out the bitchiness in comedy bars is almost the norm. But it's still different when men, with all their pecs and biceps, still joining the fun and maybe being made fun of despite the drool-worthy bodies.
Since "Penis Talks" stopped at part 2 and never got revived, does it have anything to do with how we, Filipinos, react to nudity on stage? Not really. It's been 10 years since it got performed in Music Museum. If people didn't have a problem with nudity then (save for some skimpy undies), what more now? If revival is not a possibility, a new script and production maybe. Producers have the option to revive 10-year-old scripts or produce new material inspired by such productions like these. You'll never know.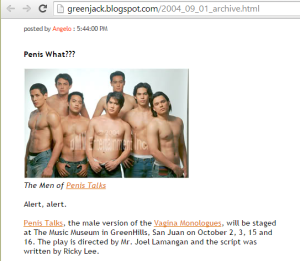 Talking about musicals, the theater scene and similar forms of entertainment are possible here. Just remember to click "like" on our official Facebook page, MusicalsOnline.com, and follow us on Twitter @musicalsnews. Thanks for reading.