Olivia Colman and Adrian Edmondson – Hilarious Ottoman and Cossack Reading | Letters Live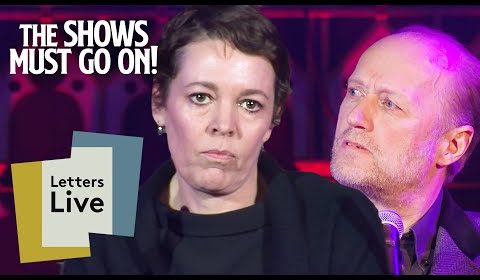 Olivia Colman and Adrian Edmondson's satirical take on an exchange between the Ottoman's and the Kossack's!
LETTERS LIVE celebrates letter writing and the art of correspondence through live events where remarkable letters are read by a diverse array of outstanding performers. The sell-out live phenomenon has seen the likes of Benedict Cumberbatch, Juliet Stevenson, Ian McKellen, Caitlin Moran, Tom Hiddleston, Louise Brealey, Stephen Fry and Jude Law (and many others!) deliver unique and extraordinary performances. For more about Letters Live and their shows, visit the website here: https://letterslive.com ​
The Shows Must Go On! and Letters Live are supporting the incredible work of Choose Love. Choose Love does whatever it takes to provide refugees and displaced people with everything from lifesaving search and rescue boats to food and legal advice. If you can, please consider making a donation using the 'DONATE' button next to the video above. For more information, please visit: https://choose.love/
Donate to these worthwhile arts causes:
UK: http://actingforothers.co.uk/
US: https://broadwaycares.org/
Australia: https://www.actorsbenevolentfund.org.au/
Donate to NHS Charities COVID19 Appeal:
http://uk.virginmoneygiving.com/fund/NHSCharitiesCOVID19
Welcome to The Shows Must Go On the channel bringing you showtunes, backstage access and full performances from some of the best loved musicals in history!
Featuring the best performances from musical theatre and beyond!
Subscribe for more here: http://tiny.cc/m08flz
#OliviaColman #AdrianEdmondson #LettersLive