Why Everybody Hates Christine // a Phantom of the Opera rant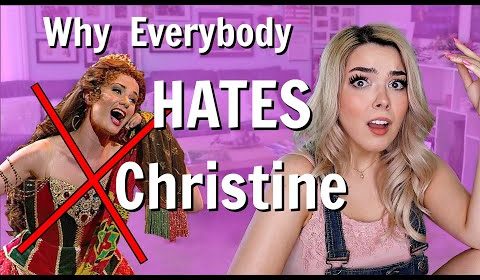 Why does everybody HATE Christine from Phantom of the Opera? Let's deep dive (into the French sewer system) and discuss ingenues, love triangles, and ~kissing~
🌻🌻 OPEN ME 🌻🌻
Hi theatre friends and welcome back to my channel! Today, nearly a year later, we're reassembling the ingenue protection squad to discuss the one, the only, Christine Da'ae of Phantom of the Opera.
If you didn't know, #PhantomOfTheOpera is the musical that got me OBSESSED with Broadway and #ChristineDaae was my very first ever dream role :')
As I got more into musical theatre and #Broadway, I discovered a common thread: people seem to really hate Christine. Like, REALLY hate her.
So today, I'm lawyering up (little miss Woods comma Elle style) and coming to the defense of my first musical theatre love. I'm going to break down why so many people hate Christine Da'ae and why she's ~actually~ a hero. Plus lots of tangents and rant-y thoughts on Phantom of the Opera….but what else were you expecting?
QOTD: What are you thoughts on Christine? Role model, boring, dumb-dumb? Any other Phantom related thoughts you want to share? Let me know in the comments below!
❤❤❤❤❤❤❤❤❤❤❤❤❤❤❤❤❤❤❤❤❤❤❤❤❤❤❤❤❤❤❤❤❤❤❤
♡DISCOUNT LINKS♡
💋10% off Glossier skincare & makeup
Just click through my link for the discount on Glossier!
https://www.glossier.com/reps/katherinesteele
❤❤❤❤❤❤❤❤❤❤❤❤❤❤❤❤❤❤❤❤❤❤❤❤❤❤❤❤❤❤❤❤❤❤❤
A little bit of info on PHANTOM OF THE OPERA; from Wikipedia:
Based on the 1910 French novel of the same name by Gaston Leroux, its central plot revolves around a beautiful soprano, Christine Daaé, who becomes the obsession of a mysterious, disfigured musical genius living in the subterranean labyrinth beneath the Paris Opéra House.
The musical opened in London's West End in 1986, and on Broadway in 1988. It won the 1986 Olivier Award and the 1988 Tony Award for Best Musical, and Michael Crawford (in the title role) won the Olivier and Tony Awards for Best Actor in a Musical. It is the longest running show in Broadway history by a wide margin, and celebrated its 10,000th Broadway performance on 11 February 2012, the first production ever to do so. It is the second longest-running West End musical, after Les Misérables, and the third longest-running West End show overall, after The Mousetrap.
With total estimated worldwide gross receipts of over $6 billion and total Broadway gross of over $1 billion, Phantom was the most financially successful entertainment event until The Lion King surpassed it in 2014. By 2011, it had been seen by over 130 million people in 145 cities across 27 countries, and continues to play in London and New York.
❤❤❤❤❤❤❤❤❤❤❤❤❤❤❤❤❤❤❤❤❤❤❤❤❤❤❤❤❤❤❤❤❤❤❤
~*MORE SHOWTUNE RECOMMENDATIONS*~
Broadway Musicals You Should Listen To Right Now // Cast Recording Recommendations!!

The BEST Musical Theatre SOLO Songs

Broadway Revivals we need RIGHT NOW

Broadway Songs that RUINED my Life

10 BEST Musical Theatre Songs

Here's a whole PLAYLIST of shows to check out!

❤❤❤❤❤❤❤❤❤❤❤❤❤❤❤❤❤❤❤❤❤❤❤❤❤❤❤❤❤❤❤❤❤❤❤
♡FOLLOW ME!♡
🎭 Main Channel: Katherine Steele
https://www.youtube.com/katherineesteele
🎉 Vlog Channel: Party at Kat's
https://www.youtube.com/channel/UCg3TVMKJy17N3h_6e27kS6g
🎮 Gaming Channel: Kat Steele Games
https://www.youtube.com/channel/UCMEskgIASbFvR4hprtUYBew
💅🏻 Instagram: @Kath_Steele
http://instagram.com/kath_steele
🐥 Twitter: @Kath_Steele
Tweets by Kath_Steele
📱 Facebook: @TheatreThursdayFam
http://www.facebook.com/TheatreThursd…
❤❤❤❤❤❤❤❤❤❤❤❤❤❤❤❤❤❤❤❤❤❤❤❤❤❤❤❤❤❤❤❤❤❤❤
I'm Katherine Steele and I really like musical theatre! I'm officially the unofficial Drama Club President of the internet. On this channel you'll find Broadway musical reviews, analysis on your favorite shows, first reactions to brand new ones, countdown lists for theatre fans, and tons of musical theatre audition advice! When I'm not on YouTube, I'm a professional musical theatre & screen actress and made-for-TV series host!
❤❤❤❤❤❤❤❤❤❤❤❤❤❤❤❤❤❤❤❤❤❤❤❤❤❤❤❤❤❤❤❤❤❤❤
FTC: This video was not sponsored. Some links may be affiliate ♡
💌 BRANDS & COMPANIES: If you're interested in working with me, please email me at KatherineSteeleYT@gmail.com