Lulu by Alban Berg at Bayerische Staatsoper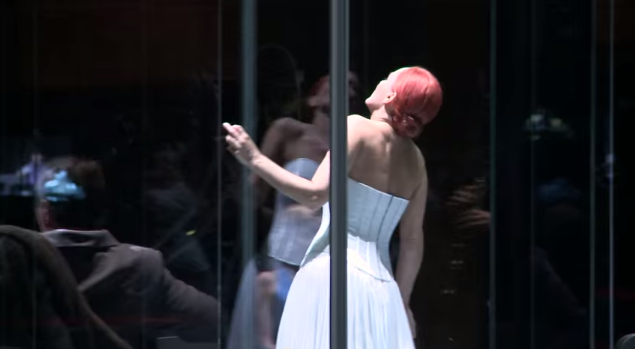 Opera had never been so tragic and psychotic until you witness Lulu by Alban Berg at Bayerische Staatsoper. A woman whose power to seduce people despite the danger that comes with having relations with her. Lulu managed to fascinate, shock and confuse an audience accustomed to sex and violence in theater. Just when you thought you can tolerate insanity in opera, watch Lulu and be enthralled. Be forewarned.
Various presentations have managed to present Alban Berg's Lulu as an amoral tale consistently. A tragic opera in 3 acts, bad things happen. But you can't look away. Just when you thought you have an idea who this creature is. Another twist is thrown to mess with our heads. Lulu by Alban Berg at Bayerische Staatsoper only intended to escalate the insanity further by putting the characters in a glass house.
The glass house treatment in itself is a stroke of brilliance. Not only are we suspicious of Lulu but everyone in this opera. Her therapist is aware of the mystery that comes with her mesmerizing beauty. It is the kind of carnal desire that brings out the worst in people. In Lulu by Alban Berg at Bayerische Staatsoper, Lulu herself is aware of this. She knows what she wanted, when she wanted it and how she would like to have it. The disturbing thing about her way of getting what she wanted? The desire is gone the moment she gets what she wants. She is like a predator that gets sick of the prey before she even eats it.
And predator she is! The earliest productions presented Lulu as one of the ferocious beasts. A circus ringmaster parades her alongside wild animals for theatrical effect. Contemporary productions don't do that anymore like Lulu by Alban Berg at Bayerische Staatsoper. If the trailer would be based. The production seemed to present Lulu as a social climber with insatiable lust. Or greed. Whichever comes first.
Sometimes the way actors are cast into characters presents this opera in the point of view of Lulu. It made sense. For her, all the men are just the same meat fit for prey. And the men that proved to be most significant to her are played by the same actor too. The same casting method that Alban Berg envisioned this opera to be? It was the same casting approach that the production assumed. Lulu by Alban Berg at Bayerische Staatsoper proved to be exciting. And terrifying. Those glass walls must have gotten the audience squirming for more.
Lulu by Alban Berg at Bayerische Staatsoper will be shown at Nationaltheater in Munich, Germany on 26 September 2015. Language will be German with German surtitles. Tickets are now available for purchase. Click here to buy while supplies last.
Theater had always been a constant source of fascination. The kind that keeps you wanting more updates. So subscribing to our online newsletter would be highly recommended. Real-time updates on the other hand come handy once you follow us on social media. Like our official Facebook page, Musicals Online. Follow us on Twitter @musicalsnews. Now sit back and enjoy the updates. Thanks for reading.