Musical Theater Los Angeles: If Then The Musical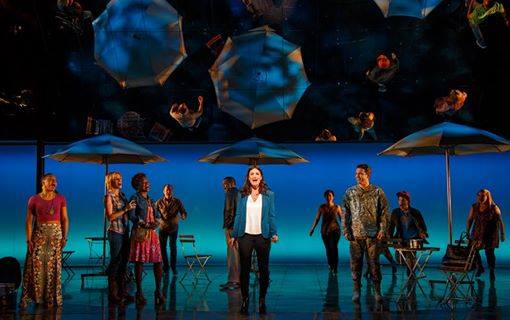 [Featured Image from If/Then Facebook Page.] Checking out the musical theater Los Angeles scene meant watching out which next hit musical hits the road. With If/Then getting good reviews, musical theater enthusiasts might realize something. It's more about the lead role going to Idina Menzel. But that was a major contributing factor to arousing the public's interest about this musical.
A few songs from If/Then would be analyzed for the sake of fans waiting at the musical theater Los Angeles scene. The words "poignant", "contemplative" and "the feels" have been associated with the songs found here. And at some point, fans that have seen this on Broadway would agree. To avoid spoilers, most songs discussed would come from Act 1.
| | |
| --- | --- |
| Cast/Creative | |
| Elizabeth |  Idina Menzel |
| Josh |  James Snyder |
| Kate |  LaChanze |
| Lucas |  Anthony Rapp |
| Music |  Tom Kitt |
| Book and Lyrics |  Brian Yorke |
| Director |  Michael Greif |
So what is If/Then all about for starters? It's about Elizabeth. She's pushing 40 years old. Or so she thinks. And she's concerned about the next steps in life for her. Being a divorcee can activate those downer feelings in a person. Elizabeth can feel like floating in limbo. Where to go? What to do? Age may push that philosophical attribute in people. But she's only 38. She was at a point in her life where she's starting to question the things that she wanted in life. So having friends in Kate, Stephen, Lucas and Josh helped in thinking her life over.
If/Then will soon be gracing the musical theater Los Angeles scene. But most individuals within the same age range as that of Elizabeth can relate as early as the song "What If?" Because some yuppies go back to their hometown or home city for the sake of starting over. Starting over can be scary when you end up thinking about everything that went wrong in your life. But being with friends can thwart instances of over-thinking. Going philosophical doesn't have to be synonymous with over-thinking. A fact that the musical theater Los Angeles fan base can relate to.
In If/Then, Elizabeth is an urban planner. So one of the songs end up with the title "A Map of New York". Friends look back at where they started in New York. It was an effort to predict their next career move. Looking back to their first jobs was presented in a chirpy, upbeat way. An ode to everyone's attempts at independence by bagging that first job. Job opportunities in Los Angeles may be different from that of New York. But discussing your bio-data, resume and curriculum vitae can strike some nerves among the musical theater Los Angeles scene.
Need a song to remind you that this is Idina Menzel going back to her non-fantasy musical theater roots? Wait 'til you hear "What the F**k". The role of Elizabeth may not be as edgy as her role in Rent. But this is where Elizabeth throws caution to the wind and falls in love all over again. Yeah, because expletives summarize best your tendency to follow your heart as if you don't have to commit another mistake. It may attract the rather adult audience in the musical theater Los Angeles scene. But what the heck? If expletives help push the message further in musical arias, then let the explicit language seep through the audience's consciousness.
Then you hear the song "You Don't Need to Love Me". Ouch! That heartbreak would resonate all throughout the musical theater Los Angeles scene. That was sung by Lucas. He is one of the characters whose friends with Elizabeth. It was an honest song about not asking anything for return anymore. He found himself in love with a woman. And he can't find the strength to walk away. He found the strength to beg to stay though. Even just as a "plus one". (Yuppie jargon for constant date without going into a relationship. Best euphemism perhaps for Facebook status called "It's Complicated".)
Don't worry. If/Then is not that musical that tried to explain what love is. By the time you reach the part where "I Hate You" is sung, you reach for that pack of tissue in your bag. Surely, getting into a relationship is romanticized. But love can bring out emotions so intense. It can go haywire. Lines shift from "I hate that I hate you. I hate that I love you." to "Goddamn you! You asshole! Motherf**ker!" You can only hate the one you love as presented here for musical theater Los Angeles fans. Oh, the feels indeed!
Hope is not far-fetched for the musical theater Los Angeles scene though. There are more songs for you to discover how love is never wrong as presented here at If/Then. And you need to witness the whole musical to enjoy what If/Then has to offer as a musical. Much of the buzz may be from having Idina Menzel as lead star. Then again you see another Rent alum Anthony Rapp. (And no, they are not playing each other's "love interests.) The other musical theater performer worth looking forward to the musical theater Los Angeles leg of If/Then is LaChanze. (Tony Award winner for The Color Purple.)
If/Then will start its musical theater Los Angeles leg on 8 December 2015 at Hollywood Pantages. A Nederland theater. It is slated to close its musical theater Los Angeles run on 3 January 2016. Tickets are already available online for purchase. Just click here while supplies last. You can also call Hollywood Pantages at 800-982-2787 for more info.
The musical theater Los Angeles scene is going strong. Thanks to productions like If/Then. Chances are you would find other musical theater productions featured here. So subscribe to our online newsletter while you can. Just refresh this page to see that pop-up prompt again to enter your email address. Follow us on our social media accounts too. Like our official Facebook page, Musicals Online. And follow us on Twitter @musicalsnews. Thanks for reading.