Musical Theater West End Revival of Guys and Dolls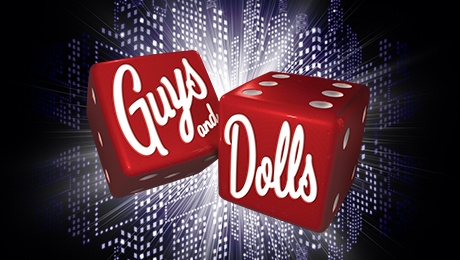 [Featured image by ATG Tickets] The musical theater West End revival of the hit 50's musical Guys and Dolls is all set for December 2015. Some fans still reel over the nostalgia of seeing it on the big screen decades earlier. With hotshot debonair actors like Frank Sinatra and Marlon Brando topbilling the Hollywood version, some expectations shoot through the roof.
So what is Guys and Dolls all about. It tells the story of "entrepreneur" Nathan Detroit and his bet imposed on Sky Masterson. "Entrepreneur" because his main source of income is gambling. He is under the heat from the authorities. But it doesn't stop him from trying to raise money to rent a place for his next gambling den. The only way he can raise enough money is by making Sky Masterson lose in the bet. Now he bet that Sky cannot make Sarah Brown fall in love with him enough to go with him to Havana. If Sky fails, he will pay Nathan enough cash to make the rental downpayment. Soon most of the circumstances surrounding the musical theater West End revival of Guys and Dolls would center on gambling.
Now who is Sarah Brown?  She's the fundamentalist Christian often found on the streets preaching. She would encourage people to "Follow the fold and sin no more". That was a line from her song "Follow The Fold". She's a minor annoyance to Nathan as she proliferated that gambling is evil. Bad for business. But still someone Nathan needed to get rid of. That was the real reason behind the bet. With a woman this pious and, well, fundamentalist. Nathan had to get rid of her before her influence gains a foothold.
Gambling was more rampant in the musical theater West End revival of Guys and Dolls than you might expect. Right after the overture "Runyonland", you get to hear the song "Fugue for Tinhorns". They're not talking about Paul Revere the American hero. They're referring to a horse named after the American hero. Compulsive gamblers bet on anything. Horse races. Craps. It almost makes you think that Guys and Dolls is situated in Las Vegas. Then you hear that the crap game has been running for years. Or so the crap game patrons say in the song "The Oldest Established". And that is how Nathan kept a business running. By keeping the demand satisfied.
Brisk business comes at a price though. Nathan's relationship with his long-time girlfriend, Miss Adelaide. Vaudeville keeps her preoccupied as shown in her number "A Bushel and a Peck". But her disappointments with Nathan can't be concealed long enough. Just expect these issues to come out in "Adelaide's Lament" and "Sue Me". Because gambling has a way of damaging relationships too as presented in the musical theater West End revival of Guys and Dolls. You'd be surprised to know too how long had they been together for a couple that hasn't married yet.
Does it mean Sky Masterson has less problems to worry about? No. But he has ways to get his bet won. You'd realize the tricks up his sleeve the moment you see the connection between Bacardi and the track "Havana". He may be a compulsive gambler as expected in the musical theater West End revival of Guys and Dolls. But he has his ways. And it seems that gambling has become a religion for him. His wishful thinking is best summed up in his song "Luck Be A Lady".
Sky and Nathan may have issues with women. But it doesn't stop them from wooing their respective "dolls". Men call the women here as "dolls". Men like Sky and Nathan explain their problems with dolls in the title track "Guys and Dolls". So basically the main conflicts that men encounter in the musical theater West End revival of Guys and Dolls? Dolls and gambling. It doesn't have to be in that order.
The clip above shows a sample of one of the songs to be expected in the musical theater West End revival of Guys and Dolls. Jamie Parker returns to one of the roles that has been associated with him – Sky Masterson. But in the musical theater West End revival. Nathan will be played by David Haigh. These men will be joined by Sophie Thompson and Siubhan Harrison. Thompson takes on the role of vaudeville doll Miss Adelaide. And Harrison takes on the role of fundamentalist street preacher Sarah Brown.
The musical theater West End revival of Guys and Dolls kicks off on 10 December 2015 at the Savoy Theater. Click here to purchase tickets online. Call them at 0844 871 7687 for more details. For group bookings, call 020 7420 9700. Hurry while supplies last.
Big bands like the one found in the musical theater West End revival of Guys and Dolls awakens the nostalgic in old school musical theater fans everywhere. Musicals Online has discussed about it here some months ago. And surely, it won't be the last time it would be written about here. As long as you follow us on our social media accounts. You would be constantly updated. So might as well like our official Facebook page, Musicals Online. And follow us on Twitter @musicalsnews. Thanks for reading.