Musical Theater Songs: Hamilton The Musical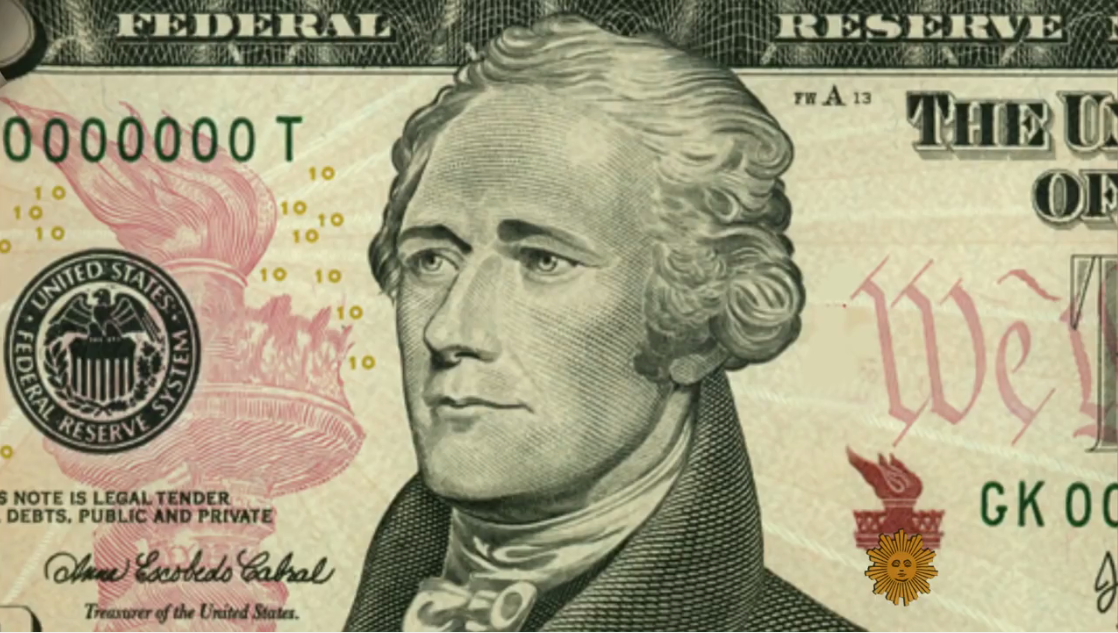 Musical theater songs intended to stir up emotions you never realized existed. Sometimes, that is the kind of attraction that the right Broadway cast recording needs. Also, the kind of success that Hamilton: An American Musical earned off-Broadway is so strong. A Broadway run is inevitable.
For starters, Hamilton: An American Musical is Lin Manuel Miranda's phenomenal rap musical. It was inspired by Ron Chernow's book on one of the founding fathers of the United States of America. Better known as the founding father on the ten-dollar bill. What musical theater songs made their mark so far in the consciousness of the rabid fanbase that it earned? It may not be the entire playlist analyzed for checking out new musical theater songs. But enough to pique your curiosity on Broadway's latest game changer.
Musical Theater Songs: Alexander Hamilton
When composer Lin-Manuel Miranda first performed this song in the White House. It was performed in the point of view of Hamilton's greatest rival, Aaron Burr. Once he has turned his supposedly concept album into a full-blown musical. Alexander Hamilton served as the opening theme. By this time, it already included various artists. All of them part of the musical. Of course, the closing line belongs to Aaron Burr. So the spirit of the song in the concept album was retained.
Musical Theater Songs: Aaron Burr, Sir
One of the musical theater songs that cut to the chase on the kind of relationship Hamilton would have with Aaron Burr is the eponymously titled "Aaron Burr, Sir". It served as an instant foray into politics the way Burr saw it. The line "Talk less. Smile more." served as an insight into politics when America is still experiencing birth pains as a nation. Burr is more of a politician and less of a public servant if this musical is to be believed. Regardless of how you view Aaron Burr as a human being. It managed to get close to how history portrayed him through this song.
Musical Theater Songs: My Shot
Well, in some mainstream rap songs, spelling out some words is like killing any time available in a track. Then you hear Lin Manuel Miranda as Hamilton spell out "A-L-E-X-A-N-D-E-R!" you know it's time well-budgeted. And with Miranda's goal of presenting history that the audience will remember best. Spelling out Hamilton's name will only imprint the name better in the public's consciousness. Because history is not meant to be boring. The tagline "Land of the free. Home of the brave." sat well with this song's line. "We are meant to be a colony that runs independently."
Musical Theater Songs: The Story of Tonight
"Raise our glass to the four of us. Tomorrow they'll be more of us." A clear indication that the founding fathers of America has pushed through with independence. Some accents would be heard in the middle of the song. But the point of presenting men united for a noble goal is achieved. It may sound rather regal compared to other upbeat songs on this Broadway Cast Recording. (Must be the violin strings.) But the mellow beats served as Manuel's idea of adding a seriousness to the task at hand. Hip hop may be presented as the music of the revolution. But there are moments where you just raise your glass to freedom.
Musical Theater Songs: The Schuyler Sisters
This is where the En Vogue influence seeps into the list of musical theater songs' selection. Yes, it's more like En Vogue and less like Destiny's Child. "Work!" Very pop-friendly! The kind of song that reminds you how Broadway musicals was once a source of Billboard chart-topping hits. Do we see that happening quicker than we expected? More on that later. It's the perfect song to listen to when you feel like learning historical ways on how to ditch some arrogant prick in the club.
Musical Theater Songs: Farmer Refuted
Music is used as a medium to demonstrate the difference between Americans and their colonizers, the British. The clash of musical influences was demonstrated here at "Farmer Refuted". Here some representative from the British monarchy is discouraging their subjects to join the revolution to the tune of a tenor singing to some lute music. Replies are half-sung half-rapped. It results in a beautiful chaos half-way through this song. A tenor's voice overlapping with some people rapping in the background. If there was one line in this song that clearly demonstrated Hamilton's ability to address Britain's meddling tendencies. It would be the line "Why should a tiny island across the sea regulate the price of tea?" It also demonstrated the early signs of his conflict with Burr.
Musical Theater Songs: You'll Be Back
The song that presented Britain's refusal to let go of their "favorite" subject was addressed here. The actor that made it to the Original Broadway Cast Recording album was Jonathan Groff for the song "You'll Be Back". He was taken in after the actor playing the British monarch in the off-Broadway version, Brian d'Arcy James, went to Broadway to topbill Something Rotten. Now, the song itself was clearly influenced by The Beatles. No other music legend has defined British music more than the Fab Four ever did. The rather happy ditty masked the sordid lyrics involving measures "to remind you of my love".
Musical Theater Songs: Cabinet Battle #1
Skip a few songs down the playlist to listen to "Cabinet Battle #1". And you'd realize why the Hamilton Original Broadway Cast Recording was categorized on iTunes under "rhythm and blues". It did not shy away from the sinister sounds of some early 90's rap songs. It's a catchy tune to listen to while learning the way cabinet meetings are presented. It is also the part in Hamilton: An American Musical that pushed the Hamiltonians and the Jeffersonians out of their hiding place. Some purists may not appreciate the hip hop touch. But still, it reminded American history nerds of the academic conflict when it comes to history. Expect a heated discussion online among them in certain messageboards then.
Musical theater songs that broke ground through Hamilton: An American Musical is now available online for purchase. It's on iTunes, Amazon, Google Play and Spotify. Hamilton: An American Musical is still running on Broadway. Click here to buy tickets while supplies last. You might find a date that fits your free time.
From musicals that still run on Broadway as of this writing to game-changing Broadway cast recordings. Stuff worth reading and discussing are found here at Musicals Online. Subscribe to our online newsletter while you can. Follow us on social media too. Like our official Facebook page, Musicals Online. And follow us on Twitter @musicalsnews. Thanks for reading.