The Phantom of the Opera – The Official YouTube Channel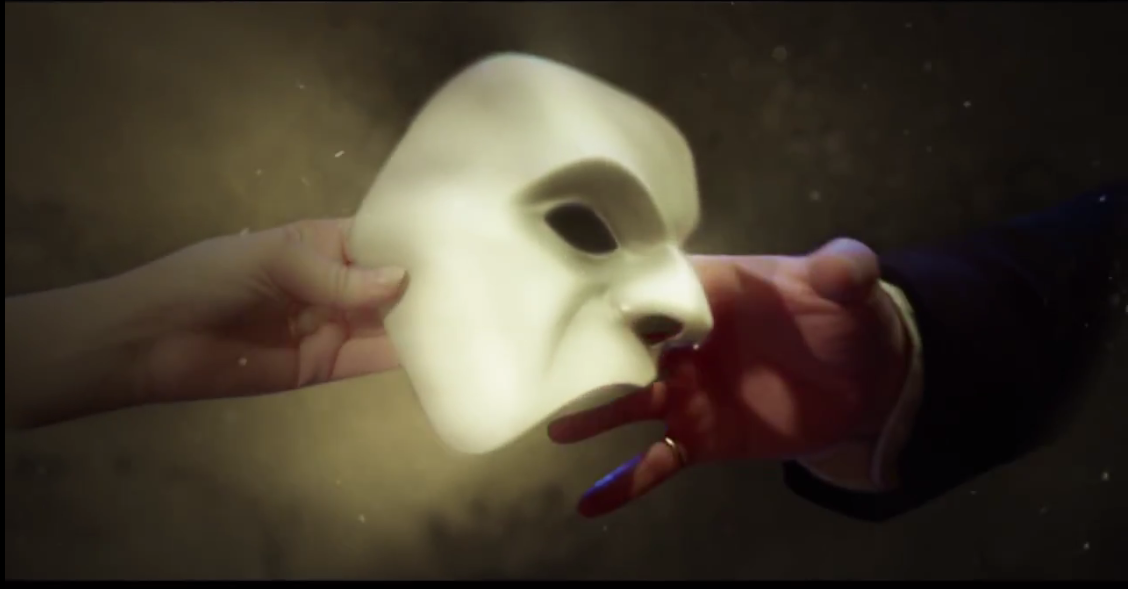 For folks like me constantly scouring the internet for teasers, trailers and interviews about musicals, the best shortcut is often YouTube. The next thing you realize, you find a channel with that checkmark signifying that the channel you stumbled upon is a verified account of "The Phantom of the Opera"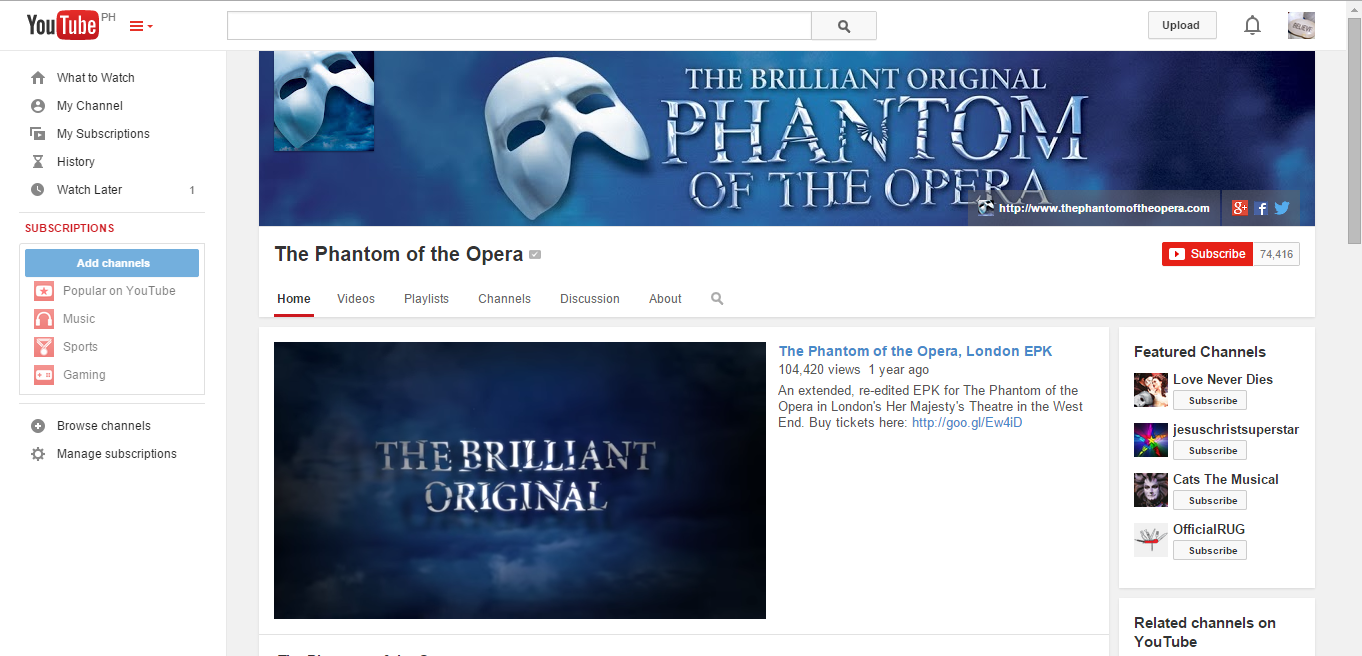 It has most of the songs that we fell in love with from "Point of No Return" to "All I Ask of You" to the title track itself. Some serve as "authorized" uploads (albeit cut short) since some clips proliferating on YouTube are clandestinely recorded in live performances while others are obviously teasers whenever someone new takes on the role or cast changes occur.
Well, YouTube, in true blue Google fashion, while highlighting the owner of this channel, would still show some "Featured Channels" which are also verified channels of musicals that Andrew Lloyd Webber wrote. Google really knew how to plug stuff related to what you initially Googled, not that they are large enough to take away your attention from what you were looking for.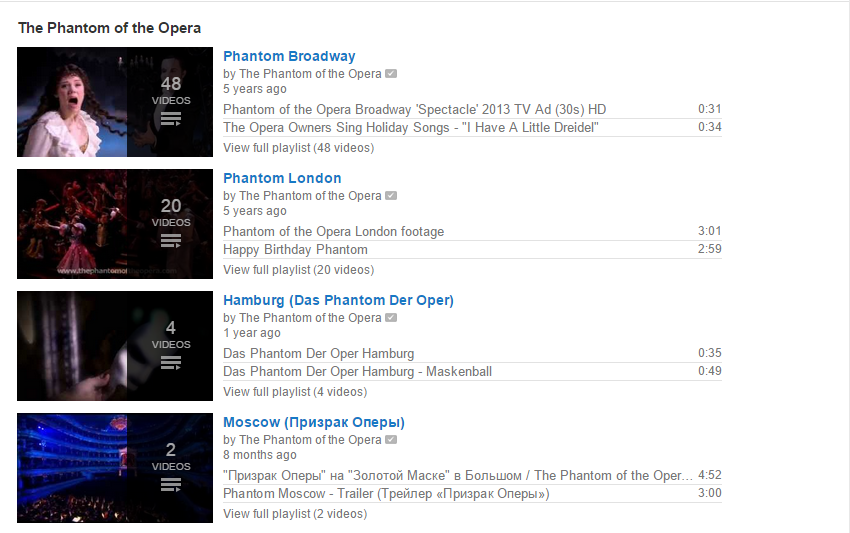 I remember attending some online webinars that when it comes to plugging something, videos can do it best. Obviously, the promoters of POTO were taught of this as well hence putting up this channel.
This helped the most devout fans of this hit musical get updated with the help of trailers from other corners of the world where it is also performed. Teasers used to plug the North American Tour, the UK Tour, the Hamburg leg and the Moscow leg of POTO are uploaded here. You may have read about the various casts here. Snippets from various versions are also uploaded here including excerpts from the film adaptation featuring Patrick Wilson, Emmy Rossum and Gerard Butler.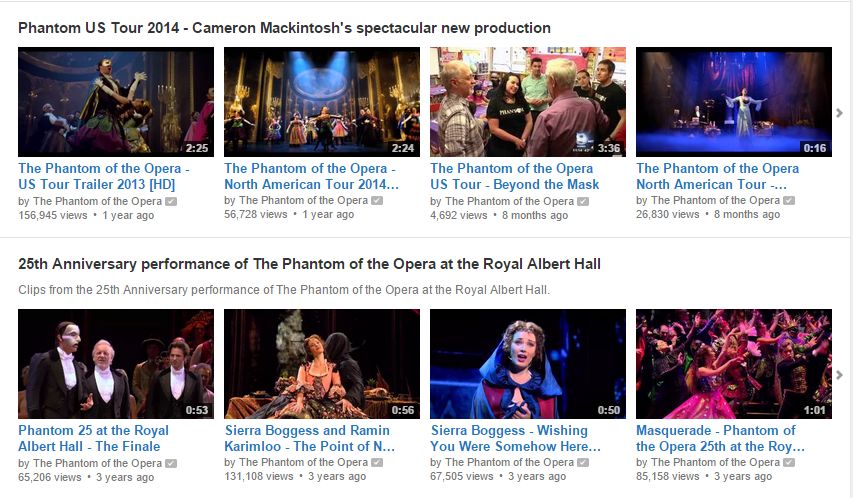 As expected, playlists are assembled to make it easier for the fans to listen continuously to their favorite tracks. Shuffling them through YouTube's self-help options made it convenient for them to leave the PC on as your favorite tracks played. Playing them in succession still sounds better though.
Just check carefully the playlists that you choose to play though. Some lists include behind-the-scenes footages of your favorite actors and actresses. Listening to them is okay but for teasers that are meant to be watched, might as well find the time to watch them too. When some specials go as quick as no more than 4 minutes, it becomes easier to appreciate.
I can't help the similarities though between the trailers used for the 2013 and the 2014 North American tours. It may not be much of an issue if both versions have the same cast. A minor concern, I know, but what if you saw, for example, Kaley Ann Voorhees in the trailer and she wasn't the one in the musical that you walked into? Some trailers can be misleading and if this happens in musicals too, it can be heartbreaking. Worse, you watch the trailer again and realize that it consists mostly of recycled parts.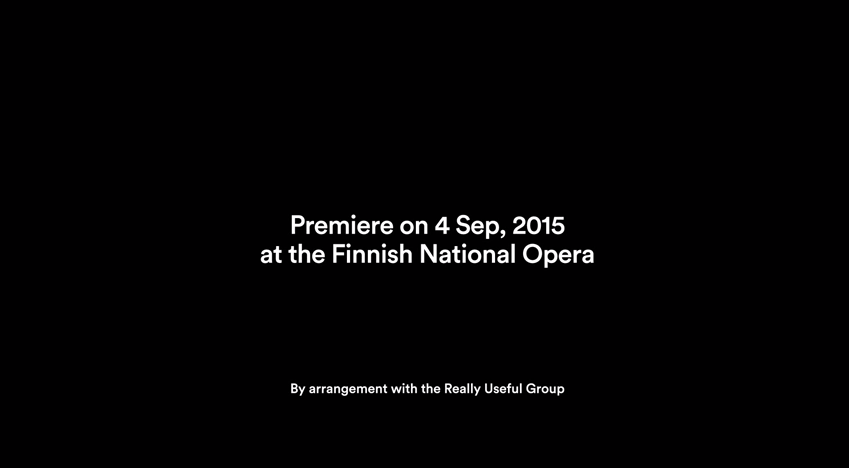 Anyway, among the assembled playlists in their uploads section, there was a list reserved for the upcoming Finnish version of POTO. Reserved because as of this writing, it contained only one clip. Auditions were conducted at the time that this clip was uploaded. While not all of the auditionees got their faces blurred as shown in this clip, we're not assured if any of them got the part. Besides the date when the Finnish version (or edition) of POTO will be staged is on September 4, 2015.  Chances are if ever there would one of the very first channels that would release the teaser for that edition, it would be this channel. Awesome.
If you would like compare various versions of Raoul, Christine and OG, you can go view them in this channel. Just in case you sense some favoritism going on, feel free to speculate why. I can sense that Sierra Bogess is still the favorite, same thing with Ramin Karimloo. No surprise there. I browse the Hamburg playlist just to occasionally check on my German proficiency (still working on it). You might want to try it too.
Interested to discuss further your favorite musicals? You can get yourself constantly updated by liking our official Facebook page, MusicalsOnline.com, and follow us on Twitter @musicalsnews. Thanks for reading.