When Will Broadway Return? Here's What We Know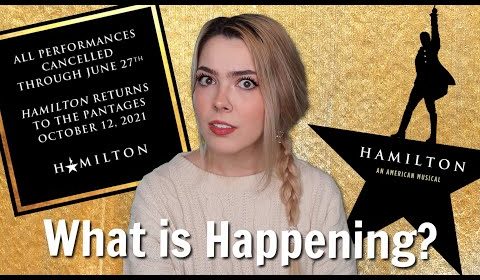 mean girls is closing, hamilton LA is postponing, and no one know's when the Tony Awards are gonna happen // let's talk about the current state and the future of the arts in 2021
🌻🌻 OPEN ME 🌻🌻
Hey #theatre friends! Today, we're gonna discuss the current state and the future of theatre, in 2021. #Broadway has been dark for almost a year, and the reopening date has now been pushed back to May 30th– a full year past the initial reopening date. Let's discuss virtual theatre, Hamilton, Mean Girls, The Music Man Revival (aka hughjackmansuttonfostermeredithwilson'sthemusicman), and of course, The Tony Awards
Want to watch virtual theatre? Start here!
https://mcctheater.org
https://www.centertheatregroup.org
http://lincolncenter.org/lincoln-center-at-home
Articles mentioned in today's video:
-https://www.backstage.com/magazine/article/new-york-arts-revival-theater-reopening-cuomo-72556/
-https://www.nytimes.com/2020/12/16/well/live/life-after-covid.html
-https://www.nytix.com/news/new-reopening-date
-https://www.nydailynews.com/snyde/ny-tony-awards-when-show-must-go-on-20210127-s3bbsuuc4rc7lcsezkm2guydxu-story.html?outputType=amp#aoh=16117752404251&csi=0&referrer=https%3A%2F%2Fwww.google.com&amp_tf=From%20%251%24s
❤❤❤❤❤❤❤❤❤❤❤❤❤❤❤❤❤❤❤❤❤❤❤❤❤❤❤❤❤❤❤❤❤❤❤
♡DISCOUNT LINKS♡
💋10% off Glossier skincare & makeup
Just click through my link for the discount on Glossier!
https://www.glossier.com/reps/katherinesteele
♡SHOP MY FAVES♡
💋String Light Curtain from my studio- under $20!
— https://amzn.to/2UbMxYj
💋Perfume (the one I was wearing in the ~infamous~ Alex Brightman clip)
— https://www.amazon.com/gp/product/B00S5FRVEK/ref=as_li_tl?ie=UTF8&camp=1789&creative=9325&creativeASIN=B00S5FRVEK&linkCode=as2&tag=katsteelesite-20&linkId=70450d49c0643ed37971bd30fe87dbe2
❤❤❤❤❤❤❤❤❤❤❤❤❤❤❤❤❤❤❤❤❤❤❤❤❤❤❤❤❤❤❤❤❤❤❤
~*SHOWTUNE RECOMMENDATIONS*~
I'm always seeing comments for theatre recs & which shows to check out next, so here are a bunch of my faves!
Broadway Musicals You Should Listen To Right Now // Cast Recording Recommendations!!

The BEST Musical Theatre SOLO Songs

Broadway Revivals we need RIGHT NOW

Broadway Songs that RUINED my Life

10 BEST Musical Theatre Songs

Here's a whole PLAYLIST of shows to check out!

❤❤❤❤❤❤❤❤❤❤❤❤❤❤❤❤❤❤❤❤❤❤❤❤❤❤❤❤❤❤❤❤❤❤❤
♡FOLLOW ME!♡
🎭 Main Channel: Katherine Steele
https://www.youtube.com/katherineesteele
🎉 Vlog Channel: Party at Kat's
https://www.youtube.com/channel/UCg3TVMKJy17N3h_6e27kS6g
🎮 Gaming Channel: Kat Steele Games
https://www.youtube.com/channel/UCMEskgIASbFvR4hprtUYBew
💅🏻 Instagram: @Kath_Steele
http://instagram.com/kath_steele
🐥 Twitter: @Kath_Steele
Tweets by Kath_Steele
📱 Facebook: @TheatreThursdayFam
http://www.facebook.com/TheatreThursd…
❤❤❤❤❤❤❤❤❤❤❤❤❤❤❤❤❤❤❤❤❤❤❤❤❤❤❤❤❤❤❤❤❤❤❤
I'm Katherine Steele and I really like musical theatre! I'm officially the unofficial Drama Club President of the internet. On this channel you'll find Broadway musical reviews, analysis on your favorite shows, first reactions to brand new ones, countdown lists for theatre fans, and tons of musical theatre audition advice! When I'm not on YouTube, I'm a professional musical theatre & screen actress and made-for-TV series host!
❤❤❤❤❤❤❤❤❤❤❤❤❤❤❤❤❤❤❤❤❤❤❤❤❤❤❤❤❤❤❤❤❤❤❤
FTC: This video was not sponsored. Some links may be affiliate ♡
💌 BRANDS & COMPANIES: If you're interested in working with me, please email me at KatherineSteeleYT@gmail.com