Modern Opera: How Modern is Tolerable in Opera?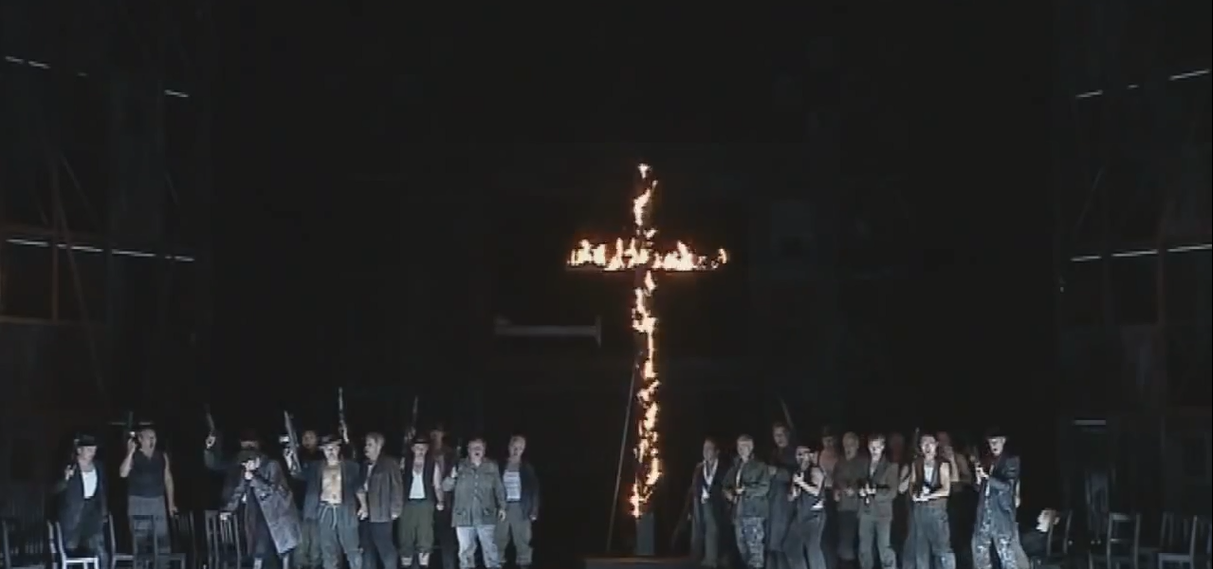 Could purist opera fans really be mean? Or they just don't mind being direct and honest in providing feedback regarding productions that they see.
The word "Eurotrash" still comes up occasionally despite the initial derogatory nature. You must have remembered the word Eurotrash when I wrote a review about stage director Willy Decker's vision of Verdi's "La Traviata". It's one of the first versions of La Traviata that I have seen which says a lot since prior to that version, it is often performed in a traditional manner with the 17th century as backdrop. Would modernizing it make it any less viewable?
As you may have seen on the title, you would eventually see how I try to avoid the term "Eurotrash" when referring to these modernized operas. The derogatory connotation it brings hasn't been removed yet since the way some fans used the term still has that stiff upper-lipped approach.
It was even aggravated by the circulation of an anonymous email years ago entitled "How to Opera Germanly", anonymous because rumor has it that the person who wrote it is not ready to lose his job the moment this email is traced to him or her. As to why "Germanly" instead of "Modernly" it is due to the fact that most modernized retelling of classic operas come from concepts that debuted in German productions. But we will also tackle other productions that may have gone past the possibilities that this theatrical method has set as a trend.
I have yet to see "Il Trovatore" in full but I am aware about how mostly it is a love triangle set during the 1800's. With monarchical war at the backdrop, you expect sword-fighting. So the public's reaction upon seeing a snippet of Bayerische Staatsoper's production of Il Trovatore was varied. Of course most said "This is so not 18th century Spain". But the burning cross at the background was at least an attempt to stay true to the aria sung here "Di quella pira". Maybe the sight of guns instead of swords just perplexed most fans that have accustomed to that image of Franco Corelli singing the same aria but with "period appropriate clothes".
Now at least that version of Il Trovatore tried to stay true to the lyrics despite change of  setting. Some productions though like Opera Geneve's "Les Contes d'Hoffman" don't even care about the lyrics of the song but would insist their vision on the production.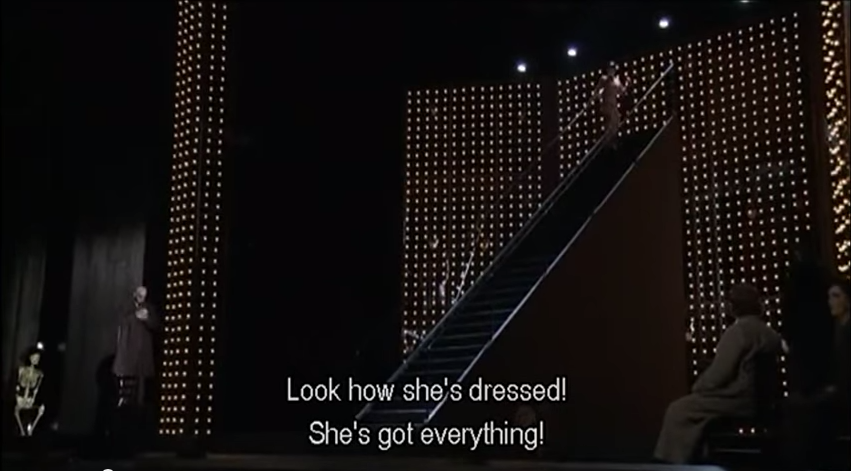 Stage director Oliver Py's vision of Offenbach's "Les Contes d'Hoffman" is rather dark. But based on what I have seen in full, it was rather distorted and perverted.
The chorus admires Olympia's clothing and how she got everything but the moment she comes down from the stairs, you ask yourself "What everything? She's practically naked" (Note: Petibon is wearing a nude suit but still). It contradicted with Offenbach's vision of who Olympia is in E. T. A. Hoffmann's life here – the youthful child-like girl that he once fell in love with. Succeeding scenes then further pushed the idea that Olympia is a sex doll, at least one that can sing. Add the concept behind the character of Olympia and I feel awkward.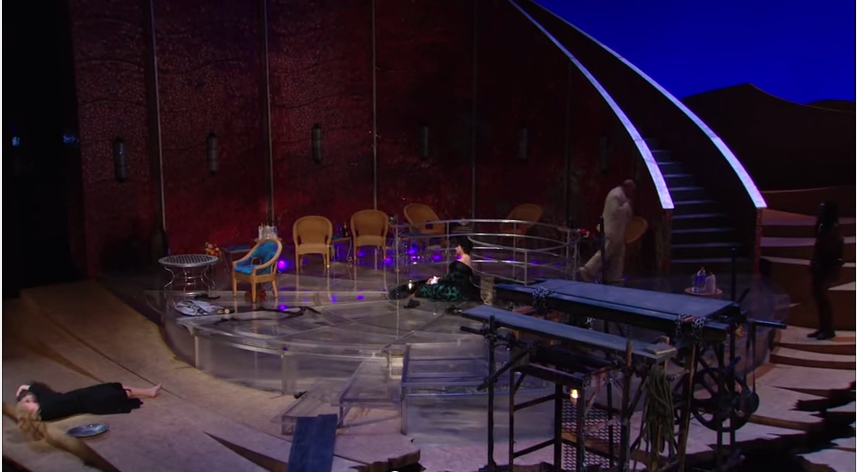 I would occasionally understand straying from period territory if the point of staying true to the story would be achieved. Some versions though would go ahead in going full-blown experimental even if American productions like Metropolitan Opera's 2008 rendition of Strauss' "Salome". It looked … weird. I see symbolism and modern clothing that felt out-of-place. This is where we can safely say that in case that it ain't broke, don't fix it. The Royal Opera House's most recent version of "Salome" is still better than this.
Other interpretations though, despite staying within "EuroTrash" territory, at least work around  what they find within the music itself. For example, in one of the versions of Bizet's "Carmen" aired in the opera network Mezzo, halfway through the overture, the curtain is raised and we see how they worked a scene to fit the trembling part of the music.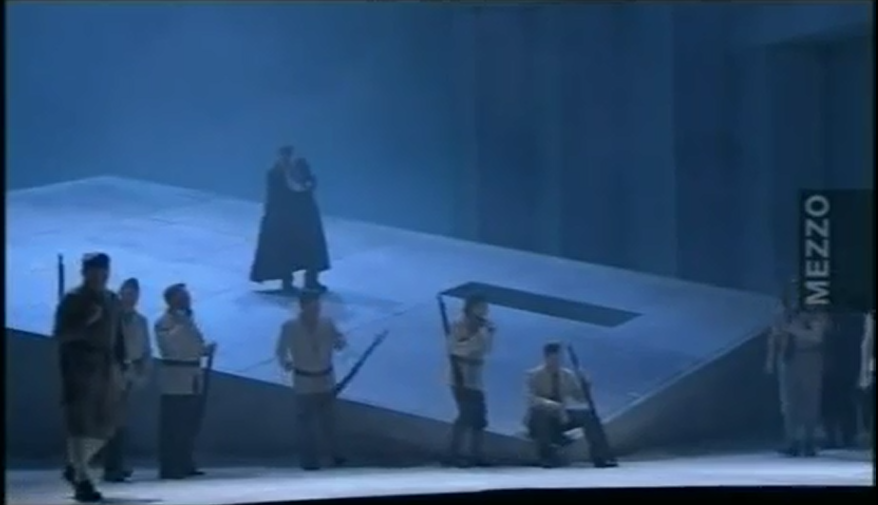 Perhaps anticipating a crowd that may have seen Carmen several times over in its period setting including the bloody ending, stage director Martin Kusej thought of using that spine-tingling part of the overture to present the execution by firing squad of Don Jose (played by Rolando Villazon) of setting the dark pace that has always lingered this opera. The fact that Berlin State Opera's 2007 version of Carmen is filled with sex and violence, this kind of overture-reliant introduction at least set expectations on how bloody Carmen can be staged.
Now going back to "The Big Clock Version" of La Traviata, what really got into the nerves of the traditionalists? One scene and that is where Violetta (played by Anna Netrebko) is refusing Alfredo (played by Rolando Villazon) when he came back to return the camelia.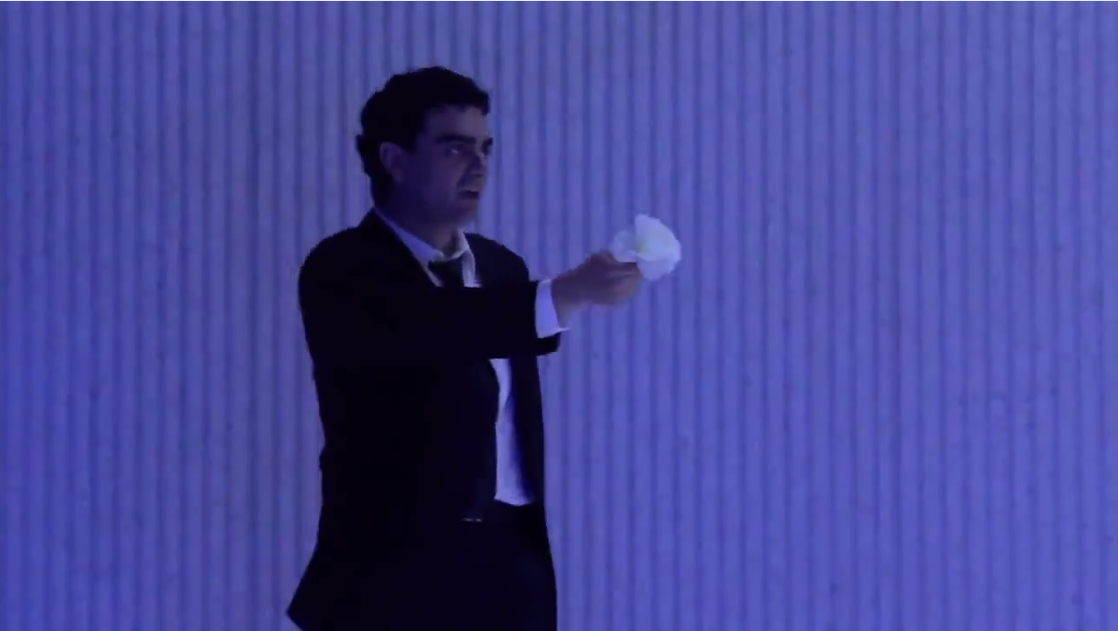 The traditionalists I encountered at the Facebook group Opera Talk were revolting at this scene saying "No! Alfredo should not see Violetta finally falling for her! It's so wrong!" This is where I started to understand why most "traditional" versions would show Violetta singing "Sempre libera" with the soprano onstage while Alfredo's lines were sung offstage. Those lines are not supposed to be stuck in Violetta's head. The audience doesn't see Violetta and Alfredo making their relationship official. That part is skipped as shown on the early minutes of Act 2. Now tweak that scene by letting Alfredo enter the stage carrying the camelia with Violetta insisting that she is happy as a free woman and then a discussion is born. Did Alfredo really show up to return the camelia or was it all in Violetta's head?
It's that discussion that makes you want to watch this version of La Traviata all over again since you need to observe the facial expressions here. If Violetta was basically turning down Alfredo, Alfredo wouldn't have pushed forward. But his expression stays the same, pushing forward as if he never heard Violetta. It may have been a dream sequence or a hallucination on the part of Violetta which is why I called this version as "an acid dream" – from the stark white background to the chorus dressed in suits, everything comes like a blur.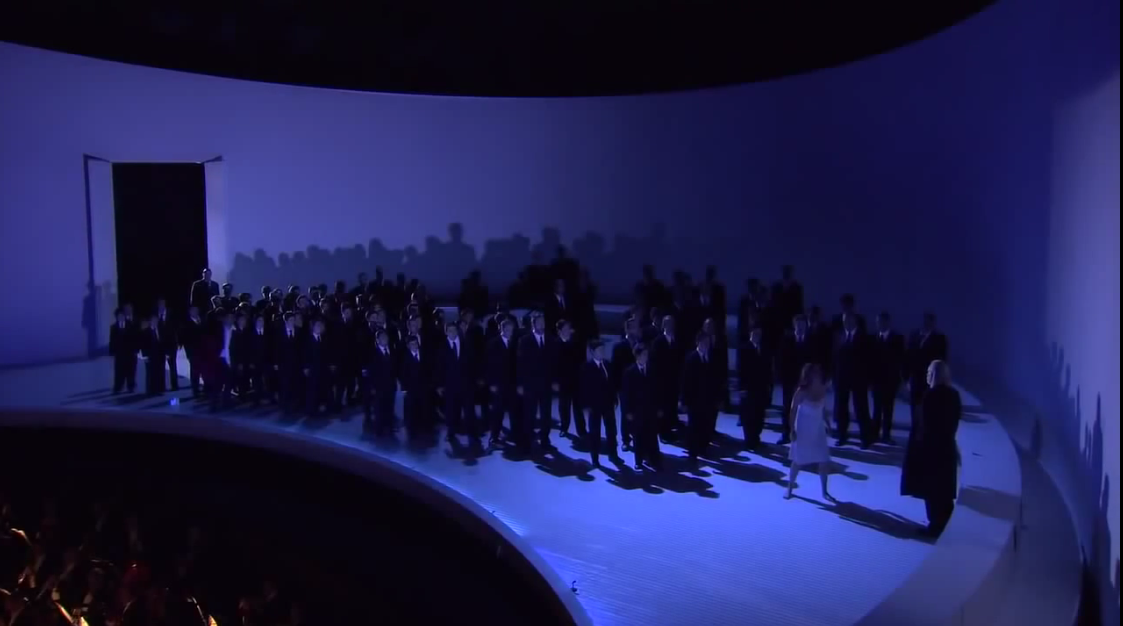 Some helpful links when buying DVD's of some productions that we reviewed:
– Il Trovatore (Bayerische Staastsoper)
– Les Contes d'Hoffmann (Opera Geneve)
– La Traviata (Big Clock Version, Salzburg Festival)
While you're at it clicking links, might as well click here to like our Facebook page and click here to follow us on Twitter. Much appreciated for the time spent reading this humble article of mine. Thank you very much.