DIY Broadway Costume Ideas! // Cute + Easy Theatre Halloween Costumes 2019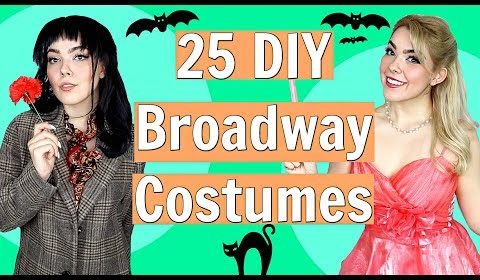 Hi theatre friends! Today, I'm sharing 25 DIY LAST MINUTE musical theatre, broadway, theatre -y costume ideas for halloween!!!!!!
🌻🌻 OPEN ME 🌻🌻
HI FRIENDS AND HAPPY SPOOKY SEASON! oday, I am coming at you with 25 DIY musical theatre, broadway, theatre-y costume ideas for halloween! We're featuring ideas from BE MORE CHILL, HEATHERS THE MUSICAL, HADESTOWN, BEETLEJUICE, WICKED, A VERY POTTER MUSICAL, and more!
QOTD: Have you ever DIY'd a costume? If so, how did it turn out? Let me know in the comments below!
I DIY my costume almost every year, including this year! It definitely requires a little more work, but it feels a little more special & you get to be proud of it! Plus, you save a ton of money!
BUT for today's video, I raided my closet, I raided my friends' closets, and I raided my family's closets. I scoured my garage for props. I hit up the 99 cent store. And I got REAL creative. These DIY Halloween costumes are perfect for the theatre kid in your life (aka you!) and can be easily adjusted with whatever you have in your closet! they're super easy to turn into last minute group costumes, too!
🎃WANT MORE HALLOWEEN INSPO?? Click here! 🎃

All of these halloween costumes were put together with things from my closet and were styled together YESTERDAY! Like I mention in the vid–October is always a stressful time, and this year is no exception 😂 so I hope you enjoy these last minute DIY broadway / off broadway Halloween costumes!
Here are 25 More theatre geek approved halloween costumes: 2019 edition!
Hope you enjoy this theatre-y #Halloween #DIY Costume project!
♡DISCOUNT LINKS♡
💋10% off Glossier skincare & makeup
Just click through my link for the discount on Glossier!
https://www.glossier.com/reps/katherinesteele
❤❤❤❤❤❤❤❤❤❤❤❤❤❤❤❤❤❤❤❤❤❤❤❤❤❤❤❤❤❤❤❤❤❤❤
♡FOLLOW ME!♡
🎭 Main Channel: Katherine Steele
https://www.youtube.com/katherineesteele
🎉 Vlog Channel: Party at Kat's
https://www.youtube.com/channel/UCg3TVMKJy17N3h_6e27kS6g
💅🏻 Instagram: @Kath_Steele
http://instagram.com/kath_steele
🐥 Twitter: @Kath_Steele
Tweets by Kath_Steele
📱 Facebook: @TheatreThursdayFam
http://www.facebook.com/TheatreThursd…
❤❤❤❤❤❤❤❤❤❤❤❤❤❤❤❤❤❤❤❤❤❤❤❤❤❤❤❤❤❤❤❤❤❤❤
I'm Katherine Steele and I really like musical theatre! I'm officially the unofficial Drama Club President of the internet. On this channel you'll find Broadway musical reviews, analysis on your favorite shows, first reactions to brand new ones, countdown lists for theatre kids, and tons of musical theatre audition advice! When I'm not on YouTube, I'm a professional musical theatre & screen actress and made-for-TV series host!
Music by: Italian Afternoon by Kevin MacLeod is licensed under a Creative Commons Attribution license (https://creativecommons.org/licenses/…)
Source: http://incompetech.com/music/royalty-…
Artist: http://incompetech.com/
❤❤❤❤❤❤❤❤❤❤❤❤❤❤❤❤❤❤❤❤❤❤❤❤❤❤❤❤❤❤❤❤❤❤❤
FTC: This video was not sponsored. Some links may be affiliate ♡
💌 BRANDS & COMPANIES: If you're interested in working with me, please email me at KatherineSteeleYT@gmail.com