Stephanie Reese: Spotlight on the Critically-Acclaimed Artist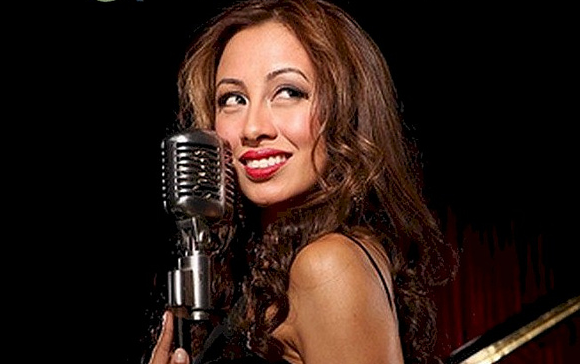 One of the performers that really made the premiere of Marco Polo The Musical memorable was the actress that played Princess Kogajin – critically-acclaimed musical theater actress Ms. Stephanie Reese. Best remembered as Kim in one of the German-language editions of Miss Saigon, she actually performed in the Philippines prior to her Marco Polo stint. And this was way back in July 13, 2012 in her concert at Music Museum entitled "In A Little Bang".
Stephanie Reese: From Musical Theater to Concerts
From theater to concerts, Stephanie Reese has created a name for herself that speaks more about the talent that she can offer. Prior to getting cast in Miss Saigon, she also played the role of the concubine, Tuptim, in another hit musical, "The King and I", on West End. Another high profile musical where she got cast was Disney's "Hunchback of Notre Dame" playing the role of the gypsy, Esmeralda.
Apart from being chosen to play important roles in the aforementioned musicals, Stephanie Reese once sang in a sold-out concert at Carnegie Hall. She performed alongside great talents like Patti LaBelle and Natalie Cole. She received standing ovations for her performances here upon proving her mettle, making her talent stand out on its own.
This is the kind of prestige Stephanie Reese brought to the table the moment she performed in events celebrating the best talents that Filipinos could offer. She headlined topnotch Filipino-American talents presented at the Reston Asian Festival that the Philippine embassy in the US organized.
Apart from performing the songs that she herself sang on stage, Stephanie Reese is also a writer and director. She proved her mettle in putting up a one-woman show in "The Journey". An autobiographical approach to theater, she starred in the very show that she wrote and directed. The other musical she wrote was "The Gifts", a Christmas musical that she staged with children coming from different walks of life. It is the kind of talent that makes you look forward to the next one-woman show she can stage.
Stephanie Reese: The Recording Artist
Her talents transcend even to composition, hence releasing 2 albums – "Stephanie Reese at her Best" and "This is My Life" – containing songs that she herself composed.
While predominantly a soprano, Stephanie Reese can go laidback in some of her released singles like "Familiar Love". It displayed a side of her that is very relaxed yet versatile. She is one of the few sopranos known to sing really good even at a laidback pace which says a lot about her.
Stephanie Reese as the Kind-Hearted Artist
For someone very gifted in the performing arts, Stephanie Reese is generous with her talents. She once composed a song for UNICEF Germany's 30th Anniversary. This is apart from the fund-raisers that she helped in the past with her singing talent.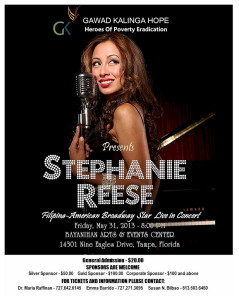 Seeing her efforts paid off whenever participating in charitable events and fund-raisers like these, she knew how to make use of her talents that benefits the intended beneficiaries.
Stephanie Reese in "Marco Polo The Musical"
With all those accomplishments under her belt, the excitement felt at Stephanie Reese's Philippine musical theater debut is understandable. Getting cast in the first run of Roger Chua's "Marco Polo The Musical" generated interesting buzz knowing that prior to portraying the feisty Princess Kogajin, she's already a performer taking so much critical acclaim along with the stint. Expectations were high and she exceeded them.
Rave reviews like this mentioned how Stephanie Reese disappeared into her role and made it her own. From the pitch perfect manner of singing the songs to the moving interpretation of a tough princess softened by a sensitive man, she is perfect as Princess Kogajin. So when it was officially announced that she will be reprising her role as one of Kublai Khan's daughters, excitement was at an all-time high again.
This time, "Marco Polo The Musical" will be staged at the Tanghalang Nicanor Abelardo, Cultural Center of the Philippines Main Theater. Scheduled play dates are on March 25, 2015, (Wednesday) and March 26, 2015 (Thursday). Tickets are now out on Ticket World. Special deals are available for you once you use your BPI Credit Card in purchasing online. You can click here in order to avail of the promo offer of 20% or 25% OFF the ticket price when you use your BPI Card. Promo is only from March 10, 2015 to March 24, 2015 to qualify for the discounts so buy now while supplies last.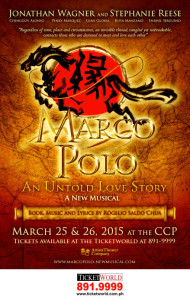 A decorated performer on a global scale like Stephanie Reese at Philippine musical theater? Sure do. And chances are there are more to come when it comes to "Marco Polo The Musical" that would be worth discussing. It would really help that you keep abreast of the latest updates by liking our official Facebook page, MusicalsOnline.com, and following us on Twitter @musicalsnews. Thanks for reading.