What is going on with the DEAR EVAN HANSEN Movie ?? // Casting Updates, Rumors & Changes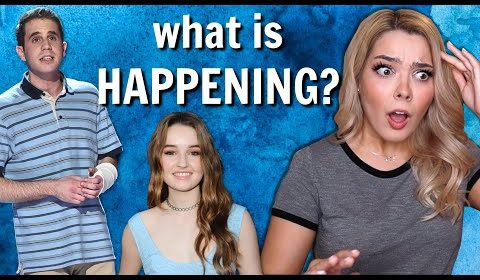 Let's discuss everything we know about the DEAR EVAN HANSEN movie musical + casting updates!
(alternate title: theatre kid freaking out for 8 minutes straight bc idk what's real anymore)
🌻🌻 OPEN ME 🌻🌻
Hey theatre friends! It's me, Kat, and today we're FINALLY doing it! We're talking about the highly anticipated #DearEvanHansen movie musical!
This project has long been in the works and fans everywhere have eagerly been anticipating updates. Since the movie was announced, rumors began swirling that #BenPlatt and Kaitlyn Dever would be joining the cast as Evan and Zoe. Well this month, we got our first few confirmed cast members for the #DEH film including Nik Dodani, Colton Ryan, and Amandla Stenberg! Then we got two more just two days ago: Amy Adams and Danny Pino! In those articles, many outlets casually mentioned Ben and Kaitlyn's involvement in the DEAR EVAN HANSEN movie …. but are they for sure confirmed for the film? Where is this info coming from? And why haven't we received a separate, formal announcement if it *is* true?
Rumors or Fact? Let me know what you think in the comments below
Sincerely,
me
I FINALLY SAW HAMILTON // VLOG

❤❤❤❤❤❤❤❤❤❤❤❤❤❤❤❤❤❤❤❤❤❤❤❤❤❤❤❤❤❤❤❤❤❤❤
♡DISCOUNT LINKS♡
💋10% off Glossier skincare & makeup
Just click through my link for the discount on Glossier!
https://www.glossier.com/reps/katherinesteele
❤❤❤❤❤❤❤❤❤❤❤❤❤❤❤❤❤❤❤❤❤❤❤❤❤❤❤❤❤❤❤❤❤❤❤
Some background info on DEAR EVAN HANSEN, via wikipedia:
Dear Evan Hansen is a stage musical with music and lyrics by Benj Pasek and Justin Paul, and book by Steven Levenson.The musical opened on Broadway at the Music Box Theatre in December 2016, after its world premiere at the Arena Stage in Washington, D.C., in July 2015 and an Off-Broadway production at Second Stage Theatre from March to May 2016. At the 71st Tony Awards, it was nominated for nine awards, winning six, including Best Actor in a Musical for Ben Platt, Best Featured Actress in a Musical for Rachel Bay Jones, Best Musical, and Best Score.The musical has its origins in an incident that took place during Pasek's high school years at Friends' Central School. The musical "…takes the notion of a teenager, Platt's Evan Hansen, who invents an important role for himself in a tragedy that he did not earn." There were several readings prior to the first stage production: in May 2014 at Pearl Studios (New York), July 2014 at Chelsea Studios (New York) and September 2014 at Manhattan Movement and Arts Studio (New York). A full workshop took place in March 2015 at Gibney Dance Center. The project was initially called The PPL Project. Ben Platt was involved in all of the readings and the workshop.
~*MORE SHOWTUNE RECOMMENDATIONS*~
Broadway Musicals You Should Listen To Right Now // Cast Recording Recommendations!!

The BEST Musical Theatre SOLO Songs

Broadway Revivals we need RIGHT NOW

Broadway Songs that RUINED my Life

10 BEST Musical Theatre Songs

Here's a whole PLAYLIST of shows to check out!

❤❤❤❤❤❤❤❤❤❤❤❤❤❤❤❤❤❤❤❤❤❤❤❤❤❤❤❤❤❤❤❤❤❤❤
♡FOLLOW ME!♡
🎭 Main Channel: Katherine Steele
https://www.youtube.com/katherineesteele
🎉 Vlog Channel: Party at Kat's
https://www.youtube.com/channel/UCg3TVMKJy17N3h_6e27kS6g
🎮 Gaming Channel: Kat Steele Games
https://www.youtube.com/channel/UCMEskgIASbFvR4hprtUYBew
💅🏻 Instagram: @Kath_Steele
http://instagram.com/kath_steele
🐥 Twitter: @Kath_Steele
Tweets by Kath_Steele
📱 Facebook: @TheatreThursdayFam
http://www.facebook.com/TheatreThursd…
❤❤❤❤❤❤❤❤❤❤❤❤❤❤❤❤❤❤❤❤❤❤❤❤❤❤❤❤❤❤❤❤❤❤❤
I'm Katherine Steele and I really like musical theatre! I'm officially the unofficial Drama Club President of the internet. On this channel you'll find Broadway musical reviews, analysis on your favorite shows, first reactions to brand new ones, countdown lists for theatre fans, and tons of musical theatre audition advice! When I'm not on YouTube, I'm a professional musical theatre & screen actress and made-for-TV series host!
❤❤❤❤❤❤❤❤❤❤❤❤❤❤❤❤❤❤❤❤❤❤❤❤❤❤❤❤❤❤❤❤❤❤❤
FTC: This video was not sponsored. Some links may be affiliate ♡
💌 BRANDS & COMPANIES: If you're interested in working with me, please email me at KatherineSteeleYT@gmail.com