Fred Gallo | Tony Honors Acceptance Speech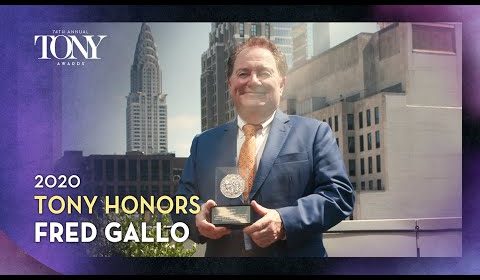 A visionary and innovative craftsman whose scenery and automation shop has created theatrical magic in countless productions on Broadway and beyond.
—About Tony Honors—-
The Tony Honors for Excellence in the Theatre were established in 1990 and are awarded annually to institutions, individuals and/or organizations that have demonstrated extraordinary achievement in theatre, but are not eligible in any of the established Tony Award categories.
—Watch the 74th Annual Tony Awards Sept. 26—
The Tony Awards, presented by the Broadway League and the American Theatre Wing, will host a multi-platform celebration on Sunday, September 26th, starting with the presentation of the American Theatre Wing's 74th Annual Tony Awards LIVE at 7:00 PM ET / 4:00 PM PT exclusively on Paramount+, followed by "The Tony Awards Present: Broadway's Back!" on the CBS Television Network and available to stream live and on demand on Paramount+ and the CBS app.
—About Fred Gallo—
Fred Gallo grew up in a well-known family of Broadway stagehands and began building scenery at an early age. After receiving his Bachelor of Science degree in Architectural Engineering, he started working at Feller Scenery, then one of the leading shops in the industry. Fred worked as a Local One stagehand and production carpenter on many Broadway shows. Later, Fred co-founded Scenic Technologies leading to the formation of PRG. Since then, PRG has become one of the world's leading suppliers of scenery and automation for theatrical productions. Fred has supervised the build and engineering design for countless scenic projects. Over the past 40 years Fred has been associated with such productions as Beatlemania, Frankenstein, Pygmalion, Phantom of the Opera, Miss Saigon, The Who's Tommy, Beauty and The Beast,
The Producers, Wicked, Sweet Charity, Les Miserable, Shrek, Promises, Promises, Beautiful, Come from Away, King Kong and dozens of other productions. Fred has also been the technical director for some of the most challenging shows on Broadway: Spiderman, Turn off the Dark, Harry Potter, King Kong, and the World Tour of Phantom of the Opera. Fred holds patents for theatrical equipment he designed and frequently serves as a consultant on the engineering of theatrical rigging systems for theatres worldwide. Over the past 12 years, he has designed the renovation of over 135 theatres to enable them to present large and technically sophisticated productions. He was the recipient of the Backstage Legends and Masters Award in 2014.
—
Filmed at Sofitel New York
Director/Producer: Ian Weiss
Editor/Producer: Kayla Williamson
Camera Op: Samuel Broeren
Sound Op: Wade Vantrease