Anna Nicole: Opera as Pop Culture Commentary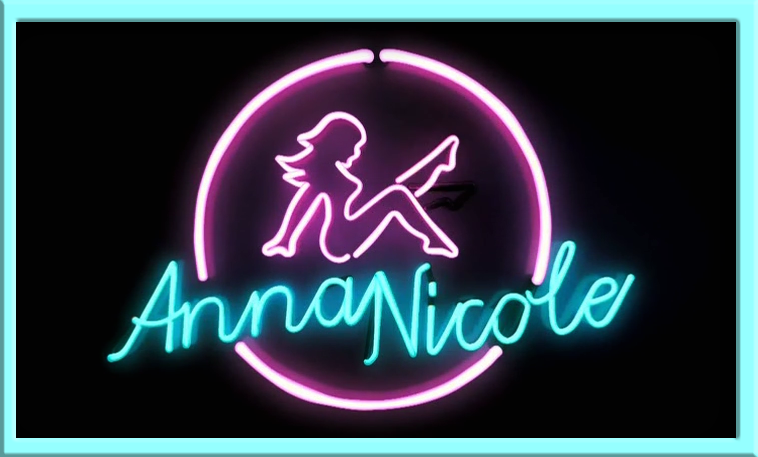 How can you make opera relatable to modern audiences that has been accustomed to several reruns of Bizet's "Carmen", Puccini's "Tosca" and Verdi's "La Traviata"? Offer new material that they are more familiar with in an effortless manner. How familiar? So familiar that the mainstream market would feel so flabbergasted with the chosen material that there is no way they will not be talking about it. And I am referring to Mark Anthony Turnage's "Anna Nicole".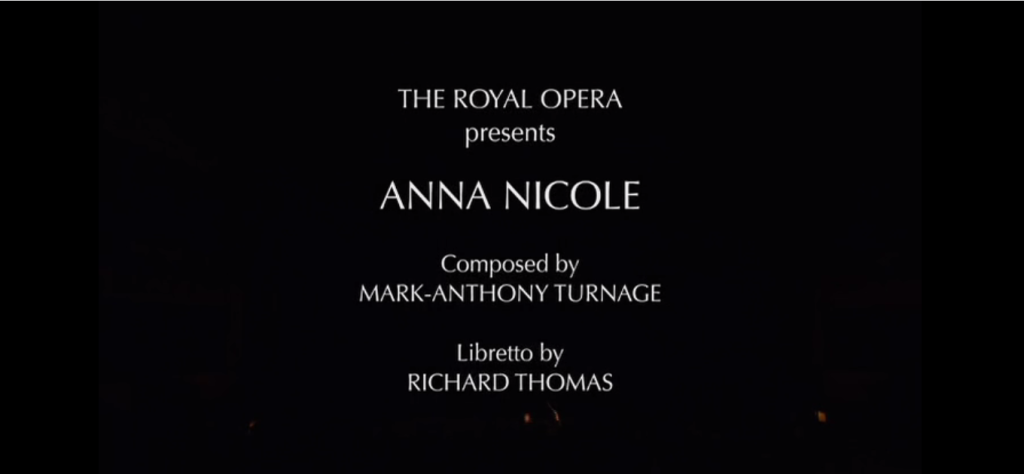 To those unfamiliar with the celebrity once associated with Playboy, Anna Nicole Smith is one of the first reality TV stars that defined contemporary American pop culture. Some people will not like it but years after her death, there is still so much interest surrounding her character. It even reaches a point that everybody knew her name but didn't know what was she famous for. But it is very easy to know what was she infamous for. Mainstream media really made a killing covering her life as tabloid-fodder which says a lot about the former. So if ever it included stark, harsh and blatantly crass profanity in the dialogue, it's only catering to authenticity.
Flow of the Story
A chorus dressed in formal corporate wear carrying reporters' microphones immediately gave me a perception that much of the story will be based on how Anna Nicole (portrayed by Eva Maria Westbroek) is shown on tabloids – a slight commentary about how much of mainstream news has gone the tabloid route no matter how snappily dressed the reporters may seem. This led to the chorus with the disclaimer "Some details are sketchy and vary depending on whose account you read". So much has been said, reported and written about her to the point of oversharing that you can't rely on it to be true anymore.  So Turnage chose a point-of-view that apart from Anna Nicole, Virgie (portrayed by Susan Bickers), her mother. In fact she's the closest character you could get to a moral compass. No heroes, no heroines, just people with their own barometers of morality like comparing lap dancers to strippers (because there is an aria that distinguishes the differences between the two). Morality and social norms are out the window the moment people need to make both ends meet.
In an effort to be contemporary, there are certain topics presented here that I don't remember getting tackled in other operas like boob jobs. Most courtesans like Violeta of Verdi's "La Traviata" and Manon of Puccini's "Manon Lescaut" and Massenet's "Manon" don't get a boob job in order to attract clients. As a pole dancer, Anna Nicole needed the silicon implants in order for the regular customers of the gentleman's club where she's working to finally notice her.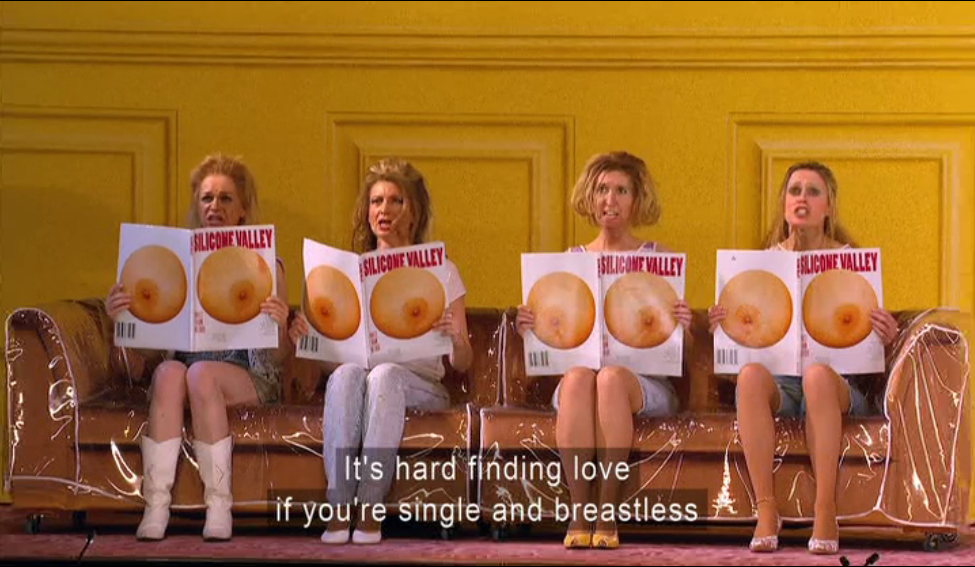 Apparently it also served as contemporary commentary to career options available for women and the risks that they take in their quest for a better life. Prior to the operation, Anna Nicole was already pretty (even the real life Anna Nicole). Prior to moving to Houston, she's already a single mother. But being pretty in the gentleman's club is not enough if nobody pays any attention to you (pun intended) so she needed a boob job. Get the boobs, take pain killers for the rest of your life (back pains are the side effects of silicon implants) and earn.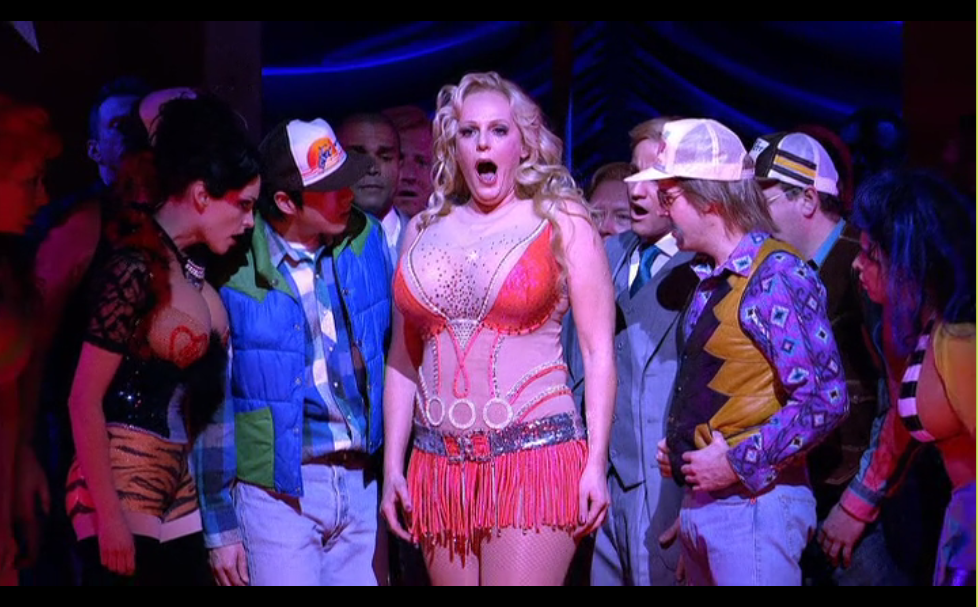 Was it worth it? If it meant bagging an 89-year old oil tycoon, J Howard Marshall (portrayed by Alan Oke) that can marry you for your plastic boobs and "skills that suck" (another contemporary topic tackled), then it is worth it. The lyrics were explicit enough to suggest that Anna Nicole married him for the money and he married her for "those big fake breasts".
Of course, Virgie was aghast that her daughter is marrying a man worth "4 decades of tongue". Heck! She can't stomach the idea of having a son-in-law who's actually older than her. But since Anna Nicole needed financial security for her son, Daniel, she took the shortcut to what she called "the American dream".
When did the dream transform into a nightmare? Turnage and his librettist Philip Thomas left that for the audience to discern. Most scenes are devoid of judgment and the guilt is often expressed in the arias as regret. But it did not hesitate in presenting Anna Nicole's lawyer, Howard K. Stern (portrayed by Gerald Finley), as the villain that mainstream media often portrayed him to be. As much as Stern turned out to be reliable in helping her claim what is rightfully hers, she was oblivious to his agenda. Stern was even shown butting into scenes where he is not supposed to be (that's actually the point) including her first marriage and that day she contemplated a boob job.
The media often made fun of her as the quintessential dumb blonde and the fact that her relationship with Stern lasted this long suggested the notion even further. Even her pay-per-view performance at the delivery room (yes, her labor pains were aired online via subscription) was shown as Stern's concept. It pushed the public perception that Anna Nicole is too messed up to even take control of her own life.
It addressed a handful of issues about the real Anna Nicole. It is one of those few biographies that can be given an exception when it comes to "artistic license". There is too much information available online that once you realize how the story includes the audience among those complicit into her eventual self-destruction, you would stop nitpicking about what angles were excluded from the final draft of the libretto. It focused so much on Anna Nicole that it didn't matter anymore to find out who is the real father of her daughter.
Excellent performances
What I really like about this production is how it is not enough that the libretto is in English. If you check the ROH DVD store, this is the only opera that comes with a disclaimer "ADVISORY WARNING: CONTAINS EXPLICIT LANGUAGE AND SCENES OF A SEXUAL NATURE" because the lyrics come across as clear and crisp. Some characters sing their lines with the Texan accent heard once in a while. It adds authenticity to the setting from where it all began – in a small town named Mexia ("/MUH-hay-ya/") in Texas.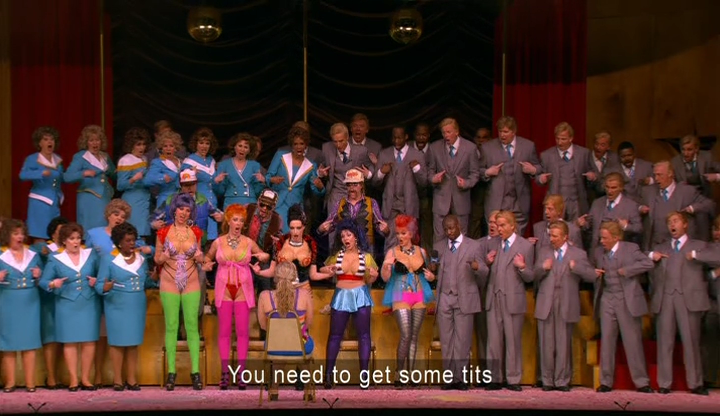 Gerald Finley's performance as Howard K. Stern never understated the public perception that he is the bad guy ("I'm the bad guy. The lawyer is always the bad guy!") because the real Stern barely cared. Years after Anna Nicole's death, the real Stern still ends up much of the blame for everything that went wrong in her life. As a character in this opera, he makes it seem like he's just protecting Anna's interests when in reality, his loyalty is to himself. Finley worked the part well and it only solidified the remaining hatred the public had over Stern.
Susan Bickley as Virgie is just as effective for a mother presented in the story as the moral compass that nobody pays any attention to. The bitterness and resignation over everything that happened to her daughter is evident in her voice.  Portraying the right facial expressions appropriate to the scenes helped too, knowing that despite the bitter and hardened exterior, despite the negative portrait that Anna Nicole painted of her own mother in media, the motherly tendencies are still there ("Don't believe anything you read! Don't believe anything you hear!"). Some notes are not sung but expressed as exasperated sighs ("My flesh, my blood, my embarrassment") and it helped emphasize the emotion expressed in the aria.
And of course, Eva Maria Westbroek. After watching her performance at this opera, I became a fan. This is a role that she can call her own. The level of research she made in order to get herself into character, it was very evident in her performance as a Southern American belle blinded by the lights of Houston ("where the lights are bright and the boys are pretty"). There is a nice balance of comedy and tragedy in her portrayal of Anna Nicole. The character denied neglecting J Howard Marshall during his final days but admitted having a few trysts with her husband's masseuse ("That did happen"). What made her overall performance as a cohesively solid portrayal was her attention to detail – chewing gum while asking the doctor to repeat the terms and conditions of the boob job ("Run that by me again") plus scratching her head with the sign pen and leaping around happily as her face lightens up and her eyes widen at the sight of the jewelries that Marshall gave her.
Is it an opera or a musical?
Some opera enthusiasts still end up viewing Anna Nicole The Opera as a musical due to the language used in presenting it. It's understandable in a market accustomed to Italian, German and French operas. Does it make it less entertaining? No. Watching opera tackling a character that you thought you are already familiar makes you examine that way you view other people too.
On the other hand, Anna Nicole The Opera split critics from those who bashed it as a desperate attempt to lure the mainstream market into watching operas to opera enthusiasts that appreciated the music and humor combined in this memorable production. The fact that it earned a rerun performance also at the Royal Opera House is testament to the power of contemporary culture to produce an original production.
If you are a fan of Anna Nicole Smith planning to watch this opera for the sake of fanatical scrutiny, I highly suggest leaving your expectations elsewhere and just brace for what is in store for this production. While some folks complained about certain characters not making the final draft of the libretto (who's the father of Anna Nicole's baby again?), at least the story flow managed to keep its focus on the main character herself.
Anyone interested to get their own copy of Anna Nicole The Opera might as well try clicking here to buy a copy that you can enjoy at home. I highly recommend it to everyone interested to match an opera version of the Anna Nicole biography. Thanks for reading.