Changing My Major: Lyrics from Fun Home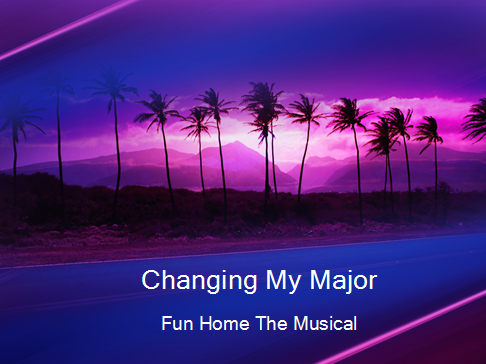 The lyrics from Changing My Major, from Fun Home The Musical, has the lyrical beauty of someone in love. For a memoir that transcended into a graphic novel and later into a Tony-nominated hit musical, it contains lyrics that are authentic. And this song became one of the favorites because of romantic sex involved. Having sex with someone you are deeply in love with makes the lyrics extra memorable.
The artist behind the graphic memoir, Alison Bechdel, admitted how sex for the first time with another woman was awkward. The musical version made that event one of the most memorable scenes due to the song Changing My Major. That usually happens whenever you are overwhelmed with happiness. You are too exhilarated that you plan on changing your major to whoever you are in love with at that time. That loved one may not provide grades straight to the class card. But it's still something you would go for.
What makes sex for the first time funny in the point of view of a lesbian? Surely, lesbians who experienced this will relate to Bechdel because it is funny to everyone. Except the person herself. You have the love of your life right in your own dorm room. And you are too happy to contain yourself. Too happy that "I might lose consciousness which you said was adorable". It made Changing My Major an honest song about losing your virginity to the love of your life.
Romantic sex made Alison, the character in the musical, so happy. She really thought of "changing my major to Joan". Changing My Major reminded me of some friends too much in love to contain themselves. At least they did not quit school. It's not the literal kind of changing majors. It's more like finding new priorities. Or finding new pursuits that ate time away from scholastic life itself.
A realistic angle presented in Changing My Major is the self-awareness of the need to calm down. What if she's getting ahead of herself? What if she's too happy to get hold of her senses and move to the next level? But it is clear upon saying "And I'll have found some dignity 'cause this is so much easier". It was the best time she ever felt as a lesbian.
Changing My Major also presents how romantic sex can change a person positively. Beause if ever there is one thing most lesbians are afraid of upon coming out of the closet is being alone. If heterosexuals fear loneliness, gays and lesbians feel it too. It's not just the fear of sexlessness that gets into them. It's the fear of waking up alone at bed after a night of great sex. And waking up next to your lover "All sweaty and tangled up in my bed sheet" is one that gives Alison the idea that she is lovable too.
Tickets are still up for grabs while they last. Watching Fun Home The Musical in full will make you appreciate better the importance of Changing My Major in Alison's life. It may just be a slice of life shared in musical theater. But the songs tug right into your heartstrings. Call Circle in the Square Theater at 212-239-6200 to buy tickets. Or you can click here to purchase tickets online.
For more updates regarding musicals, subscribe to our email newsletter. Get the latest articles straight to your inbox. Like our official Facebook page, Musicals Online, and follow us on Twitter @musicalsnews. This keeps us in your daily timefeed. Thanks for reading.