La Traviata: Opera as an Acid Dream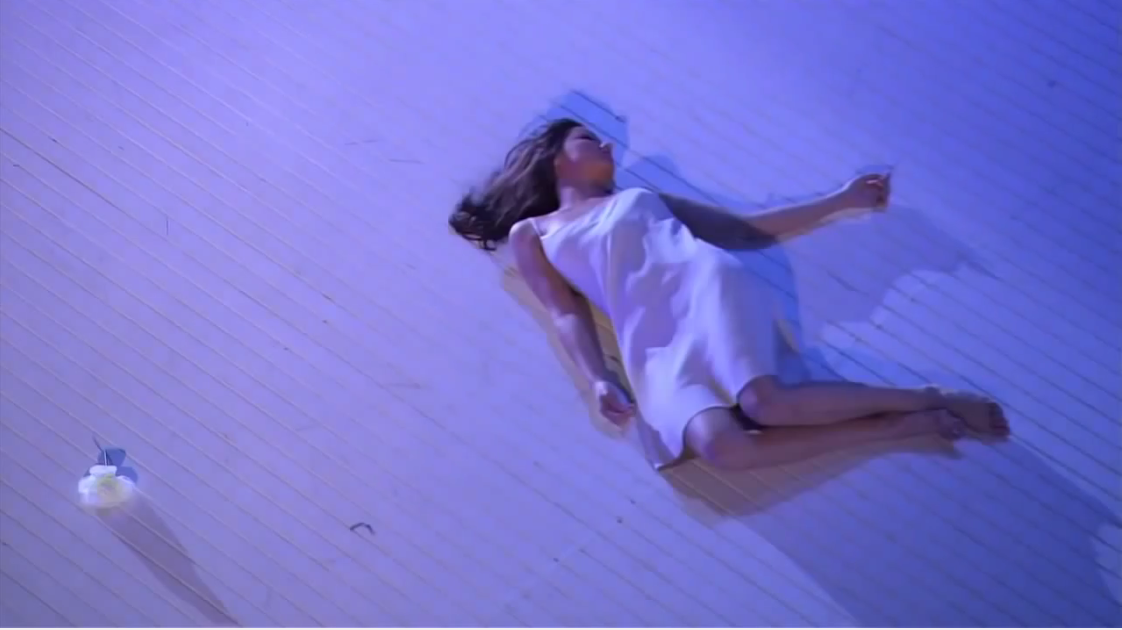 Opera in previous years made an effort to attract new audiences by modernizing its productions. It was a hit-or-miss thing since the purist crowd would still prefer seeing their favorite opera productions in period costumes and settings. But what if some folks went the Euro look?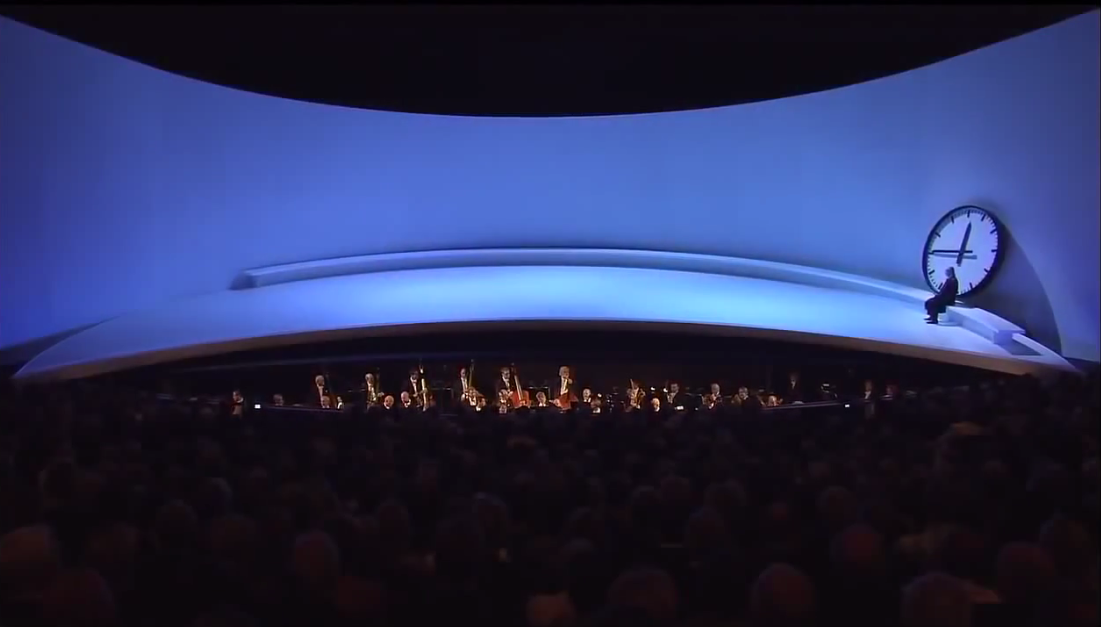 Some folks at the Opera Talk Facebook Group went as far as calling it "EuroTrash". I can't confirm anyway if this is what they call the Eurodance look so I would still to the Euro label. It consists of a silvery white background and minimalist production design. So minimalist that sometimes it ends up looking like an acid dream. This is one of the first versions of La Traviata that I have watched (because I only went full circle opera fan months ago) and perhaps the most experimental version that Russian soprano Anna Netrebko and Mexican tenor Rolando Villazon have starred in. Since it's debut in the 2005 Salzburg Festival, it was a massive hit that eventually spurned a DVD version and some repeat productions with different lead stars.
The Clock is Ticking
The big clock used in this version almost replaced the flower as the signature emblem of Verdi's La Traviata. Besides it's the version that divided the opera fan base since it was radically different from the conventional version. It felt like a trippy version of an opera that both Netrebko and Villazon have been performing several times in their respective careers but never in a method like this.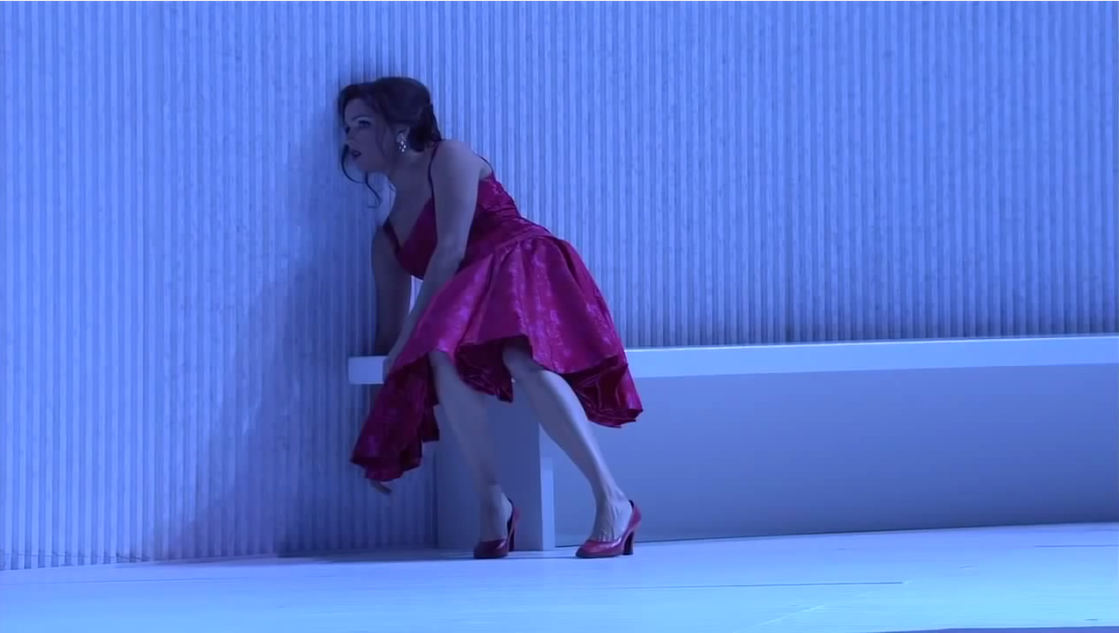 Under the vision of director Willy Decker, La Traviata was re-imagined as a big white room that Violeta enters after she's been so exhausted with her life. She's beautiful, the life of the party – the belle of the ball. But she is not happy. The gamut of emotions she went through are presented as the overture played. She recognized the old man sitting beside the white clock and all that's seen on her face is fear.
Events unfold in a blur. The guests to the party that Violeta enter the room like a water spurts out of a broken dam. The crowd almost literally throws Alfredo  to her since he's too timid to approach her himself. Violeta views him as an opportunity to fall in love in her remaining days. She was hesitant to accept his love because she knew very little of the concept of love itself. Also the idea of her impending death kept looming above her head because the old man beside the clock made sure that his presence is felt.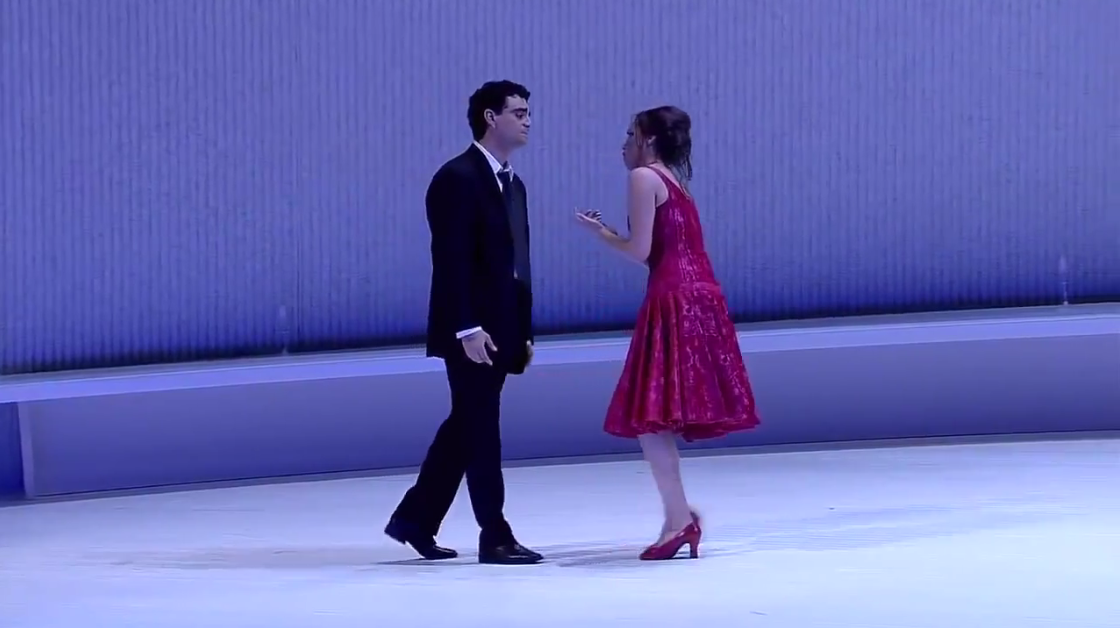 The old man did not have any singing parts until much, much later. That's the beauty of the early acts – you keep guessing who this man is that kept Violeta warned of her impending doom. La Traviata means "The Fallen Woman" after all. She is free to love, to get hurt, the works. But it doesn't change the fact that she's dying. It's like watching a woman spend her remaining days while waiting for her death – a subliminal comment to the fact that almost every opera fan may have seen this on stage but never performed like this.
Symbolism-Heavy
Life prior to Alfredo, Violeta is all dolled-up and ready to go to any party. She needed to put up a front to conceal the pain and sadness that she's going through. After moving in with Alfredo, life is rosy not in terms of the way she dresses but the way the home is shown. After agreeing to Giorgio Germont to leave Alfredo for good, she ditched the rosy life – metaphorically presented on stage by Violeta's removal of the floral covers on the furniture and putting the little red dress back on.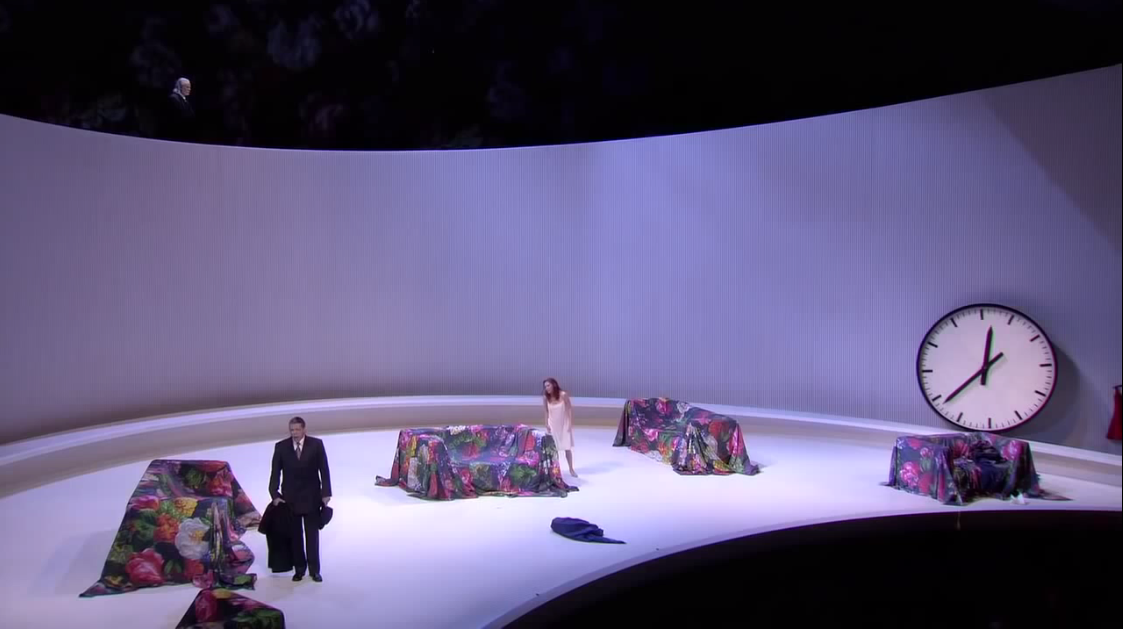 The little red dress paralleled the decisions that Violeta made in her life simply by wearing it or removing it. Marital bliss was enjoyed without it. Leaving Alfredo made her wear it again only to realize that she's no longer the same whether she donned it or not. Violeta finally removing the little red dress and throwing it to Alfredo is her way of resigning herself to her fate. No Alfredo. No party life to return to. No little red dress to retrieve. Done
Sometimes I view this version as Violeta seeing her life flash before her before she dies. There was an effort to plead with an extension on life though. When the clock's hands start rotating rapidly, she tried to stop them. The old man just stared at her. She looked back at him while holding the clock's hands. She gave him that pleading look. Obviously he relented only to see Violeta ditch Alfredo under orders by Giorgio Germont (played by Thomas Hampton) and became the Baron's kept woman.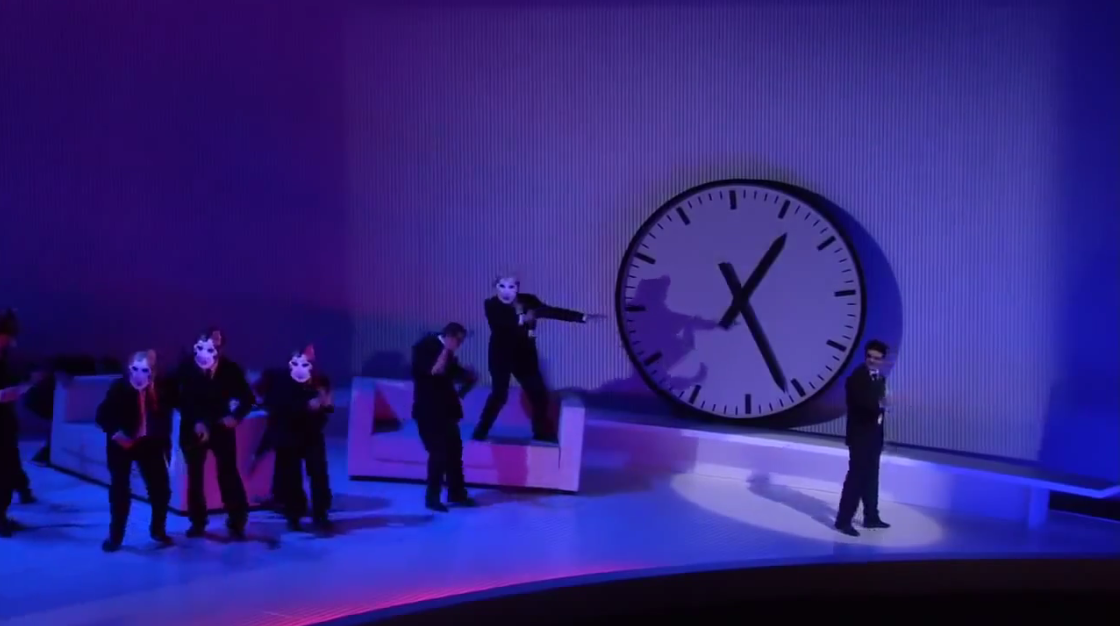 The emotional turmoil that Alfredo went through is presented ruthlessly in his point of view. Everywhere he looked, he sees Violeta – a vision presented on stage as a chorus dressed in tux with masks that looked like Betty Boop plus the flower on her head. That's the point. Alfredo sees in every person the face of Violeta mocking him. It's depressing to see a crown mocking you for being a jilted lover and the only face you could recognize is the woman who left you.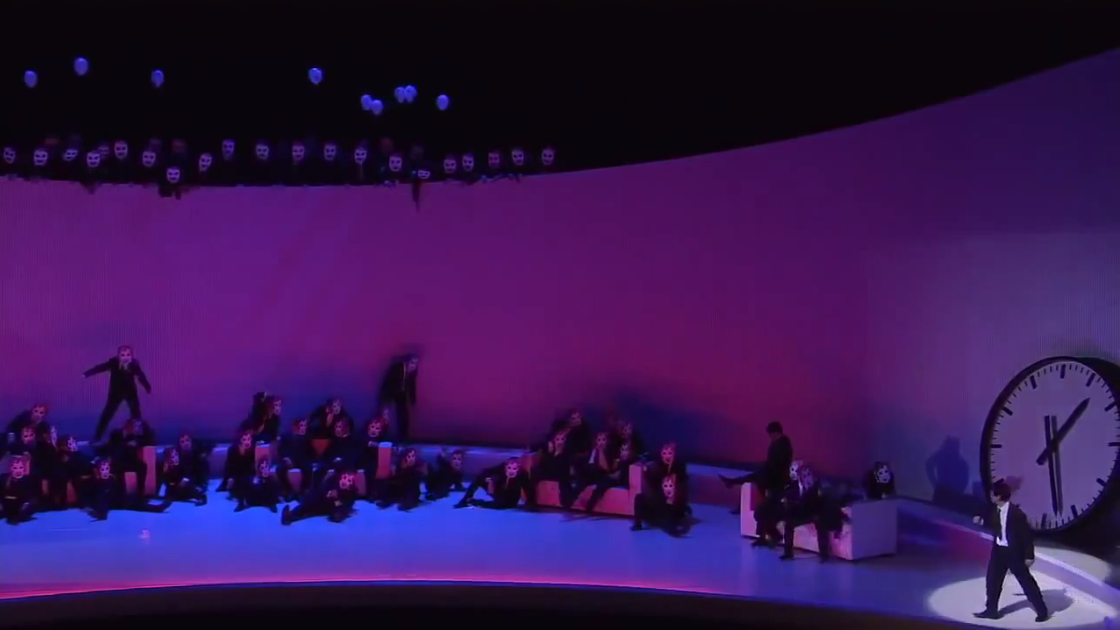 It served as a simmer that escalated to a boil the moment Alfredo got the chance to humiliate Violeta. That's when Violeta's earlier claim to Giorgio of having no family and friends became evident – the crowd  that witnessed her humiliation can only be seen from above. But no one was on the same floor with her but Alfredo. Giorgio only came in to chastise his son. It's the ultimate irony since while he lamented "Where is my son?" he is at fault too for the emotional downturn that Alfredo suffered through.
The crowd is not spared from being presented as hypocrites either. They chastised Alfredo for what he did to Violeta but nobody came down to stop him from further hurting her. This is where you realize the same emotional conflict Giorgio went through after splitting the couple.
Nothing Much is Subtle
The couple is in love. Violeta is guilt-stricken and Alfredo is angry. Violeta is earlier shown as an unapologetic drunk and a pleasure-seeker. She carried a bottle of wine and a goblet while convincing herself that she did not need love in her final days. And Alfredo showed up in the middle of Violeta's aria "Sempre Libera" to convince her further that he's serious to her. While in other versions of this opera, Alfredo's voice is only heard from the background as he sang his parts in the aforementioned aria. But here, Alfredo really showed up to prove that he's not just a voice in Violeta's head. He's for real and he is in love with her.
When Alfredo humiliated Violeta, he did not simply throw the cash to her face. He even tried to stuff the cash in her dress and in her mouth. He's that angry. He only realized that he went far when Giorgio came in to scold him. As an actor, Villazon did not hold anything back, disappearing into his role as Alfredo Germont without ever looking back.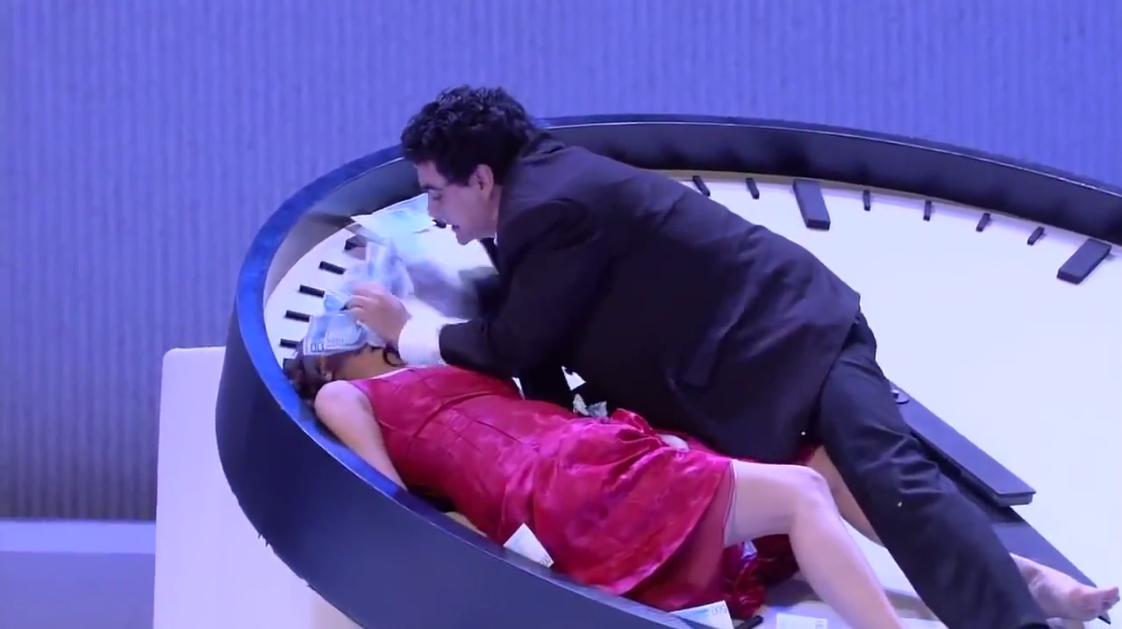 And for a title role that she portrayed for years in Russian productions, Netrebko found a new way to present a version that stayed true to the music but portrayed radically different in this version. It's a character that she has spurned into a sympathetic character due to her believable acting in congruence to the pristine singing. She disappeared into the role as well – a feat that looked seamless for her to do albeit the modernized approach.
Influence
The next thing I realized, several productions hired Willy Decker to present his version to the Metropolitan Opera – one with Natalie Dessay and another with Marina Rebeka playing the role of Violeta. (Update: Diana Damrau got into the Big Clock Version too with THE Placido Domingo playing Giorgio) Both productions are from the Met. Fans have referred to this version as "The Big Clock Version".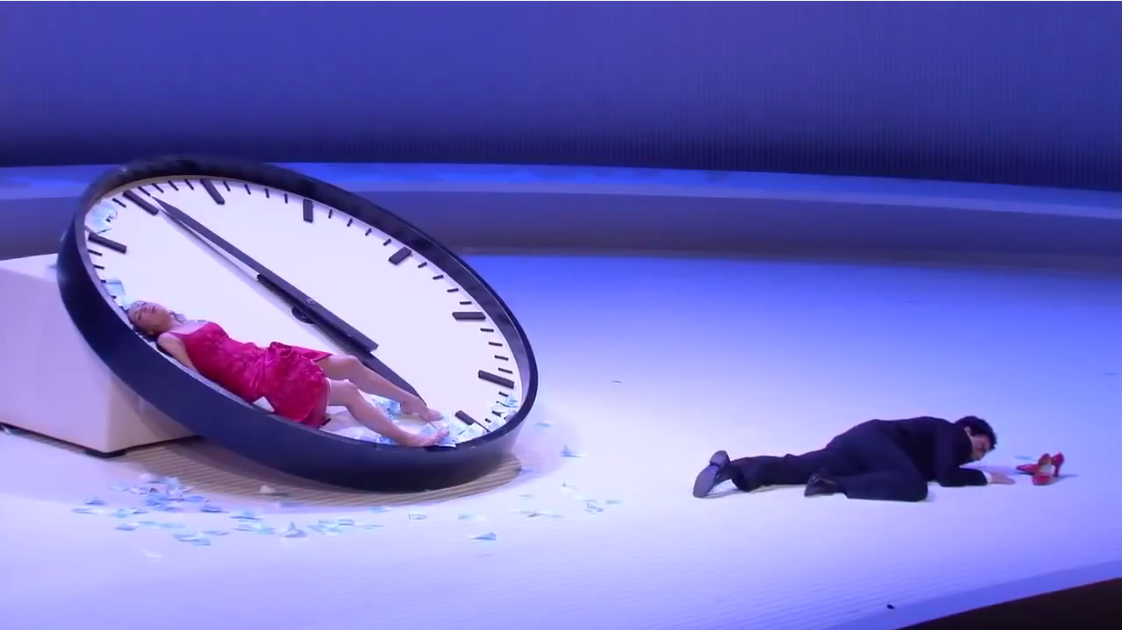 I am not at liberty to say if both productions were at par with the version that debuted at the 2005 Salzburg Festival. But it sure made an impact on the current opera fan base. I have to agree with those that were enamored with this version. It's a bold move that relied more on the symbolism and the acting/singing prowess of its leads. Let's face it. It's hard to make the audience care about an opera that turned out to be one of the most performed (and still, most commercially viable) operas of all time. So if this version has a lot of detractors that would still choose the banquet hall approach, how come 2 more versions subsequently followed? Because it's a model that worked.
The Euro approach to performing opera will never be a safe bet because there will always be feedback. There will always be opposition to change. The audience can never be ready for something new or something familiar repackaged in a manner they are not accustomed to until they see it.
For productions that take the radical route in re-imagining how La Traviata could look like years from now, I can say that Decker got it right. Not sure if this is the only opera he directed so far. But if ever he patented this version of La Traviata under his name, I will not be surprised. If Verdi's operas will always be performed true to its music, then the visuals are free for all to tweak.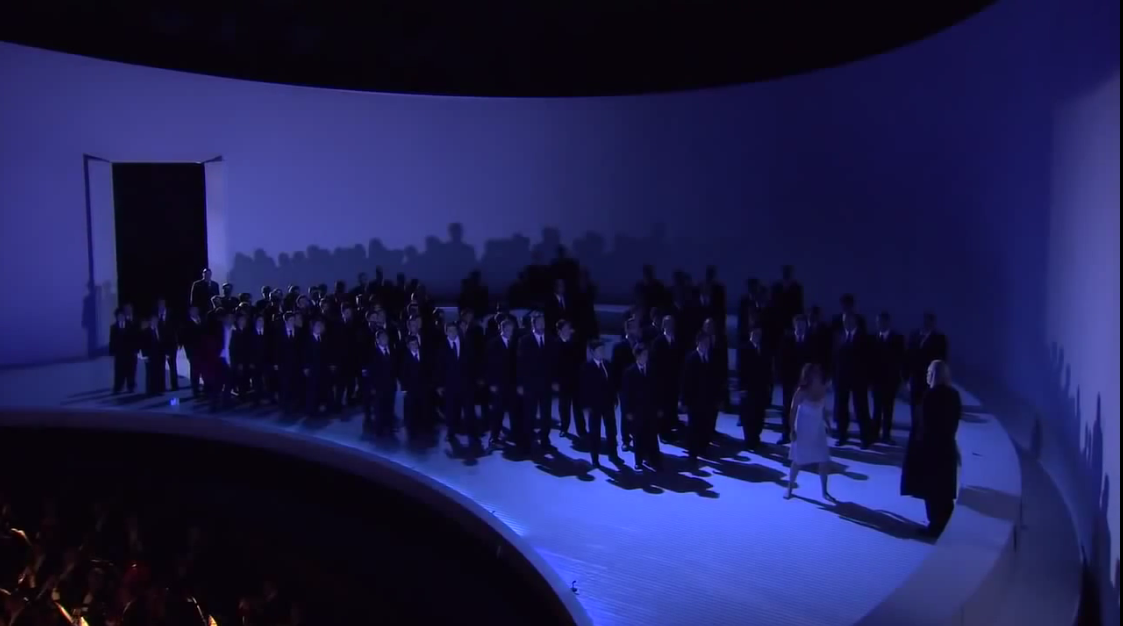 Buy the soundtrack by clicking here and the DVD by clicking here. For more updates regarding musicals and opera and everything in between, like our page, MusicalsOnline.com. For some positive reinforcement and inquiries if ever you need content providers for your website, like my Facebook page too, Purple Thunder Solutions. Thanks for reading.